PNC Alpine Event #5, High Rollers PLO: Golser, Tony G Chop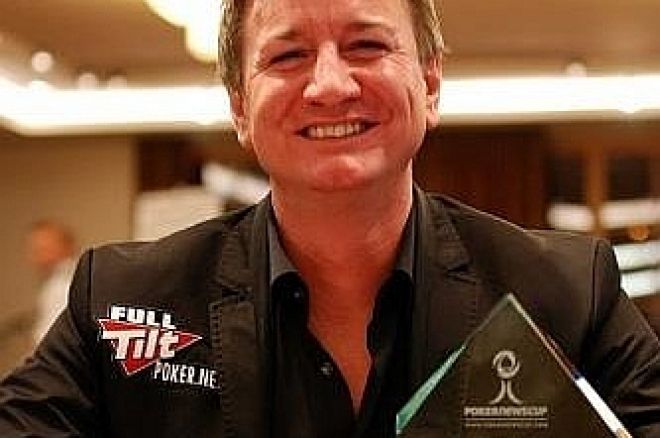 Monday was Omaha Day at the Alpine Palace in Austria as the €5,000 High Rollers Pot Limit Omaha tournament kicked off two hours after the start of Event #4, €300 Pot Limit Omaha. Nine top pros dropped off their €5,000 for the high stacks sit-'n'-go, with Markus Golser and Tony G chopping up the prize money at the end of it all. Golser and Tony G each picked up €20,950.50 for the event, but it was Golser winning the final hand and claiming the trophy when all was said and done.
The seat draws looked like this as the pros took to the felt:
Seat 1: Tony G
Seat 2: Mark Vos
Seat 3: Noah Boeken
Seat 4: Markus Golser
Seat 5: Marcel Luske
Seat 6: Erich Kollmann
Seat 7: Michael Pesek
Seat 8: John Duthie
David Saab made a late entrance into the field to bring the table to nine-handed, and the event was underway. Even with the skill of the players, the volatility of Omaha meant that the field thinned very quickly. Marcel Luske was the first to fall, as Markus Golser sent the Dutch tunesmith to the rail early. Erich Kollmann busted in eighth place in a hand where he found three callers to his preflop raise. Kollmann saw a
flop with Tony G, Mark Vos and Noah Boeken. Kollmann bet out on the flop, and Boeken and Vos folded to Tony G's raise. Kollmann put in the last of his chips, and Tony G called with
. Kollmann was ahead on the flop with his
, but he was drawing dead on the turn when the
landed. The
was the meaningless river card, as Kollmann headed for the exit.
John Duthie and Michael Pesek also busted early here, but the action became truly intense when Noah Boeken and David Saab both ended up all in against Tony G on a
flop. Tony G's
needed help against Boeken, who had flopped a straight holding
. Saab was looking for spades with
, but when the turn and river came running deuces Tony G improved to a full house to send both Boeken and Saab to find their bikes.
After a brief period of passing around the short stack, Tony G took a big pot off Mark Vos to leave him in desperate need of a double-up. Vos shipped it all in with
, and Tony G called with
. The board ran out
, and Tony G's straight made Vos was the bubble boy. Golser and Tony G played a few more back and-forth hands before agreeing to a chop of the money and one final hand for the title and the bigger of two trophies. In the final hand Golser's
was less than impressive against Tony G's
until the board ran out
, giving Golser eights full of deuces for the trophy.
Get Your PokerStars Marketing Code on PokerNews.com - Be sure to enter the PokerStars marketing code when registering a new account on PokerStars.com