The PokerNews Profile: David 'Raptor' Benefield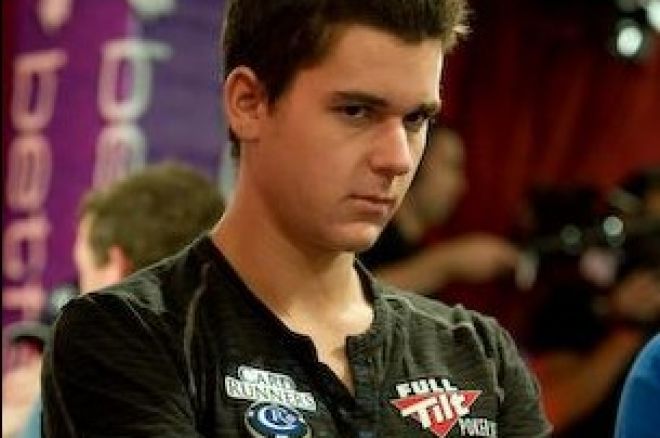 David Benefield isn't afraid to take a shot. If there's a game running where he feels he has an edge, you're likely to find him in it. It was Benefield's willingness to take these calculated risks that allowed this 22-year old to go from grinding $100 sit-n-goes to playing in the highest-stakes cash games in the world within only a few short years. Add in hours upon hours of near-obsessive study of strategy and discussion of hand histories with his peers, many of whom are at the top of their own games, and you have one fearlessly competitive individual. Whether in the cash games on Full Tilt or at the World Series of Poker, having a "Raptor" at your table is never a good thing.
David Benefield grew up in Fort Worth, Texas. Benefield played baseball competitively from the age of six through his senior year of high school. It was then that he discovered poker, and started playing in $0.25-$0.50 no-limit hold'em games with his friends. He had a natural aptitude for poker and went on a mission to become great at the game. Benefield began posting on poker forums but couldn't play online since he was only 17. Instead, he started building his bankroll playing $1/2 and $2/5 no-limit in private games. Benefield became a regular in underground games around the Dallas area. After a successful run where Benefield built up his roll to about $5,000, he lost it all quickly, a good chunk of it via an unsuccessful bet on the Super Bowl. Benefield stepped away from the game for a while and decided to concentrate on playing his final season of high school baseball, but ended up suffering a severe shoulder injury that would dash his dreams of playing in college or in the major leagues.
Benefield enrolled at TCU that fall, but his stay at the university would be short-lived. After turning 18, Benefield could play online, and he quickly discovered his earning potential at sit-'n'-goes. Coupled with his often nightly forays into the local underground cash games, Benefield spent little time in the classroom and ended up dropping out after only one semester. He moved off campus with two fellow online grinders and multi-tabled $109 sit-'n'-goes on PartyPoker for up to 14 hours a day. Now earning at a very good clip, Benefield suddenly had access to more money than perhaps any 18-year-old should and soon found himself making costly mistakes again—playing pit games, playing in tough cash games he was under-rolled for, and buying too many expensive "toys." He went back to school and joined a fraternity in the hopes of reclaiming a more normal social life than his hermetic existence as an online poker pro, but spent his time partying rather than hitting the books. Soon, Benefield found himself nearly broke yet again, but this time he took the bankroll he had left, ground it up to something workable by playing sit-'n'-goes, and made the move to NLHE cash games.
Benefield started multi-tabling $2/4 and $3/6 no-limit hold'em, playing an extremely aggressive style. It proved profitable for him and he started quickly moving up in limits. Though he was two years away from being of age to play in the World Series of Poker, Benefield headed out to Las Vegas in the summer of 2006 to live in the "Ship it Holla Balla Mansion," a sprawling pad rented by some of the best young online players in the world including Tom "durrrr" Dwan . Dwan and Benefield became fast friends and at the end of the summer, decided to buy a house and room together in Texas. It was in that house that Benefield moved up in the ranks from $10/20 NLHE to games as high as $200/400. Benefield paid particular attention to game selection, taking shots at higher limits if the conditions were right. Many of those shots ended up paying huge dividends, which allowed him to move up as quickly as he did.
Benefield was finally able to play live at the 2008 WSOP and made a solid debut, finishing 13th in the $10,000 World Championship Pot-Limit Hold'em event and 10th in the $10,000 World Championship Pot-Limit Omaha event. He also made a deep run in the Main Event, finishing 77th out of 6,844 entrants. Though he still is first and foremost a cash-game player, he has begun traveling the circuit a bit, hitting up the WSOP-Europe in London this past October and buying a house in Las Vegas.
These days, you can find David Benefield taking shots at the $500/1,000 HA games on Full Tilt Poker, where he is a sponsored pro, as well as an instructor at CardRunners.