The PokerNews Profile: Vanessa Rousso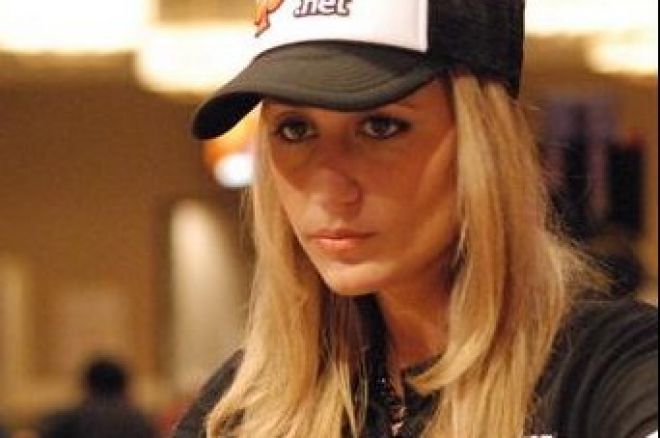 Vanessa Rousso can speak three languages. She's a citizen of two countries, graduated from Duke in two and a half years, and one look at her academic resume (debate team, business club, mock trial, volunteer work and the Alpha Delta Pi sorority) conjures an image of an overachieving young woman not unlike Election's Tracy Flick. Rousso has a knack for achieving her goals in record time and her rise in the poker world came on just as quickly. With less than three years of professional play behind her, Rousso has already earned close to $2 million playing tournament poker both live and online — all while earning a law degree on the side. Not bad for a 26-year-old.
Vanessa Rousso was born on February 5, 1983 in White Plains, NY. She grew up in Paris, living there until she was 10, when her parents divorced and her mother decided to return to the United States. Vanessa went with her and after moving around the east coast quite a bit, they finally settled down in Wellington, FL, where her mom worked as a high school guidance counselor. In high school, Vanessa showed advanced academic aptitude and graduated as her class valedictorian, earning a full scholarship to Duke University.
Rousso majored in economics and minored in political science at Duke. Several courses in game theory also drew her interest. She began playing backgammon and chess to apply the skills she'd learned in the classroom, but soon found herself taken with the mathematical and psychological aspects of poker. On track to graduate three semesters early, Rousso began playing online while she was applying to law schools. She was accepted to the University of Miami, and was offered a full scholarship. While at law school, Rousso turned 21 and was finally able to play live. The Hard Rock Seminole Casino was a short trip down the freeway and Rousso began making frequent trips, building her bankroll and gaining experience by playing $65 single-table sit-'n'-goes.
After completing her first year of law school in May 2005, Rousso traveled to New Orleans to play in a WSOP-Circuit side event. She ended up finishing seventh in the $200 no-limit hold'em event, earning about $6,400. Buoyed by her success in the Crescent City, Rousso decided to hit up the World Series of Poker that summer. She cashed the ladies event in 45th place, and picked up an extra couple of grand when she won one of the Palms' daily tournaments. In the fall she returned to law school, but played poker whenever she had a chance—either online or traveling to small buy-in tournaments on breaks. She made three cashes and two final tables in early 2006, her biggest score coming in the $1,500 No-Limit Hold'em Event at Atlantic City's WSOP-Circuit stop where she banked $17,550. That's when Vanessa Rousso got a funny idea in her head — she wanted to play in the $25,000 World Poker Tour Championships.
To buy in directly would have nearly leveled her bankroll, so Rousso sought out backers, selling shares of herself to a number of friends to come up with the $25,000. With nothing more than a dream and a whole lot of chutzpah, Rousso sat down amidst poker's elite and much to everyone's surprise, she ground her way to a seventh-place finish and a $263,625 score, busting on the TV final-table bubble when her A-K fell to James Van Alstyne's A-J. Her breakout performance at Bellagio put her on everyone's radar, and soon she was signed to a sponsorship deal as a member of Team PokerStars Pro. It's also where she met the man who would become her fiancé, Chad Brown, who finished the tournament right behind her in ninth place.
Rousso cashed three times at the 2006 WSOP, her best finish coming in $5,000 Short-handed No-Limit Hold'em, where she finished eighth. She cashed the 2006 WPT Legends of Poker in 42nd place and appeared on the WPT's Ladies Night Out IV, where she finished fifth. Returning to the east coast in September, Rousso ended up taking down her first major event, winning the $5,000 No-Limit Hold'em event at the Borgata Poker Open. The win was Rousso's largest-ever live score, at $285,540.
In the two years that followed, Rousso added three WPT cashes, three WSOP cashes, and two WSOP-Circuit cashes to her growing C.V. She also made her largest tournament cash ever – via an online event – when she finished second in the PokerStars WCOOP Main Event for $700,000. Rousso also made several appearances on NBC's "Poker After Dark," winning $120,000 in a six-handed, winner-take-all sit-'n'-go with the theme "Gus and the Ladies" featuring Gus Hansen, J.J. Liu, Erica Schoenberg, Beth Shak, Clonie Gowen, and Rousso. She also started traveling on PokerStars' Latin American and European Poker Tours, notching a tenth-place finish at the 2008 LAPT-Punta del Este and a 39th-place finish at the 2008 EPT London. It looked like Rousso was headed for her first WPT final table at the 2009 Southern Poker Championship in Biloxi last month, but she ended up with another break-your-heart seventh-place finish, bubbling the televised final table once again.
When she's not living out of her suitcase on the tournament circuit, Vanessa Rousso lives in Las Vegas with her husband-to-be, Chad Brown.
Nicole Gordon's profiles of professional players appear each Friday at PokerNews.com
Get a free 888 Pacific Poker Sign Up Bonus from PokerNews.com