PokerStars.com LAPT Punta del Este, Day 1: Rowe, Rytzner Lead Field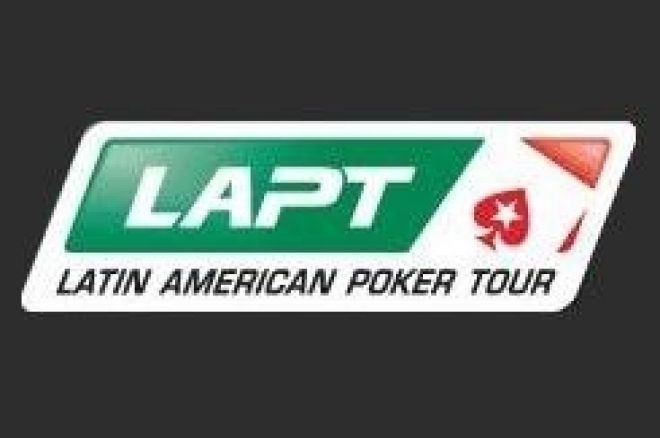 The first day of the PokerStars.com Latin American Poker Tour stop in Punta del Este, Uruguay has concluded, with Oliver Rowe atop the chip counts and Alberto Andres Font Rytzner close behind. Rowe (of Canada) accumulated many of his 136,000 chips after the dinner break, as did Rytzner (Spain) who ended the day with 135,125.
A total of 327 players put up the $3,700 to play in the event, creating a total prize pool of more than $1.1 million. By the time play ended late Thursday morning, 64 players remained. The top 36 finishers will cash, with the winner taking away a first prize of $283,500.
The three-day event attracted a number of notables, among them Greg Raymer, Dennis Phillips, J.C. Alvarado, Paul Magriel, Humberto Brenes, Victor Ramdin, and Andre Akkari. None of those players survived to Thursday's Day 2. Helen Prager, who finished second in the LAPT Mexico event that was finally played out in Punta del Este on Tuesday, was in the field as well, as was her husband, Josh, though both went out early on Day 1.
Four other players who were at that delayed LAPT Mexico final table are still in the hunt: Bolivar Palacios Vasquez (Panama), Leonardo Emperador (Venezuela), Pavel Naydenov (U.S.), and Alex Brenes (Costa Rica). Of that group, Vasquez has a slightly above-average stack (55,300), while the other three are sitting below average. All will have work to do to make it to their second LAPT final table in a week..
Here are the top ten among the remaining 64 heading into Thursday's Day 2:
Oliver Rowe — 136,000
Alberto R — 135,125
Angel Guillén — 111,200
Ibuki Fukui — 105,900
Mario Salvagno — 102,800
Lisandro Pablo Gallo — 94,300
Samo Muhia — 90,400
Andre Ventura — 85,800
Maximilian Heinzelmann — 83,600
Vialaret Ezequiel — 78,100