WSOP-C Rincon Day 1: Esther Taylor in Front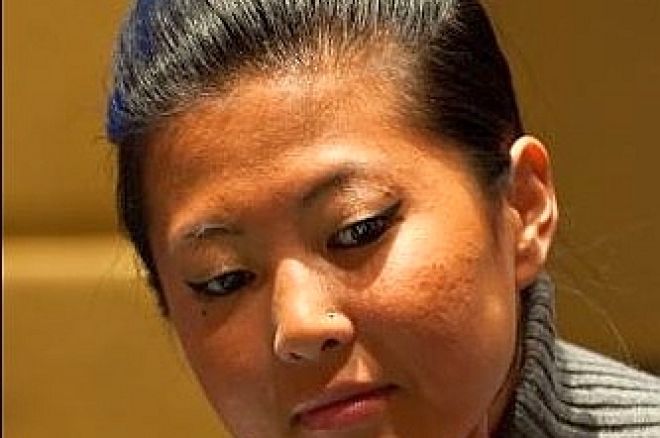 In a long Day 1, the 106-player field at the World Series of Poker Circuit Main Event at Harrah's Rincon near San Diego thinned all the way down to 16 survivors. As the dust settled on Day 1, Esther Taylor emerged as the chip leader, making her way through a field peppered with big-time pros. The Rincon Circuit stop drew a passel of familiar faces, including WSOP bracelet winner Steve Billirakis, Eric Lynch, Mickey "Mouse" Mills and Bryan Devonshire. Hoping to capitalize on earlier Circuit successes were Jason Young, who made a final-table appearance in Atlantic City, and Matt "allinat420" Stout, who final-tabled the recent Tunica event.
It was a rough day for the pros, as many of the big names headed for the door. Bryan Devonshire was an early elimination when he and Fred Lopez tangled in a big pot. Devonshire led out big on a flop of
, and Lopez flat-called. The
brought another bet from Devonshire and another call from Lopez. All Devonshire's chips went into the middle on the
river, and Lopez quickly called. Lopez tabled
for top two pair, while Devonshire's cards hit the muck and he hit the door.
Jason Young had a rough day, bleeding chips in the early levels and then getting some back in the middle of the day. His tournament ended in the middle levels when he called Pogos Simityan's shove with pocket eights, only to fins Simityan holding
. No help came for Young on the
board, and he was left crippled. He got his last few chips in two hands later with pocket aces of his own and found two callers. Evan McNiff moved in on the J-9-10 flop, and when his other live opponent folded, McNiff showed Q-6 for the straight draw. Young was ahead with his aces, but McNiff picked up some outs on when a six hit the turn. The king on the river made a straight for McNiff and sent Young to the rail. Other notable bustouts on Day 1 included Eric "Rizen" Lynch, Michael Binger, Shaun Deeb and Steve Billirakis.
Esther Taylor started her climb to the top of the leader board early and notched several knockouts along the way. One of the first was Matt "allinat420" Stout. Stout moved all in on a
flop, and Taylor went into the tank. After a few minutes of thought, including a declaration of, "I don't believe you, Matt. I never do," Taylor called with
. "Nor should you believe me," said Stout as he showed
for the gutshot. No seven showed on the turn or river, and Stout was done. Taylor crippled Mickey "Mouse" Mills when she and Mills saw a flop of
, and everyone checked around. Mills led out on the
turn, and Taylor raised. Mills called to see the
river, and when Taylor bet again, Mills called with
. Taylor's
had him outkicked, and Mills was eliminated soon after.
After running through most of the field, it was only fitting that Esther Taylor was involved in the last bustout of the night. This time her victim was Loren Egide, who moved all in from under the gun. Taylor re-raised to isolate, and when the rest of the table folded, she showed
. Egide needed help with
, and his hole got even deeper when the flop came down
. The turn and river were no significant help to Egide, and he was done right before the end of Day 1.
Join PokerNews at noon Pacific time for all the live updates from a short Day 2 as the 16 remaining players play down to a nine-handed final table. The complete standings after Day 1:
Esther Taylor -- 339,500
Charles Williams -- 279,000
Rick Reavis --202,000
Dwyte Pilgrim --149,500
John Farrell --143,500
Thao Thiem -- 142,000
Josh Prager -- 129,500
Pogos Simitiyan -- 124,500
Christopher Tryba -- 121,000
Lance Oliver --114,500
Jonathan McGowan --94,500
Steve Kim --76,000
Anas Sitthivong -- 64,000
Matt Hyman -- 58,000
Taylor Bell -- 43,000
Mike Heintschel -- 37,500