'durrrr Challenge' Update: Dwan Picks up $55,000 in Short Session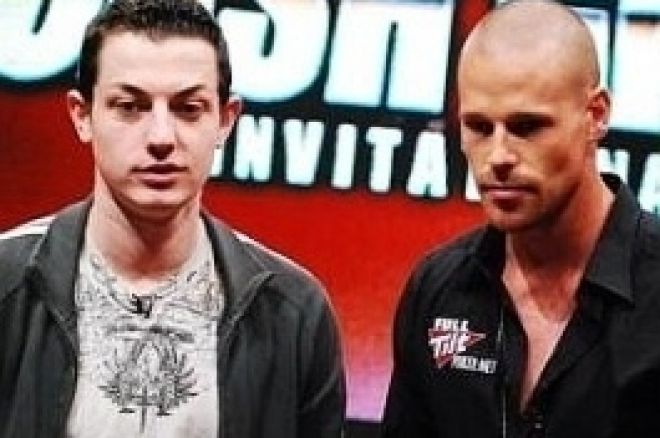 After a ten-day break, the "durrrr Challenge" finally resumed Sunday afternoon, with Tom "durrrr" Dwan and Patrik Antonius playing an eleventh session in their heads-up $200/400 pot-limit Omaha match. The two squeezed in 24 minutes of play in between sessions at their regular $500/1,000 mixed HA game, logging 154 more hands on the long road to 50,000. Dwan got the best of Antonius in this installment, posting a $55,634 win to retake the overall lead. Dwan is currently up $30,577 on Antonius after 7,247 hands.
Only one six-figure pot unfolded in this brief session. Dwan made a standard opening raise to $1,200 and Antonius called from the big blind. Antonius led out on the
flop for $2,400, Dwan raised to $8,600, Antonius three-bet to $28,200 and Dwan came back over the top for the rest of his chips, $60,799 in all. Antonius called, revealing
for a complete wrap draw while Dwan held
for top set. The turn was the
, missing Antonius' outs and the river blanked out for him again when the
fell, Dwan's hand holding up to earn him the $123,997 pot.
Antonius quit the match a short time later after deciding to turn in for the night, leaving Dwan free to engage in a little exercise.
Patrik Antonius: going to bed play tomorrow
durrrr: o ok
durrrr: guess ill play bball then
durrrr: i kindv wanted a reason to skip, its so far away
durrrr: lol
durrrr: gg
It appears, though, that Dwan never made it onto the court. A bit over an hour later he was check-raising away against Gus Hansen, David "MR B 2 U SON" Benyamine, Hac "trex313" Dang and Phil "OMGClayAiken" Galfond at the $500/1,000 "Hansen's Gym" mixed HA table.
Stay tuned to PokerNews for continuing coverage of this epic matchup.
If you're looking for a PokerStars Marketing Bonus Code you can find it on PokerNews.com - the number one source for everything poker on the internet.