'durrrr Challenge' Update 14: Antonius Bounces Back with $142,000 Win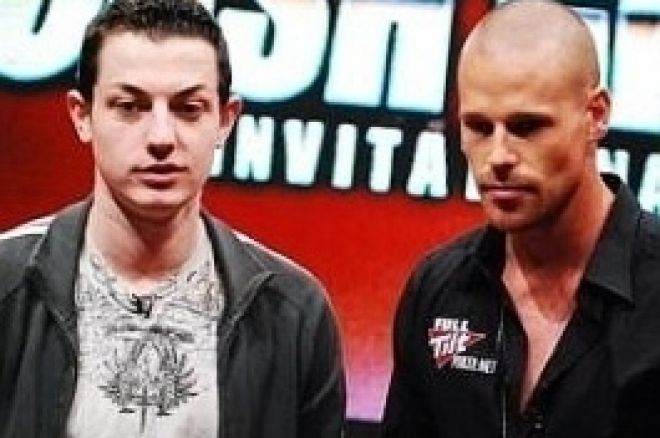 At last, Tom "durrrr" Dwan and Patrik Antonius are truckin' along when it comes to their pot-limit Omaha "durrrr Challenge" match, playing their fourth session in as many days on Saturday night. Though in their last meeting, Dwan walked away $160,000 to the good, Antonius erased most of those gains in this session, emerging a $141,834 winner. With 11,949 of the required 50,000 hands completed, Antonius holds an overall lead of $61,412 over Dwan.
Things got rolling just before 8:30 p.m. EST on Saturday, with both players buying in for $80,000 on each of the four $200/400 PLO tables. After thirty minutes or so of exchanging mostly small pots, their first all-in confrontation unfolded with Antonius leading off the action with a pre-flop raise to $1,200. Dwan three-bet to $3,600 and Antonius put in a small reraise to $6,000. That didn't deter durrrr, who bumped it to $18,000, earning a flat-call from Antonius. Dwan bet $36,000 on the
flop and Antonius moved in for the $53,493 he had behind. Dwan called and the cards went on their backs, Dwan with
for top two pair and a straight draw and Antonius with
for a wrap draw. The
on the turn filled Antonius' straight and the river fell the
, with Antonius taking down the $142,986 pot.
Things really didn't get much better from there for Dwan. On a board reading
on the turn, Dwan got the rest of his stack in with
for top two pair and a gutshot straight draw against Antonius'
for the same two pair, but Antonius hit the
on the river to make sevens full of aces and wrest away the $154,771 pot. Shortly thereafter, the challenge's third-largest pot to date unfolded. Antonius kicked things off with a raise to $1,200 that Dwan three-bet to $3,600. Antonius called and they saw a flop of
. Dwan bet $4,800 and Antonius smooth-called. The
hit the turn and Dwan checked, Antonius put out a $16,800 bet and Dwan check-raised to $67,200. Antonius called the additional $50,400 and to the river they went… the
. With only $22,733 behind after that turn bet, Dwan put the rest of his stack in the middle and Antonius quickly called, rolling over
for an eight-high straight. Dwan's
, a better than 9:1 favorite on the flop, was toast, Antonius hitting running cards to win the $196,655 pot and leaving Dwan to rebuy for $40,000.
Antonius continued to roll, reraising Dwan's $1,200 opening bet to $3,600 and earning a call in another big hand. Antonius checked the
flop, opening the door for Dwan to bet $4,800. Antonius came in for a raise to $21,600 and Dwan moved all in, Antonius calling the $15,146 balance. It was
for Dwan and
for Antonius; two pair against an overpair and a gutshot straight draw. Antonius continued to run hot, hitting the
on the turn to make a wheel and the
on the river missed Dwan's remaining outs. The $80,691 pot was shipped to Antonius and Dwan dug into his virtual pocket for another rebuy.
Dwan did get a little bit of revenge later in a $154,675 pot where he turned a wheel and Antonius three-bet him all in on the turn holding a set of aces, but the session clearly belonged to the Finn, who quit Dwan after a little over three hours of play, with the two logging 966 hands.
Patrik Antonius: im done for tonight 5 40am here we can play tomorrow
Stay tuned to PokerNews for continuing coverage of this epic matchup.
Nicole Gordon's continuing reports on the "durrrr Challenge" highlight PokerNews.com's coverage of the latest in online poker. To railbird the "durrrr Challenge" yourself, open up an account at Full Tilt poker today.