'durrrr' Challenge Update: Antonius Up $23,000 in Short Session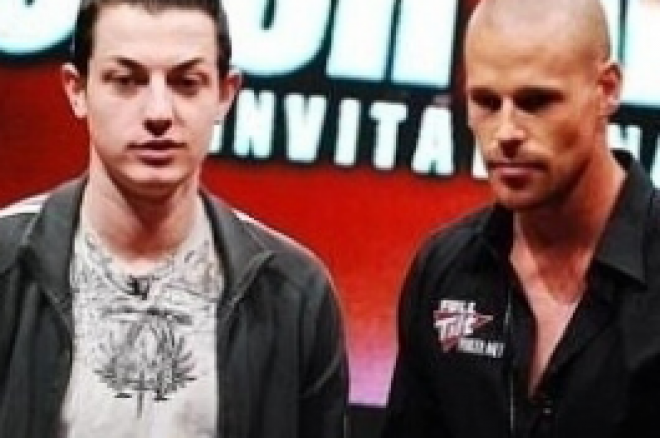 Patrik Antonius and Tom "durrrr" Dwan logged a quickie session of the 50,000-hand "durrrr Challenge" Tuesday morning, playing a scant 135 hands before calling it quits just before dawn broke over America's east coast. Antonius scored his second consecutive winning session against Dwan, picking up $23,132 to bring his total lead to $84,544 over the 12,144 hands they've played thus far.
Only one six-figure pot developed during this session, Antonius opening for $1,200, Dwan raising to $3,600 and Antonius making the call. Antonius led out for $6,000 on the
flop and Dwan came in for a raise to $19,200. Antonius responded with a three-bet to $64,800, hoping to set Dwan all in. Dwan indeed pushed for the $66,148 he had behind and Antonius called the small balance, turning up
for a wrap draw while Dwan was ahead on the flop with
for two pair kings and jacks with a gutshot straight draw. The
on the turn made Antonius a Broadway straight and the river blanked out with the
, Antonius raking in the $139,496 pot.
Though Antonius currently holds the lead in the challenge, he has actually won fewer pots than Dwan, though the average size of the pots Antonius has won is significantly higher. Dwan has captured 6,416 of the 12,144 pots with an average pot size of $1,918 while Antonius has taken down 5,657 with an average pot size of $2,191. Thus far, an ungodly $71,332,043 has been wagered over the life of this challenge — enough coin to purchase approximately 37 homes in the Beverly Hills area, 798 Mercedes S500s, or 193,358 shares of Google stock.
Keep it here at PokerNews for continuing "durrrr Challenge" updates.
Nicole Gordon's continuing reports on the "durrrr Challenge" highlight PokerNews.com's coverage of the latest in online poker. To railbird the "durrrr Challenge" yourself, open up an account at Full Tilt poker today.