Dwyte Pilgrim Wins WSOP-C Rincon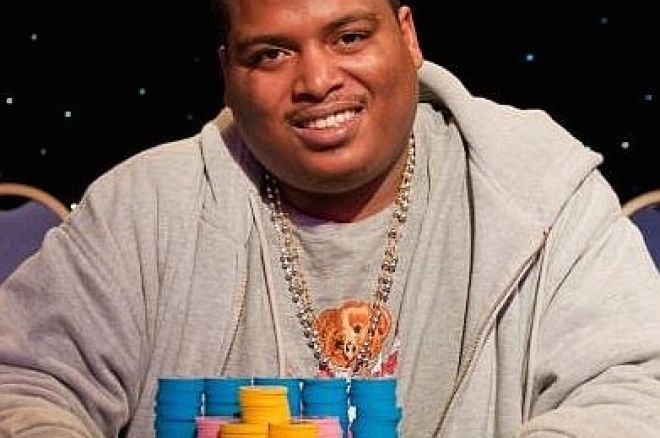 After two long days of poker, Dwyte Pilgrim came from behind to capture the chip lead, then the title and his second Circuit event ring this season as he took down the Main Event at Harrah's Rincon for a $125,775 payday. After connecting with a three-out river to stay alive early on, Pilgrim surged to the lead and finally eliminated Day 1 chip leader Esther Taylor heads-up for the win. With only 16 players surviving Day 1, the event was shortened to two days, and it was early evening in San Diego when Pilgrim finally topped Taylor to become the latest Circuit main event winner.
Play resumed at two tables, and it didn't take long for the field to narrow to just one. Taylor Bell got his last few chips in on one of the first hands with
, and when Charles Williams called with
and hit an ace on the flop, Bell was the first to fall. Rick Reavis headed to the rail next when his pocket queens ran into Charles Williams' pocket aces. No help on the board for Reavis, and he was done in 15th place. A short while later, Steve Kim ran into Thao Thiem's pocket aces and was done in 11th place.
With ten players remaining, play collapsed to one table and the players agreed to take a little cash off of each pay slot to make a save for the tenth-place finisher. By giving up $500 from ninth through second spots and $1,100 from first place, the bubble boy would receive his money back, $5,150. After the deal was made, players redrew for seats and the final-table seating assignments and chip counts looked like this:
Seat 1: Dwyte Pilgrim — 140,000
Seat 2: Josh Prager — 185,000
Seat 3: Esther Taylor — 300,000
Seat 4: Charles Williams — 570,000
Seat 5: Matt Hyman — 100,000
Seat 6: Thao Thiem — 300,000
Seat 7: Chris Tryba — 105,000
Seat 8: John Farrell — 80,000
Seat 9: Pogos Simityan — 150,000
Seat 10: Jonathan McGowan — 100,000
Matt Hyman was the player grateful for the save when he busted in tenth place. He moved all in preflop with
and found three callers gunning for him. The three live players checked it all the way to the river on a board of
. Hyman showed his deuces, but was no good to Dwyte Pilgrim's
for top pair. As Pilgrim dragged the pot, Hyman collected his save and headed home after two days of break-even poker.
John Farrell couldn't get it in much better than holding pocket kings on a 10-high board, which is exactly what happened when he called Chris Tryba's all-in on a flop of
. Tryba needed help with
against Farrell's kings, and the
on the turn brought additional gutshot outs. The
came on the river, giving Tryba trips and Farrell ninth-place money, some $20,124.
Soon after, Jonathan McGowan's tournament came down to a coin flip, which he lost to finish eighth ($25,155). McGowan raised preflop with
, and Esther Taylor re-raised. McGowan moved all in over the top, and Taylor quickly called with
. Taylor's eights held up on a board of
and McGowan was done.
A ten on the river was then good for Chris Tryba again, as he knocked out Pogos Simityan in seventh place ($30,186). Tryba raised preflop with
, only to find Simityan moving all in from the small blind. Tryba called, and saw that he was dominated by Simityan's
. All looked good for Simityan as the board ran out
, but the
on the river spelled the end of his tournament as Tryba made a pair on the river to bust Simityan's ace-high.
Sixth place belonged to Josh Prager, who busted out with little suspense after he got all his chips in with
to Dwyte Pilgrim's
. No help came on the
board for Prager, who picked up $35,217 for two days' work. Pilgrim then bounced Thao Thiem after they got all the chips in on a
flop. Thiem had the nuts on the flop with
, but Pilgrim's
hit a flush on the turn as the
landed. Thiem was drawing dead on the
river, as he headed off to collect his $40,248 for fifth place.
With two of the last four players already holding Circuit championship rings, odds were even that someone would enter the rare air of multiple-time Circuit event winners. Chris Tryba's shot at that particular glory ended when he busted in fourth place ($50,310). First he lost a huge pot to Charles Williams when his
couldn't outrun Williams' pocket jacks. Then he was all in from the big blind on the next hand with action from Williams and Dwyte Pilgrim. The live players checked it down on a board of
. Williams showed
for two pair, but Pilgrim had
for a better two pair. Tryba's
was no good, and the field was three-handed.
Pilgrim continued his dominance of the final table by taking out Charles Williams in third place ($75,465). Williams moved all in preflop with
, and Pilgrim called with
. The flop gave Pilgrim top set as it came down
, but the
on the turn gave Williams an open-ended straight draw. However, the river brought the harmless
, and Williams was done in third place.
Esther Taylor made a great run at becoming the first woman to win a Circuit Championship, but in the end her short stack couldn't overcome Pilgrim's rush to the title. She got the last of her stack in preflop with
, and Pilgrim called with
. Taylor missed the
board entirely, and Pilgrim rivered a pair of twos to seal the win. Taylor picked up $100,620 for second place while Pilgrim grabbed the gold ring, the WSOP Main Event entry package and the $125,775 top prize. The win marked Pilgrim's second circuit win of the season, his first coming in a preliminary event at Caesars Palace in Atlantic City.