PokerStars SCOOP Event #7-Hi, $10,300 H.O.R.S.E.: 'Wrasse' Tops Star-Packed Field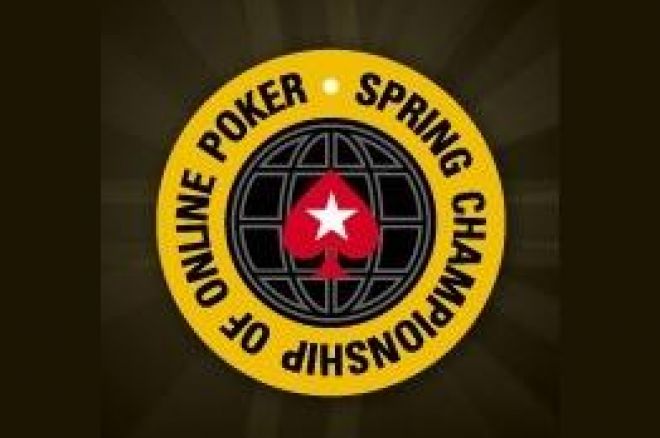 The PokerStars Spring Championship of Online Poker Event #7-Hi featured the five games of H.O.R.S.E., with a $10,300 buy-in. There were 80 entrants and the guaranteed prize pool of $750,000 was just eclipsed, with the pool totaling $800,000.
First place offered $260,000, as just the final table of eight players would be paid. After a thrilling hand-for-hand battle between two short stacks, what is 7x6 and Eugene "myrabbifoo" Katchalov, it was Katchalov leaving empty-handed and finishing in ninth place as the bubble boy. Also just missing the final table were Justin "Boosted J" Smith in 10th, Steve "thorladen" Weinstein in 11th and James "Andy McLEOD" Obst in 12th. These were the starting stacks for the final eight players:
RAYNEE. — 87,433
Josh "nitbuster" Arieh — 79,175
Wrasse — 74,978
Alexander "skalexjung" Jung — 54,797
Fabrizio "SixthSenSe19" Gonzalez — 50,141
xianggangdao — 28,996
pusteblume — 18,686
what is 7x6 — 5,794
Pusteblume exited first, during 1,600/3,200 hold'em. RAYNEE. opened with a raise and pusteblume three-bet. RAYNEE. called and the flop came
, which RAYNEE. checked. Pusteblume's last 1,372 went into the pot with
, but RAYNEE. called and tabled
for trips. The turn and river came
as pusteblume took $32,000 for eighth.
It stayed seven-handed until 2,500/5,000 stud hi-lo. Xianggangdao's last 5,796 went into the middle with
against RAYNEE.'s
. RAYNEE. was dealt a beautiful
on fourth street and went on to make a seven-high straight with a low of 6-5-4-3-A. Xianggangdao could not beat either hand and finished in seventh place for $36,000. Later in the level, what is 7x6 hit the rail. Short-stacked from well before the final table, he fell to both Wrasse and Fabrizio "SixthSenSe19" Gonzalez. Showing the
, Gonzalez raised, and Wrasse called with the
up. What is 7x6 thought it over before calling with the
. Their hands after fourth street:
Wrasse — (x-x)
Fabrizio "SixthSenSe19" Gonzalez – (x-x)
what is 7x6 – (x-x)
Wrasse led out, but what is 7x6 raised it up. Gonzalez called and Wrasse three-bet. What is 7x6 capped it and both players called. 7x6's last 1,054 went into the middle on fifth street and both live players stayed in until the end, when these hands were revealed:
Wrasse — (
(
)
Fabrizio "SixthSenSe19" Gonzalez – (
)
(
)
what is 7x6 – (J-8)
(x)
What is 7x6's aces up missed out on winning the high when Wrasse made a full house on seventh street. For the sixth-place showing, the high-stakes Omaha hi-lo regular earned $44,000.
Josh "nitbuster" Arieh busted in 1,250/2,500 hold'em. Severely short-stacked, he committed his last 3,864 with
. Both RAYNEE. and Alexander "skalexjung" Jung played, and the board came
. Unfortunately for Arieh, RAYNEE. made a flush with
. Arieh took fifth place for $60,000.
Alexander "skalexjung" Jung was the next to exit, during 3,000/6,000/600 razz. On fifth street, Jung got the last of his chips in with A-2-4-3-4, and was up against Wrasse's 2-3-6-Q-A. Jung missed out on his last two cards, hitting a king and a deuce. Wrasse went 10-7 to make a 7-6-3-2-A to finish off Jung, who took home $80,000 for fourth place.
Throughout the final table, Fabrizio "SixthSenSe19" Gonzalez rode the roller coaster. With four players remaining, he had chipped up to over 200,000. When it was down to three, Gonzalez was the short stack. However, on the three separate occasions during 4,000/8,000 stud hi-lo, he outdrew RAYNEE. on seventh street to stay alive, including a two-outer. Ultimately it would cost RAYNEE. a shot at winning, as he finished in third place. On his final hand against his nemesis Gonzalez, there was betting on every street until RAYNEE. was all in on sixth street. The hands at that point:
RAYNEE. – (
)
Fabrizio "SixthSenSe19" Gonzalez – (
)
RAYNEE. was unable to improve his kings or hit flush draw, as he pulled the
on seventh. Gonzalez was dealt a
and won the hand with eights and fives. RAYNEE. pocketed $120,000 for third place. Heads-up play between Gonzalez and Wrasse began with these chip counts:
Wrasse — 275,546
Fabrizio "SixthSenSe19" Gonzalez — 124,454
The tournament ended during the 5,000/10,000 hold'em rotation. Wrasse had built up the lead and emerged victorious here. On the final hand, Wrasse raised and Gonzalez three-bet, which Wrasse called. The flop came
and Gonzalez bet his last 3,054. Wrasse called with
and trailed Gonzalez's
. The turn was the
, giving Wrasse a straight draw, and the Jh landed on the river to make a winning straight for Wrasse. Gonzalez finished as the runner-up for $168,000, with Wrasse collecting $260,000 for winning SCOOP Event #7-Hi.
Final Results:
1. Wrasse — $260,000
2. Fabrizio "SixthSenSe19" Gonzalez — $168,000
3. RAYNEE. — $120,000
4. Alexander "skalexjung" Jung — $80,000
5. Josh "nitbuster" Arieh — $60,000
6. what is 7x6 — $44,000
7. xianggangdao — $36,000
8. pusteblume — $32,000
<center>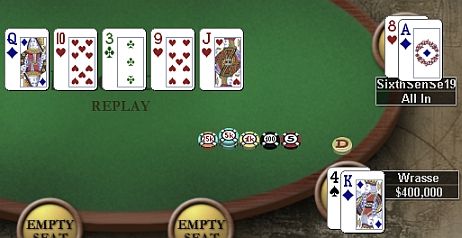 </center>