Women's Poker Spotlight: Nevada SPCA Announces Third Annual Jennifer Harman Charity Poker Tournament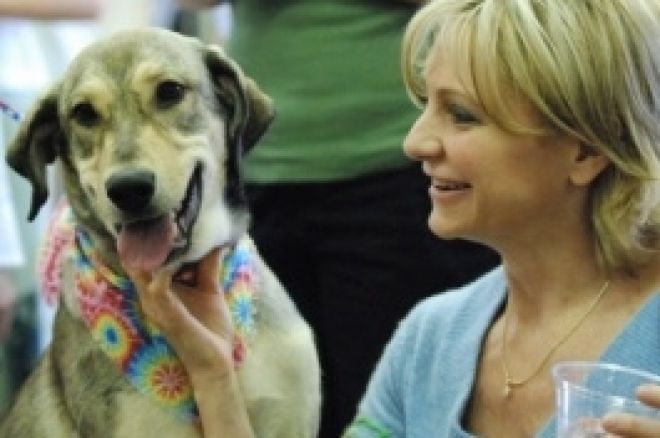 One of the greatest successes of the poker world has been its willingness to give to those less fortunate. For the third straight year, Jennifer Harman will lead that charitable spirit in raising money for the Nevada Society for the Prevention of Cruelty to Animals. The event will be hekld at the Venetian on the Las Vegas Strip at 5 PM on Friday, April 17th. The Nevada SPCA is a nonprofit organization; the no-kill animal sanctuary promotes humane education, makes referrals for lower-cost spaying/neutering and vaccination services, and challenges people to be the best possible guardians for the companion animals in their care. Said Harman, "[N]ot enough can be said about the volunteer based no-kill animal shelter responsible for saving so many lives, applying daily pro-active rescue efforts, spay and neutering, and soliciting more medical professionals to administer treatment to injured and abused animals. The money has gone a long way, to include building a modern new wing where these little ones can stretch their legs and enjoy the outdoors. Together, we've made such a difference in this community and the state of Nevada."
The Jennifer Harman Charity Poker Tournament is a media and fan favorite. Events range from the silent auction — where last year 'Al from Bakersfield' picked up the hat from Doyle's head and put it onto his own head — to the Red Carpet walk featuring celebrities and their companion animals, to the main event: a $300 + 30 buy in tournament with $100 re-buys during the first three 20-minute levels and a one-time $100 add-on for twice the starting stack. Spirits are high and the ambiance at the Venetian is relaxed and informal, giving everyone a chance to play and chat with professional poker players, media and industry leaders alike in a comfortable atmosphere.
Over the past two years expectations have been exceeded, with the tournament raising about $130,000 the first year. Last year's event drew 275 players, and more than doubled the first year's donations by raising more than $300,000 for the Nevada SPCA. "The outpouring of support has been phenomenal. I have to credit poker players, their fans, and compassionate contributors for raising nearly $500,000 for the Nevada SPCA over the years," said Harman.
Harman is hoping to make this year's event the biggest and most meaningful. This year the SPCA needs more help than ever. Economic times have brought hardship for animal owners, who are desperate to keep themselves and their families in their homes or have been displaced from their homes due to the ongoing economic crisis. "This year has been especially challenging. So many animals were abandoned by people that lost their homes due to the economy," said Harman. "The NSPCA saved many lives, but so many others were locked away and discovered too late. It's been a trying time for all of us, and the funds are running low. I'm pleading with everyone to help us in our efforts to raise awareness and funds during this event. I know it's a lot to ask, but every little bit matters. Come to the Venetian on April 17th, meet the celebrities and their animal companions, and give what you can."
Join the excitement and get your Poker Stars Marketing Code From PokerNews.com - The leading source of poker news and information.