Financial Returns Continue for ChipMeUp Investors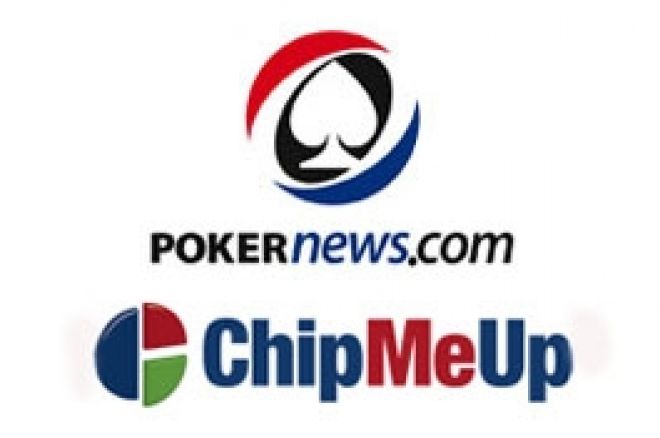 Staking poker players is a profitable pastime for some poker players and thanks to ChipMeUp.com, players around the world are getting in on the staking action. The latest ChipMeUp stakehorse to bank big dollars for investors is "Titan Lucky," or maybe better known as "equinespy" on PokerStars after he finished third for $141,048 in Sunday's World Championship of Online Poker's Event 26. "Titan Lucky," whose real name is Mark Griffiths, earned his backers $2,821.66 for each 2% share sold. For those wise enough to have gotten a piece of Griffiths, they earned $2,816.66 for their $5 investments. In the end, all investors made a combined 56,333.2% profit on their stakes.
Although Griffiths is somewhat unfamiliar to the majority of poker fans, ChipMeUp.com features a number of big-name players who are easily recognized including Erik Seidel, who won $162,382 during the World Series of Poker Event #49 ($811.91 payout per share); navigator (Miha Remic), who cashed for $80,000 ($4,000 payout per share); and Pokernews head honcho Tony G who dragged $83,630 during the WSOP Event 49 ($418.15 per share). The "G" also scored a big payout of $559,650 ($5,596.50 per share) during the European Poker Tour's High Roller event in which he finished third.
In case you are unfamiliar with ChipMeUp.com, this unique Web site allows players to buy shares (percentages) of players who are playing in poker tournaments around the world (including online events). With stakehorses participating in tournaments such as the Unibet Open in Prague, the WSOP Europe Main Event and the Pokernews Cup, plenty of opportunities exist to make a quick buck by capitalizing on a chosen player's performance. Current players scheduled to see action in the upcoming days and months include rkruok (an Australian online specialist), Tony G, Thomas Bihl, Kathy Leibert and 2009 Aussie Millions winner Stewart Scott.
In addition to offering staking opportunities, ChipMeUp.com gives players a chance to buy a variety of tournament entry chips (tokens) for a fraction of what it would cost to buy one at regular prices. For example, a Full Tilt Fifty-Fifty tournament seat sold for $.25 a day ago. Considering the incredible values offered, these auctions are an easy way to add your bankroll and lower the costs of tournament entry fees. Players can also bid for pieces of players as well. One recent auction saw a 1% share of Tony G go for $.88 (in the Tony G Poker $1M tournament). Considering that the potential payout is valued at $1,000 or higher, this lucky bidder may have just scored the deal of the century.
For more information on how to stake a player or to see the latest players offering pieces of themselves, go to ChipMeUp.com.