PokerStars EPT London Day 4: Bowker and Juanda Have the Table Tilted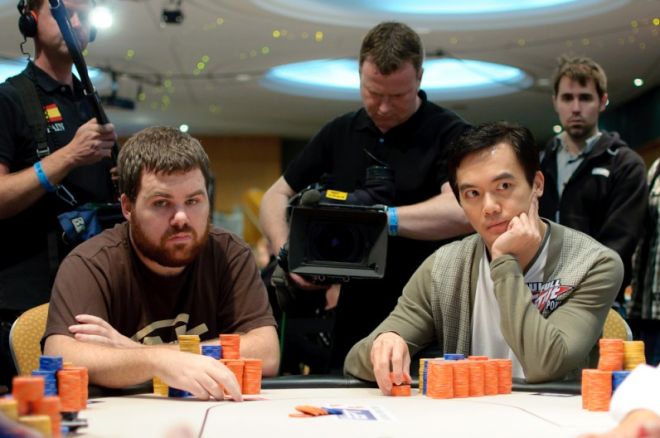 From a pro-heavy starting field of 848 players, just 24 were allowed to return on Sunday for the penultimate day of the PokerStars.com EPT London. In the largest tournament the UK has ever hosted, American Chance Kornuth came into the day with the largest stack in sight, his count of 2,302,000 putting him more than a half million chips in front of his nearest challenger.
That lead was not to last, however, as fellow-American Kyle Bowker would collect all of those chips as his own in the space of two quick hands. The first blow came when Bowker squeezed out
and found action from Kornuth's
in an all-in-preflop clash. Bowker was momentarily crushed by a ten on the flop, but the turn
allowed him to rally for the double up, taking the legs out from under Kornuth. He had about 1.8 million left when he four-bet shoved into Bowker a few hands later, and Bowker had the goods once again. Kornuth's meager
was in a bad way against the
of "kwob20", and there wasn't even a sweat on the
board. Kornuth's commading lead and the rest of his chps evaporated just like that, and he was out in 18th place.
When play began, three Team PokerStars Pros were still in contention, but none of the three could escape the first three levels of frenzied action. Short stack Chad Brown (USA) was the first of them to fall, exiting in 23rd place when his
couldn't catch up to Robert Nulli's
. Joe Hachem (Australia) had the worst starting seat in the house, sandwiched between Thomas Bichon (France) and John Juanda, and it was the 2008 WSOPE champion Juanda who would ultimately eliminate the 2005 WSOP champion from the field. Hachem was down around ten big blinds when he pushed in with
, running his baby ace smack into Juanda's
. Neither player paired up, and the ace-king kickers were enough to crush Hachem's hopes of becoming just the third player ever to win poker's Triple Crown.
Juanda also claimed the tournament life of Bichon, the last of the Team Pros, in one of the largest pots of the tournament thus far. With the blinds at 20,000/40,000/4,000, Bichon opened to 105,000 form middle position with
, and Juanda called next door with his
. The
was going to be trouble for the Frenchman, and he led out with 125,000 before Juanda raised to 260,000. Bichon popped it right back to 415,000, and Juanda smooth-called to see what fourth street had to offer. Bichon paused for a long while when the blank
hit, finally announcing an all in for his last 804,000. That gave Juanda a tough decision of his own with top pair/top kicker, but he would make the right read. The call came to put Bichon one card from the exit, and he could not connect with the
river. Bichon exited in 14th place, vaulting Juanda into a big chip lead in the process.
Bowker snagged that lead right back, though, knocking off Nulli in 13th place when his
held against the Italian's
. That moved Bowker up around the 6-million chip mark, and he would keep himself planted firmly atop the leaderboard for the remainder of the day, Juanda lurking in the shallow waters just beneath him. Other notable casualties of Day 4 included Keven Stammen (21st), Allen Bari (19th), John O'Shea (17th), and Matt Perrins (12th).
Finally, the early pace slackened slightly, and the knockouts became less frequent as the seriousness of the situation dawned on the players as the final two tables shrunk. It was Juanda's turn to win a flip with pocket sixes next, and his
held against Rumit Somaiya's
to reduce the field to the final ten. A half hour later, Steven Levy tried his luck with
, but he could not out-race Day 2 chip leader David Vamplew's
on a
board. About six hours into the day, then, the final nine were re-drawn and combined into one table to play odd-man-out for the eight seats at tomorrow's final table.
John Hall was the unlucky one to claim the final paycheck of Day 4 after running his short-stacked
into Artur Wasek's
. No help on board spelled a sad end to Hall's day, while the other eight were also done, only with a little more to look forward to. The chip bags came out, and Bowker's would soon be stuffed to the brim with 7,165,000 technicolor chips. Right behind him sits Juanda, though, and the safe money probably lies on him taking down his first EPT title this week. Between the two of them, Bowker and Juanda hold well over half the chips in play.
It's going to be a long haul though, and there's still plenty of work to be done to get past Bowker and the rest of the sharks at this table. Most notably, Tom Marchese is on a hell of a heater this year with more than $1.6 million in earnings already, and adding an EPT title to his NAPT earlier this year would be the stuff of legends. He'll be in the middle of the pack when the play recommences, but he's on our sleeper list as the potential dark horse come Monday.
Here's how the rest of the table will look when the final table kicks off at high noon:
| Seat | Name | Chips |
| --- | --- | --- |
| 1 | David Vamplew | 3,670,000 |
| 2 | Tom Marchese | 1,480,000 |
| 3 | Fernando Brito | 1,100,000 |
| 4 | Per Ummer | 1,245,000 |
| 5 | Artur Wasek | 2,250,000 |
| 6 | Kayvan Payman | 1,295,000 |
| 7 | Kyle Bowker | 7,165,000 |
| 8 | John Juanda | 7,075,000 |
Our Live Reporting team will be tableside tomorrow as we crown another EPT champion, so be sure to follow along with all of the action as it unfolds. You should follow us on Twitter and friend us on Facebook too!
We have just announced three $15,000 Sunday Million Freerolls & three $2,000 PCA Freerolls with PokerStars. You can win a ticket to a tournament with a life changing prize pool for free, but only with Club PokerNews!