The PartyPoker Weekly: Scream if You Have Aces, Mr Teeth Scares Tony G and Watch the Premier League Online
Find out what scares Tony G, who won the first Cash Runner Leaderboard and how to make your computer scream when you get dealt rockets in this week's PartyPoker Weekly!
Mr Teeth Scares Tony G…..we cant think why?
There isn't much out there that scares Tony G, but we have found something that does. Bob Gibson, the runner up of the Drive the Dream promotion, whom he affectionately refers to as Mr Teeth.
"Feel the power in the chilling laugh. Bob, if you are reading this let me take you to lunch in London one day soon – a friend will be in touch. We'll make sure we have soup for starters. Are you a little drunk in the video? You wouldn't find me getting filmed tired and emotional!"
See if you agree with Mr G:
The Best Bonus in Poker: Free $50 No Deposit Bonus
Test out Tony's claim without spending a penny or even depositing. Out industry leading free $50 bonus means you don't even have to spend your own money to play poker.
All you have to do is download PartyPoker using PN links, register, use the Bonus Code PN50FREE and that's it. $25 straight to your account. Not only that, you have the opportunity to earn another $25 into your bonus account too! All you have to do is earn 200 PartyPoker Points and another $25 in real cash will be released to your account.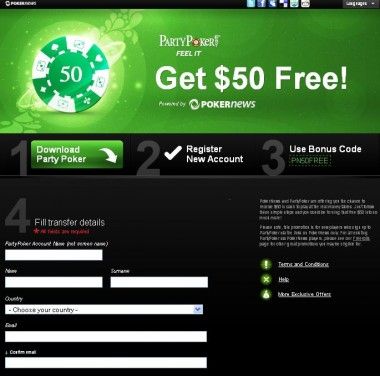 Scream if You Have Aces!
If aces wasn't exciting enough, now you can customise your Party client to let out a little scream when you get them.
The Premier League IV Is Available to Watch Online
What looks like one of the best studio based TV tournaments in quite some time has started its broadcast and you can now watch the Premier League IV online at the PartyPoker Blog (and of course, here).
If you can't wait, you can check out our live updates from the show here – but don't blame us if you hate spoilers!
LuckBoxing7 Wins PartyPoker Cash Runner Leaderboard
Wanna know how many PartyPoints it takes to come 1st in our Cash Runner Leaderboard? 44444.3 to be precise, as that's what PokerNews referred PartyPoker player luckboxing7 racked up to win our first Cash Runner Leadeboard. He maintained a nearly 3-1 lead on his neares rival YokellY, who earned a very impressive 14526.28 points for second.
The good news? We have already started our second PartyPoker Cash Runner Leader board and you can start playing NOW!
The bad news? Luckboxing7 is already at the top of the leader board.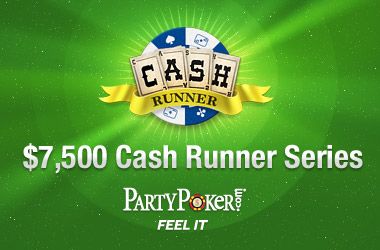 Coming Soon, Return of the Gladiator..........
November is going to be very lucrative if you have what it takes, stay tuned next week to see what we mean.