Last Chance to Qualify for Our UB & Absolute Poker $1,500 Freeroll - Just a Deposit Required to Play!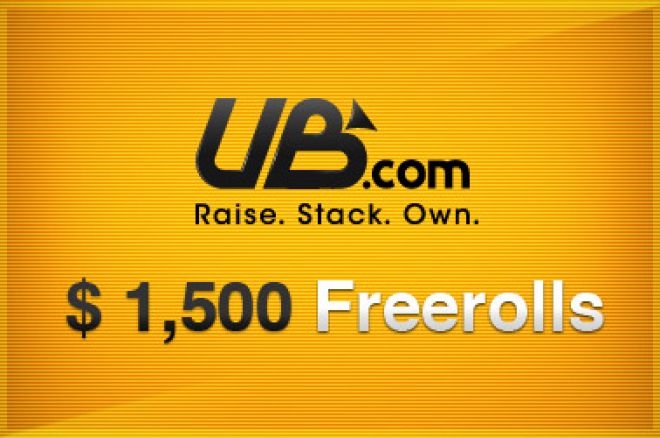 Deposit into a new UB Poker or Absolute Poker via PokerNews before 23:59 GMT tonight and you can play in the final exclusive $1,500 freeroll of the current series.
One of the many reasons you should choose Club PokerNews over the competition is because we have some of the longest running and most regular freerolls around. Plus as always, when you sign up to a room with us, you get our exclusive promotions with them for life - not just for signing up.
So now is as good a time as any to mention the latest leg in the long running $1,500 Freeroll Series we have with UB Poker and Absolute Poker. If you have signed up either of these rooms via Club PokerNews you will know all about the regularity of them and if not, now is a great time to start playing them.
The final one of the current series is coming up on December 19 at 14:35 EST.
Just a Deposit Required
If you are a new player all you need to do is download UB Poker or download Absolute Poker via our links and make a minimum deposit using bonus code "POKERNEWSUB" for Ultimate Bet and "PNAP" for Absolute Poker. That will guarantee you entry into the this tournament - nothing else is required!
If you have already signed up to either poker room via Club PokerNews then all you have to do to participate is play 150 raked hands in each tournaments qualification period. This is much easier than a points requirement because you can reduce your variance by playing very low stakes and easily can grind the hands out in an hour if you play multiple tables.
But you have to hurry because the qualification window closes tonight at 23:59 GMT!
Qualified players will be able to manually register for the freerolls 24 hours after the close of qualification. The tournaments take place on the following dates at 14:35 EST and pay out as per UB/Absolute Poker's standard payout structure:
See our UB Poker Page and Absolute Poker Page for more details and the qualification periods.
If you already have an non PokerNews UB or Absolute account, then you can just sign up to the other room via PokerNews and you are in. If you already have an account via PokerNews than you can still sign up to the other room anyway just to make the most of the two deposit only freerolls you get for signing up – no raked hands needed!
And did we mention both rooms are open to customers from the United States?