Bulldog777 Facebook & Twitter Freerolls Start This Week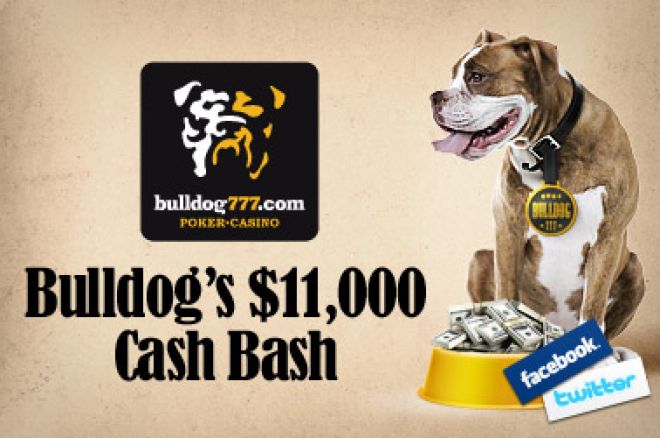 To take part in the Bulldog777 $11,000 Cash Bash, all you need to do is "like" PokerNews on Facebook, and make a deposit on Bulldog777.
Facebook and Twitter fans, we've got a freeroll series for you. PokerNews and Bulldog777 have come together to bring you an exclusive $11,000 Freeroll Series. The only way to get the passwords is either by liking our Facebook page or following us on Twitter.
The Bulldog777 $11,000 Cash Bash features two $3,000 freerolls, one on March 25 and one on April 8. Both kick off at 1900 GMT. These freerolls pay out as per Bulldog777's standard payout structure and the top 200 players in each tournament will be entered into a $5,000 Final on April 15 at 1900 GMT.
$3,000 Bulldog's Cash Bash Freeroll #1 and #2
March 25 and April 8 at 1900 GMT
$5,000 Bulldog's Cash Bash Final
April 15 at 1900 GMT (Top 200 players from each $3,000 freeroll)
Instant Qualification
Make a deposit using bonus code POKERNEWSCOM.
Check out our Twitter or Facebook page five hours before each tournament for the password.
The qualifying players for the $5,000 Final will receive a token prior to the tournament that they must use to register manually.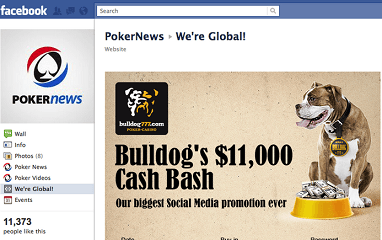 You don't have to wager any money. All it takes is to follow or like one of our social media pages. Because Bulldog777 is a new addition to the PokerNews list of online poker sites, there is a good chance that the fields will be small and getting into that $5,000 freeroll will be much easier. Don't forget that you are more than welcome to play in both qualifying freerolls even if you place high in the first one.
Being part of the PokerNews Facebook and Twitter revolution will pay dividends in the coming months because we plan on having many exclusive promotions for our most loyal fans.
So get tweeting, get poking, and most importantly download Bulldog777 to play in one of the biggest social media freerolls you are likely to find. You may also like to know that PokerNews has an exclusive first-deposit bonus that you can't find anywhere else - 200% up to $1,000 when you use the bonus code POKERNEWSCOM.
If you experience any problems with this or any of our promotions, please contact our Ticketed Promo Support System.