Full Tilt Skills Challenge: Don't Miss the Final $4k Added Event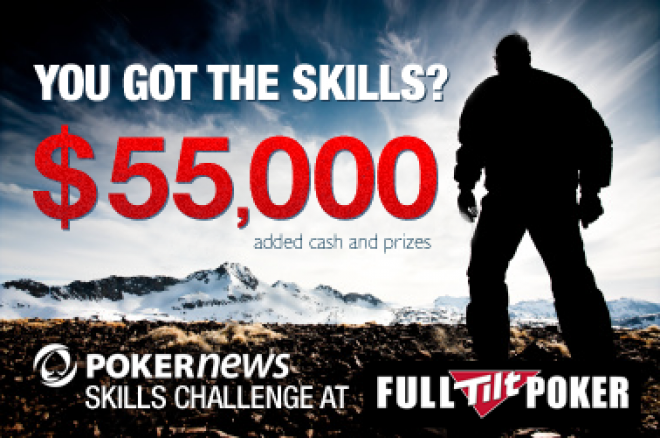 Download Full Tilt Poker via PokerNews to play in Wednesday's event, a $10+$1 six-max shootout with $4,000 added. It takes place at 1600 EDT (2100 GMT).
Event #7 in the Full Tilt Skills Challenge proved to be our most lucrative yet, as 210 players did battle in the $5+$1 rebuy event with $2,500 added. The final prize pool was $5,920 and "Flosav" of Hungary had the last word, taking it down for $1,332.
The final league event in the series could be even bigger, as it is a $10+$1 six-max shootout with $4,000 added to the prize pool. This event also had a 2x points multiplier, which means a strong finish could be enough to secure your place in the top 200 and possibly even the final 32 of the leaderboard.
That is important because the top 200 players in the league leaderboard after this event will gain automatic entry into a $20,000 Freeroll Final on May 1 at 1600 EDT (2100 GMT). The top 32 players will also gain entry into an exclusive $3,200 freeroll on April 20 at 1600 EDT (2100 GMT), as well as each receiving a ticket to the Full Tilt $750,000 guaranteed worth $216 each. The league is calculated by taking each player's best five scores from a possible eight.
Check Out Our Full Tilt Poker Review


Qualification Has Started For The $20,000 Freeroll
If you miss out on the top 200, you can still get into the $20,000 freeroll on May 1. That's because any PokerNews referred Full Tilt Poker account holder who earns 200 Full Tilt Points in April will also be eligible to play.
The $20,000 freeroll is likely to have one of the smallest fields but one of the biggest prize pools you'll see, so whether you play the League or not, you'll want to get in on this action. If you have been playing the League events in April, you will already have plenty of Full Tilt Points to get you started. Earning 200 FTPs is roughly equivalent to $20 in rake, which is a very low qualifying criteria considering the size of the freeroll on offer.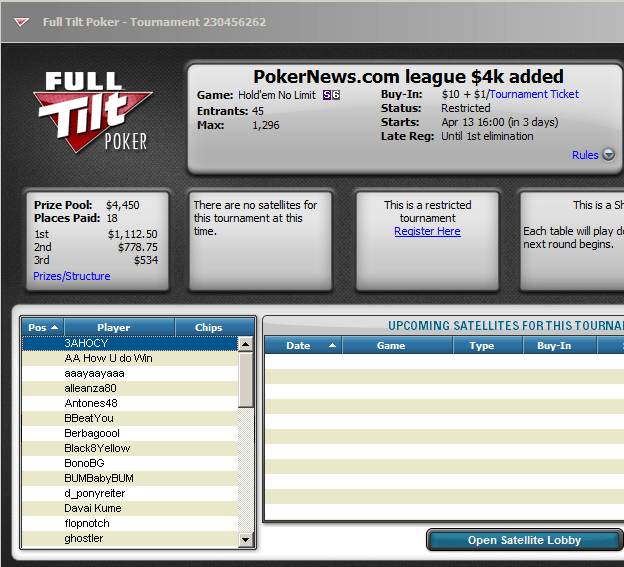 Hurry for the Next Event
The $10+$1 Six Max Shootout gets under way on Wednesday with $4,000 added to the prize pool. You still have plenty of time to enter; it starts at 1600 EDT (2100 GMT). The tournament ID is 230456262 .
For more, go to the $55,000 PokerNews Skills Challenge at Full Tilt Leader Board Page.
Make sure you use bonus code "PKRNEWS" to ensure eligibility for this series and to get a 100% up to $600 first-deposit bonus and entry into the $100,000 First Depositors Freeroll.
If you experience any problems with this or any of our promotions, please contact our Ticketed Promo Support System.