Hurry for the Risk Free $5,000 Masters on Freeroller.com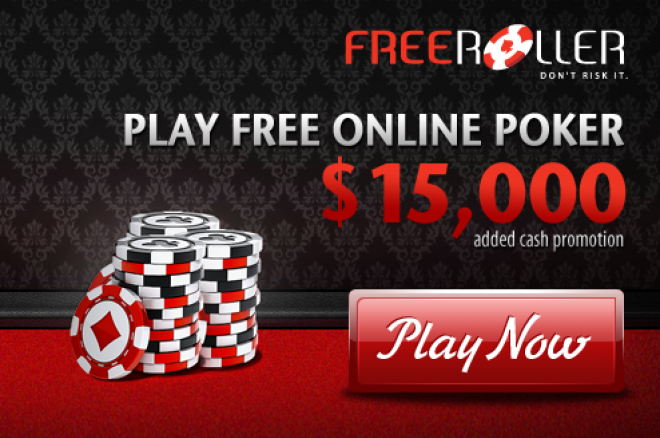 Join Freeroller.com using promo code "POKERNEWS" for instant VIP status ($25 value) and the chance to play in a $5,000 freeroll on Saturday, April 30 at 1630 AEST — risk free!
**Visit our Freeroller.com $15K Promo Page**
Time is running out to participate in our exclusive Risk-Free VIP promotion on Freeroller.com. All month, PokerNews players have been playing in an exclusive $10,000 Leaderboard Tournament without risking a single penny on this new freeroll site for Australian players. They have enjoyed a free VIP upgrade worth $24.95 a month, simply for using promo code "POKERNEWS."
You can still enjoy the Risk-Free VIP benefits for a few more days and, more importantly, if you sign up to Freeroller.com using promo code "POKERNEWS" before the end of Friday, you will be eligible to play in the biggest freeroll on the site yet – the $5,000 Monthly Masters freeroll Saturday, April 30 at 1630 AEST. The only way to get in is through exclusive risk-free qualifiers every night at 2000 AEST, but you need to sign up now to register for them.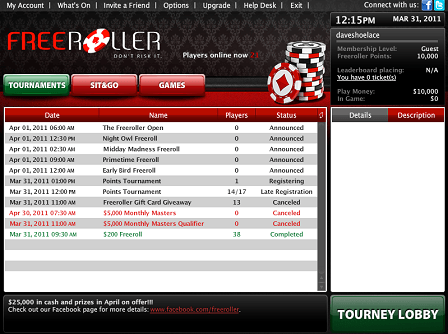 There are plenty of reasons to stick around at Freeroller.com beyond April. Each month, $25,000 in prizes is given away without you risking a single cent. The way it works is this: on the first of the month, all members start with 10,000 Freeroller points, which are used like money to play in tournaments. As you win or lose your points, they get tallied in the Freeroller Leaderboard where cash prizes are awarded to the highest-ranked players at the end of the month. Because it is exclusively for Australian players, the tournaments take place at Aussie-friendly times.
Upgrade to VIP status ($24.95 a month) for exclusive VIP events, private tournaments, sit-n-go tournaments, an exclusive rewards program, and much more.
But right now you'll want to get in on this exclusive $5,000 freeroll on Saturday, April 30. Don't forget to use promo code "POKERNEWS" when you sign up for a Freeroller.com account otherwise you will miss out on being able to qualify for the freeroll, as well as sampling the VIP upgrade.