Betfair Poker Summer Road Trip - Great Value in June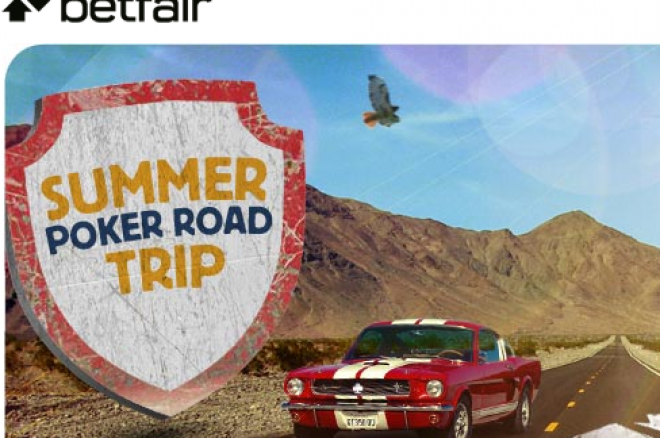 Betfair Poker has a ton of promotions this month to tempt you away from sunlight. Volume is king in June. Whether you are a cash player or a sit-n-go expert, low stakes or high stakes, there is a promotion for you in June.
Summer Slam
From June 3 to June 28, no matter what your level of play, the more points you earn the more Summer Slam freerolls you can enter. There are micro, mini, and grand-slam freerolls. If you earn at least 250 Poker Points, you qualify for the $10,000 freeroll on July 3.
$30,000 Raked Hands Frenzy
Running from the June 1 - 21 and July 1 - 21, you can win a share of a the huge $30,000 prize pool whatever stake level you play. Three separate leader boards, with a top prize of $1,200 for the gold leader board, with 150 places paying in total.

$60,000 Natural Born Grinders
If that wasn't enough, starting on June 3 for eight weeks, there is a $60,000 leaderboard. This one is different because it scores per week with the best four weeks taken as your final score. The player with the best four weeks will win $10,000, with everyone in the top ten winning at least $1,000 and 150 places paying.
Skill & Go
Not to be left out, sit-n-go players can compete in Skill & Go. Whether you are high-stakes or a micro player, everyone competes in the same leaderboard where the results are calculated with a balance of buy-in level, skill and volume. Each weekly $5,000 race pays the top 25 players and are calculated with the following formula:

PokerNews iPad2 Summer Madness
PokerNews referred Betfair Poker players get an additional cherry on top of the cake. From June 1 to August 31, they can earn points to five exclusive iPad2 freerolls in September. We have 15 iPad2s to be won, and the points you earn in the four promotions just explained will also work toward iPad2 Summer Madness. Check out the iPad2 Summer Madness page for more information.
If all this didn't sound exciting enough, don't forget the $2,500 First Deposit Bonus you will get when you sign up to Betfair Poker through PokerNews.