William Hill Wanted: $20,000 Freeroll + $5,000 in Bounties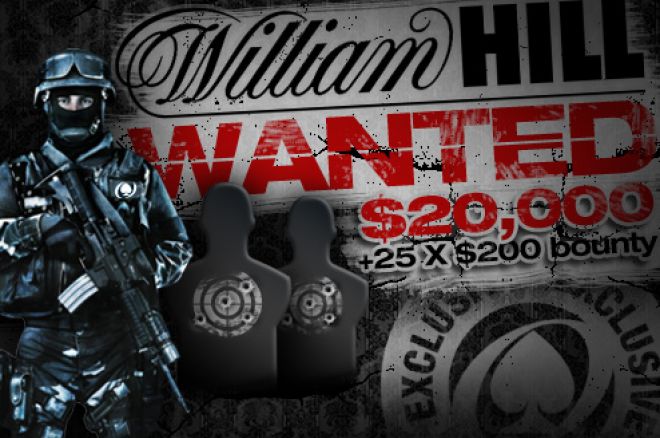 Download William Hill Poker and earn 600 WH points between July 1 and August 15 to qualify for a $25,000 bounty tournament on August 21 at 1900 GMT.
At PokerNews, we pride ourselves on giving you the best freeroll tournaments you will find anywhere. Some of the common complaints we hear about freeroll tournaments in general is that they are boring, the structure is too fast, and the prize pool is too small.
So we're bringing you William Hill: Wanted – a freeroll with real player value.
Fun: If you want to have some fun, this is the freeroll for you. You will be playing for one of 25 $200 bounties (as well as potentially having one on your own head).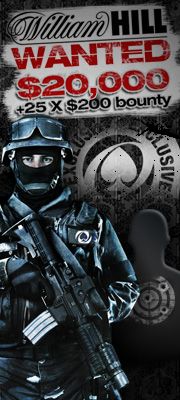 Deep: If you want a slow structure, this is the freeroll for you. It has a championship style structure, with a 10,000 starting stack and blinds starting at 25/50.
Lucrative: If you want to play for big money, this is the freeroll for you. The prize pool is $20,000 + $5,000 in added bounties. Add to that the fact that is for PokerNews players only, so the field will be much smaller than most freerolls.
Qualify Only at PokerNews
The $25,000 Wanted Freeroll on William Hill Poker takes place on August 21 at 1900 GMT. To play in this freeroll, you need to download William Hill Poker through PokerNews and earn 600 WH points between July 1 (0000 GMT) and August 15 (2359 GMT). Existing William Hill referred PokerNews players are also welcome to participate.
The first player to earn 600 WH points from each PokerNews region to qualify will also get a $200 bounty on his or her head. If that winning player makes it into the money, the bounty period expires and that player will win the $200 instead.
The 600 WH points are equivalent to $20 rake, which is a very achievable target considering that you have most of the summer to get there.
So download William Hill Poker now and get ready to play in the best freeroll of the summer. Don't forget that William Hill Poker also has one of the biggest bonuses possible on the iPoker network - 200% up to $1,000 when you use bonus code "NEWSCOM."
If you experience any problems with this or any of our promotions, please contact our Ticketed Promo Support System.