PokerNews Players Enjoy $100,000 Online Weekend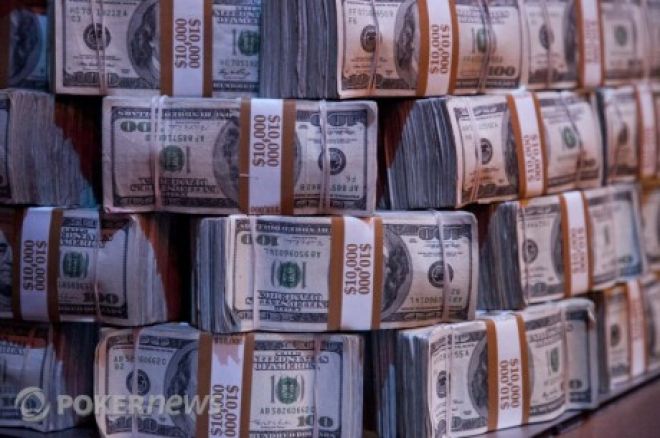 If you have not participated in a PokerNews promotion before, just look at what you have missed out on recently. Last weekend, we offered our readers three amazing events with a combined prize pool of just under $100,000 with an entrance cost as little as $13.
Giant Overlay
There was the PokerNews GIANT on Poker770, that took place on Friday. This was a $2.20 rebuy tournament that had a guarantee of $30,000. It was open to everyone who had a Poker770 account, not just players who signed up through PokerNews.
As expected, this event resulted in a big overlay, 1,272 players entered the tournament in total, and NoobDomination walked away the big winner, taking down $6,000 for first place (not bad for a $2 rebuy).
The Real Main Event
On Sunday, running alongside our WSOP Live Coverage, we hosted the PokerNews Main Event on PokerStars. This was an $11 MTT with $20,000 added to the prize pool. If you say "added money," poker players turn up, and this was demonstrated here. In all, 4,820 players took part, creating a prize pool of $68,200.
We called this our main event for a reason: this was one deep structure. For your $11 you got a 30,000 starting stack, a 15-minute clock and starting blinds of 25/50. All of which resulted in a 15-hour marathon that concluded with a three-way chop, at a very international final table. The original payout included a $10,377 first prize but the final three players settled for over $7,600 each. SirMaoo of the UK was declared the overall champion, but don_robro of the Netherlands took a little bit more cash in the deal, taking $8,085.87
1. SirMaoo (United Kingdom) *$7,819.49
2. don_robro (Netherlands) *S8,085.87
3. remior (Poland) *$7 600.77
4. teteko07 (New Zealand) $3,751.00
5. klauniq (Czech Republic) $2,864,40
6. El_Niko 11 (Germany) $2,182.40
7. hallofax (Germany) $1,500.40
8. binhociji (Brazil) $818.40
9. bigpat6o (Ireland) $528.55
Also taking place last Saturday, we awarded ten players with $162 tickets to play in the Bodog $100,000 guaranteed the following day, when they stood the chance of potentially winning much more. All they had to do to play in our freeroll was deposit $20 on PokerNews referred Bodog accounts.
Did you miss out on this massive weekend for PokerNews readers? Make sure you bookmark our freerolls & tournaments page in the future so you never miss out on exclusive promotions like ever again.