PokerStars Count Down to 65 Billion Hands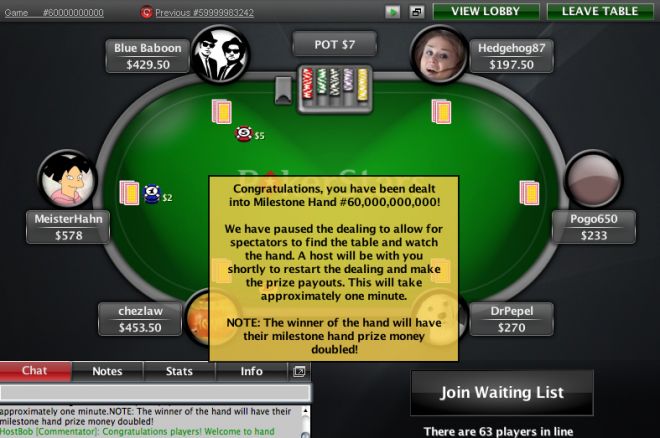 Just four months ago, PokerStars dealt its 60 billionth hand to "Pogo650" from the Isle of Man. As a result, he won $102,090, and the other players dealt in the hand each collected between $11,040 and $21,045.
PokerStars is getting ever closer to 100 billion hands, and to celebrate, milestone bonuses are being awarded all the way up to the 65 billionth hand. Every millionth hand is a "milestone hand," which will award cash prizes to the winner, as well as everyone else at the table.
For regular milestone hands, every player dealt into the hand will be awarded a base prize of $50, plus $50 for every VPP he or she earned in the preceding 50 hands.
Then, of course, there will be the 65 billionth hand, which promises to be just as lucrative as the 60 billionth hand dealt four months ago.
So now is a great time to start playing on PokerStars. Play more tables, play longer sessions, and perhaps stick to action games, limit hold'em, and PLO to increase your VPP bonus. Make sure you sign up to PokerStars through PokerNews, to not only get a 100% up to $600 bonus, but to also ensure eligibility for future exclusive promotions. Don't forget to use marketing code "POKERNEWS.COM".