Betfair Poker Live Dublin, and Win an iPad 2 Exclusively with PokerNews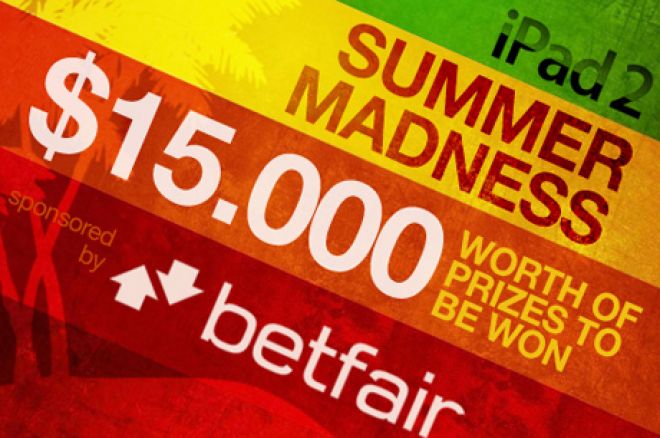 September is a big month over at Betfair Poker, because not only will their flagship poker tour hit Ireland, but PokerNews players will also be slugging it out for one of 15 iPad 2s, in an exclusive freeroll series.
Betfair Poker Live Dublin
The next stop for Betfair Poker Live will be the Emerald Isle, when the Fitzwilliam Casino and Card Club in Dublin, Ireland, will play host to the tour from Sept. 23 to 25. Ireland really is one of the most fun places in the world to play poker, and this $600+$50 Main Event looks very special.
That is because for the first time ever, it will be a bounty event. Every player will have a $100 bounty on their head, which suits the aggressive loose action you can expect over there.
You can win a $1,400 package on Betfair Poker, which includes buy-in and travel expenses.
Time is running out to win one of 15 16GB iPad 2s on Betfair Poker, in a PokerNews exclusive promotion. Anyone who registers a new Betfair Poker account between now and August 31 will be eligible for five freerolls in September, each of which feature brand new iPad 2s to be won.
The more poker player points you earn before September, the bigger and better the freerolls get. For example, earn 100 poker player points to qualify for the first freeroll on September 3, which has one iPad 2 & cash up for grabs. Or earn 500 poker player points to play in three freerolls, with a combined total of 12 iPad 2s to be won.
Visit our iPAD2 Summer Madness Page for More Details.
To play in this exclusive promotion and to get a $2,500 First Deposit Bonus, you must download Betfair Poker through PokerNews.
If you experience any problems with this or any of our promotions, please contact our Ticketed Promo Support System.
This promotion is governed by Betfair Poker's Terms and Conditions. Please read them thoroughly before participating.