PokerNetwork ANZPT League Event #4 Coming Up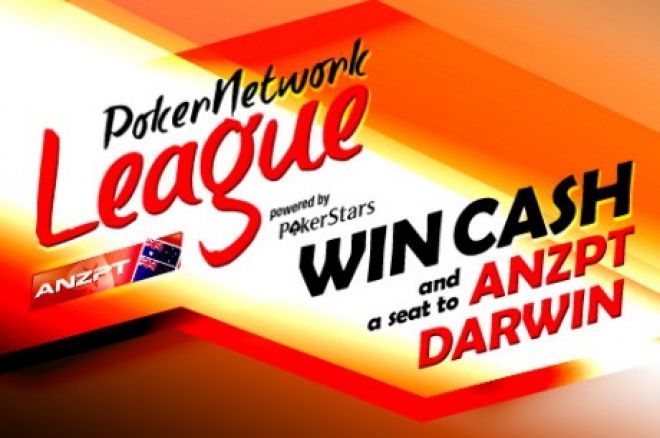 Download PokerStars to play in the exclusive PokerNetwork League with weekly added Sunday Cubed packages and an ANZPT Package will go to the eventual league winner. All tournaments start at friendly times for those in the Eastern Hemisphere, and they're open to all PokerStars players.
The third event in the PokerNetwork League saw "pc bandit" claim top honors, and in doing so leap to third place on the leader board. Previous event winners "cwt007" and "Jubinator" are still in the lead, scoring vital points just for playing in multiple events. As well as the cash and league points, pc bandit also won a free ticket to the $50,000 Guaranteed Sunday Cubed Tournament on PokerStars.
PokerNetwork League Leader Board

| | |
| --- | --- |
| 1. cwt007 | 12 |
| 2. Jubinator | 12 |
| 3. pc bandit | 10 |
| 4. enpromtech | 9 |
| 5. indoslug | 9 |
| 6. tRaMSt0p | 9 |
| 7. PercyPokeHer | 8 |
| 8. spacemutant | 8 |
| 9. Procession | 85 |
The next event in the league takes place on August 24 at 2000 AEST and is a $5+$0.50 deepstack full-ring tournament. The top nine players score points in the league, and the winner will also get a $50,000 Guaranteed Sunday Cubed ticket.
PokerNetwork League Schedule

4. August 24: 2000 AEST - $5+$0,5 NL Deep Stack Full Ring
5. August 31: 2000 AEST - $5+$0,5 NL Heads-up
6. Sept 7: 2000 AEST - $5+$0,5 NL Full Ring
7. Sept 14: 2000 AEST - $5+$0,5 NL Turbo
8. Sept 21: 2000 AEST - $5+$0,5 PL 6-max
Each tournament has a password, that will be made available on the day of the tournament over at the PokerNetwork forum.
The top 27 players in the league will be automatically registered for a PokerNetwork ANZPT League Final on Sept. 28 at 2000 AEST. The prize pool is as follows:
1. ANZPT Darwin Package (Value to be confirmed)
2. $400
3. $300
4. $200
5. $100
More About the PokerNetwork League
Anyone who makes the final table of a league event will score between 1 to 10 points, but will also score an additional point for every tournament played. So it is in your interest to play as many games as possible, so you do not get overtaken by anyone else.
After this next event, the final four league events (between Aug. 31 and Sept. 21) you will get to declare as Wild Card Tournaments, which will score a player double league points. You need to declare your wild-card tournament before it starts in the dedicated forum thread over at PokerNetwork. Only one wild card per player.
This promotion is open to all PokerStars players no matter where they signed up. If you don't have a PokerStars account, make sure you sign up through PokerNews using marketing code "POKERNEWS.COM" to get a 100% up to $600 first-deposit bonus.
You will also need to be a member of the PokerNetwork forum to get the exclusive password, which is released the day of the tournament, for each league event.
Last Chance for $22,500 WCOOP Freerolls
If you join PokerStars through PokerNews, you will also be eligible for our exclusive $22,500 WCOOP Freerolls this month. Hurry though, you only have until Aug. 22 to qualify.
If you experience any problems with this or any of our promotions, please contact our Ticketed Promo Support System.