The PokerNews Showdown: $7.70 Rebuy, $25,000 Guarantee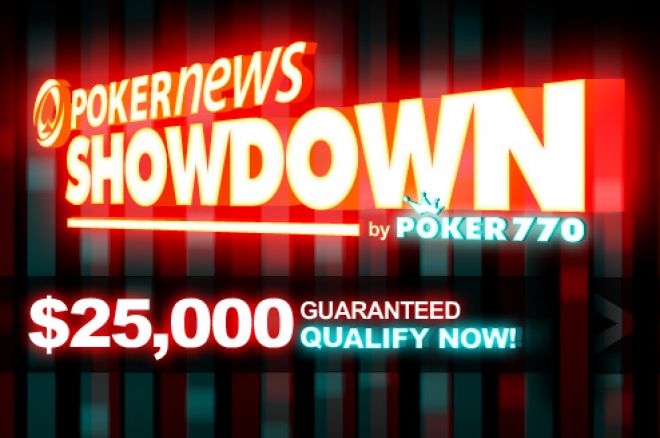 Download Poker770 to play in an exclusive $7.70 rebuy event with a $25,000 guarantee on October 28 at 2100 CET. Qualify daily through a series of daily freeroll and cheap-roll qualifiers.
In July, PokerNews hosted one of the best value tournaments of the year in conjunction with Poker770. The PokerNews GIANT was a $2 rebuy with a $30,000 guarantee. Only 1,868 players entered this tournament and there were around 6,000 rebuys, meaning there was an overlay of nearly $15,000. The biggest benefactor of all this was the eventual winner, "NoobDomination," who took down the $6,000 first prize.
This really was one of the best overlays in online poker and anyone would be mad to do anything similar.
But the good news is, that is exactly what we are going to do.
Taking place on October 28 at 2100 CET, the PokerNews Showdown is a $7.70+$0.77 rebuy tournament with a guaranteed $25,000 prize pool. There is a cap of 3,000 players, and rebuys are limited to 10 until the first break and there's one add-on.
Just like in the PokerNews GIANT, this tournament is heading for an overlay, because it would need over 1,000 players to rebuy more than once each to come close. This is the case, especially when you consider that the initial buy-in is four times larger than its predecessor, which means that less micro-stakes players will buy-in in the first place –- so it could be even better than before.
Qualify for Free
You can win your seat in the PokerNews $25K Showdown for free through a series of freeroll and micro-stakes qualifiers running now.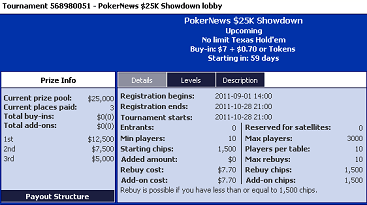 Freeroll Satellites
Daily at 1600 CET - 10 seats guaranteed; Minimum of 10 players to start.
Freeroll for Australia Satellites
Tuesday and Saturday at 1100 CET - 10 seats guaranteed; Minimum of 10 players to start.
Cash Satellites
$0.77+$.07, Daily at 2100 CET - 1 seat guaranteed, Additional seat for every 10 Players
PokerNews Showdown $25,000 Guaranteed
$7.70+$0.77 Rebuy, October 28 at 2100 CET
This tournament is open to everyone regardless of where they signed up to Poker770. But, if you do sign up to Poker770 through PokerNews you will be eligible for all future PokerNews exclusive promotions, of which there have been many over the last few years. Make sure you use bonus code "PKRNEWSEN" to guarantee eligibility and to get a 200% up to €1,400 first deposit bonus.
If you experience any problems with this or any of our promotions, please contact our Ticketed Promo Support System.