Qualify for $20,000 in Exclusive PokerStars Freerolls This Month
Download PokerStars this month and earn 150 VPPs before September 21 to participate in three exclusive freerolls, with a combined value of $20,000.
Right now the biggest online poker festival of the year, the 2011 World Championship of Online Poker is taking place at PokerStars. If the $30,000,000 guaranteed prize pool wasn't tempting enough, how about the fact that if you have joined PokerStars through PokerNews, you will also be able to qualify for $20,000 in exclusive freerolls?
Playing in just a handful of WCOOP events will make you eligible for our exclusive freeroll series from September 26 through 30. Not only do these freerolls have a combined prize pool of $20,000, the field sizes will be very small compared to the usual tournaments on PokerStars, because it is only open to PokerNews referred PokerStars players.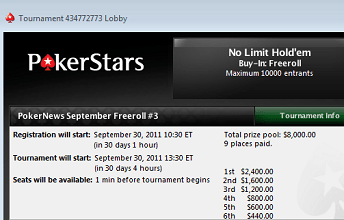 Freeroll #1: $5,500
September 26, 1330 EDT (1830 BST)
Tourney ID#434772771
Freeroll #2: $6,500
September 28, 1330 EDT (1830 BST)
Tourney ID#434772772
Freeroll #3: $8,000
September 30, 1330 EDT (1830 BST)
Tourney ID#434772773
To play in this freeroll series, you need to download PokerStars through PokerNews using marketing code "POKERNEWS.COM." Existing PokerNews referred PokerStars players are welcome to participate.
To play in freeroll No. 1, you need to earn 25 VPPs. To play in freeroll No. 2, you need to earn 75 VPPs, and to play in freeroll No. 3 you need to earn 150 VPPs, to use as your buy-in. The qualifying period for this is Sept. 1 to 21, and you are welcome to play in all three if you earn 150 VPPs. If you are making your first deposit in the qualifying period, you will automatically receive a ticket to play in freeroll No. 1.
Tickets will be emailed on Sept. 23 to all qualifying players.
Still Not Sure? Players who already signed up to PokerStars through PokerNews have already enjoyed over $172,000 in exclusive freerolls you cannot find anywhere else this year. Don't miss out any longer, sign up to PokerStars via PokerNews today.
If you experience any problems with this or any of our promotions, please contact our Ticketed Promo Support System.