The $25K PokerNews Showdown Kicks off Next Week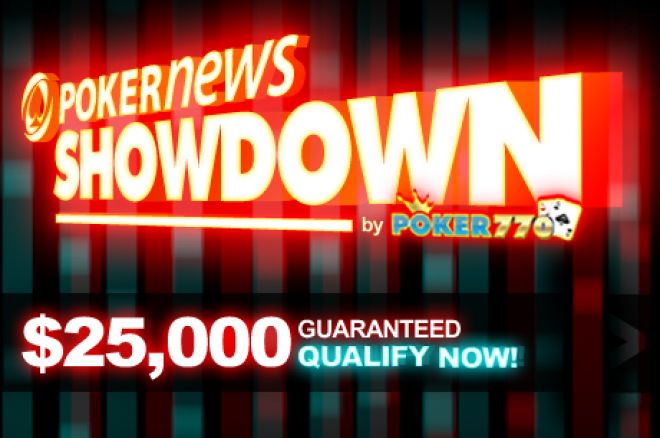 Download Poker770 to win your share of $25,000 in the PokerNews $25K Showdown.
One Week Until the Showdown
If you want a chance of turning less than $10 into a share of a guaranteed $25,000 prize pool, it's as easy as heading to Poker770 at 2100 CET on Oct. 28 and sitting at the felt of the exclusive $7.70 rebuy event and taking your shot at becoming the PokerNews $25,000 Showdown champion!
How the Show will Go Down
The event will run as a $7.70 rebuy tournament and features a massive $25,000 guaranteed prize pool and with the field capped at 3,000 players and rebuys limited to 10 per player plus one add-on, we can tell you that there is almost certainly going to be an overlay.
We know that an overlay is a distinct possibility, because in July PokerNews and Poker770 came together to offer a similar tournament named The PokerNews Giant. That event featured a $30,000 guarantee and it had a huge $15,000 overlay!
The PokerNews $25,000 Showdown is looking set to offer tremendous value yet again on Poker770, so be sure to keep next Friday free as the event closes in and kicks off in less than one week.
Qualify Right Now
Although you are probably already loading up Poker770 and registering for the PokerNews $25,000 Showdown, don't rush; you could win a seat into the tournament for less than $1 or even for free!
Freeroll Satellites
Daily at 1600 CET — 10 seats guaranteed; Minimum of 10 players to start.
Freeroll for Australian Players
Tuesday and Saturday at 1100 CET — 10 seats guaranteed; minimum of 10 players to start.
Cash Satellites
$0.77+$.07, Daily at 2100 CET — 1 seat guaranteed, additional seat for every 10 Players
With daily freerolls and daily cheap-roll satellites all adding to the juicy value of the imminent overlay in the PokerNews $25K Showdown, there are no excuses to not take to the Poker770 felt and play for your share of the $25,000 prize pool.
While the tournament is open to all players regardless of where they signed up for a Poker770 account, be sure to sign up to Poker770 through PokerNews to be eligible for the inevitable PokerNews exclusive promotions in the future and remember to use our 200% up to €1,400 first-deposit bonus when you using the bonus code "PKRNEWSEN."
If you experience any problems with this or any of our promotions, please contact our Ticketed Promo Support System.