Betfair Can Take PokerNews Players to the WSOP with an Exclusive Promotion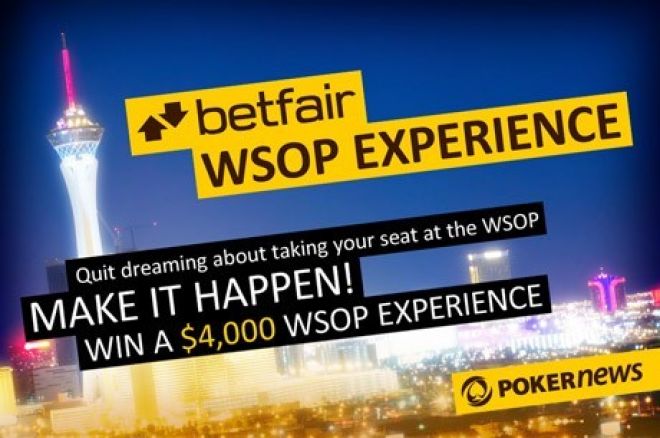 Don't miss your chance to win your way to this year's World Series of Poker. Sign up for Betfair Poker through PokerNews and you could win a $4,000 package.
The 2012 World Series of Poker is just a few weeks away, and now PokerNews players on Betfair have the chance to win their way into Event #59: $1,000 NLHE, a WSOP experience valued at over $4,000. What's even better is you can win the package all for free!
You might be wondering, what does a $4,000 Team Betfair WSOP Experience Package include? Well, here's the answer:

$1,500 paid into your Betfair account for flights and spending money.
Seven nights of luxury accommodation at the five-Star Palazzo in Las Vegas.
$1,000 buy-in to take your shot at glory in WSOP Event #59.
Be part of the Legendary "Team Betfair does Vegas" experience.
Team Betfair Exclusive Welcome Party and Events hosted by Betfair's WSOP Crew, including John "kunku wap" Tabatabai and Hans "Birdie_BF" Vogl.
Existing players, who originally downloaded Betfair via our links using the bonus code provided by PokerNews, just need to earn 100 Player Points between now and June 5, 2012, in order to receive an entry into an exclusive freeroll on June 10, 2012.
If you're not a member, don't fret. All you need to do is download Betfair through the PokerNews links and enter the bonus code "PNE250." You then have until June 5, 2012, to earn 100 Player Points. Once you do, you will receive an entry into the exclusive freeroll on June 10, 2012, where the winner will win a $4,000 Team Betfair WSOP Experience Package.
In addition, Betfair is hosting 12 WSOP Trials, each offering a minimum of two chances to secure a package. All told, they'll be giving away 28 packages to this year's WSOP, though only half remain as a number of players have already became members of Team Betfair 2012 including Svilen Kondov, Sergej Krapivin, Lothar Wolz, Kuriakos Tsiatte, Svilen Kondov, Mykola Fenchenko and James Wollgrove.
Online finals for the previous week's trial period will be played on Wednesday evenings at 21:00 CET, and will award two Las Vegas Experience packages worth $4,000 each plus a total of $13,000 in added cash! All you need to do to qualify is earn 25 Player Points in any given Trial period — that's the equivalent of playing just one $11 tournament per day!
Sign up for Betfair Poker today through PokerNews and get started now![/I]
Stay up to date on all the latest news by following us on Twitter and liking us on Facebook.