A New Take on Blackjack with vsJack.com + a Free €20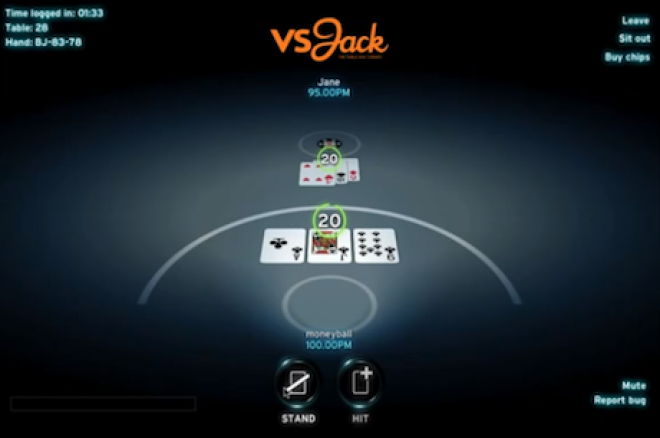 This is a sponsored article.
When it comes to devising new and interesting games, no one does a better job than experienced card players, and that's exactly how the new player-versus-player version of blackjack known as vsJack.com came about. We tested the alpha version, liked what we saw, and now the final product is live at vsJack.com.
You've seen blackjack in a casino where the house enjoys a nice edge while online versions make the game seem like more of a slot machine. Well, the guys at vsJack are now breaking blackjack out of the casino by allowing you to play against other players without a house or bank — just you and the other players vying for pots. It's actually sort of reminiscent of poker.
What's more, vsJack.com is offering free €20 to new customers who have never held a vsJack account before, though it may not be used in combination with other offers and promotions. The free €20 should be placed into your account within a few minutes of completing the simple registration process.
YOU, AS THE DEALER
With no bank in the game, someone has to be the dealer. Because it's player-versus-player blackjack, the dealer position rotates around the table, but there are no conventional dealer rules. This means that in vsJack's version of blackjack you can hit on 17 or stand on 16 — dealer's choice! Play however you think you need to in order to win.
Obviously, this new format brings in a whole new set of strategies into the game. Math skills are good, but on top of that, you have to look at the whole table as the way the player to your left plays will change your whole hand. If that players busts, you may get the dealer to stand on a 14, which means you could win with a measly 15. The possibilities are endless.
At the moment, vsJack offers cash games with limits of €0.20, €0.50, €1 and €5. Tournaments and other experimental game options will be added soon. Try it out at vsJack.com and let us know what you think of the game.
Get all the latest PokerNews updates on your social media outlets. Follow us on Twitter and like us on Facebook now!