Win Daily Cash Prizes on TiltBook
Tiltbook.com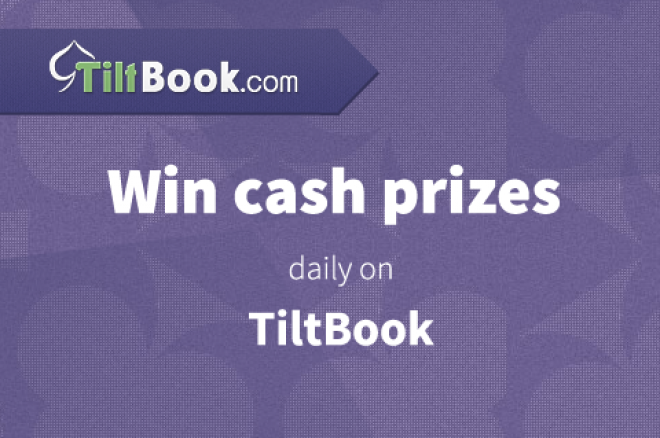 *Advertorial
TiltBook.com is a new social network, designed specifically for card players, with a growing community of over 6,000 poker players and fans from all around the world. Unlike Facebook or Twitter, on TiltBook you can freely share your results, swings, crying posts, or general thoughts on poker without taking the risk of being misunderstood or considered a gambler.
The TiltBook creators are constantly coming up with loads of new features and promotions, giving away free money every day!
Status of the Day
The most recent promotion gives all TiltBook members a chance to win daily cash prizes, simply by posting a single poker-related status, with either a thought, joke, or graph. The most interesting status posted on a given day, wins up to $50 based on the 'Rank' of it's author ('Rank' is determined by the overall activity of the member on TiltBook), making it an easy way to earn some extra cash.
Freerolls
TiltBook also offers weekly freerolls to members who reach at least 'Rank 1' before the start of a given tournament, which can take as little as two minutes to achieve. Prize pools always guarantee at least $50 every Sunday, with a special $300 freeroll coming up next week, on Mar. 31!
AskThePRO
It is not just free money that makes TiltBook appealing to poker players. Every Wednesday, TiltBook hosts a session with a professional poker player called "AskThePRO" where all members can ask a special guest any question they may have, and it doesn't even have to be about poker. So far, the guests have included sit & go grinders Matt "Glitlr" Meo, Tomáš "Masuronike" Kubaliak and Ivan "ILS007" Stokes, tournament crusher Rob "dudeoflive" Coventry, and this Wednesday's hot seat will be taken by popular cash game and poker theory coach, Andrew "BalugaWhale" Seidman.
Groups
Last but not least, TiltBook will soon add another feature that allows it's members to create and manage groups, therefore opening the chance for private communities sharing the same interests, stakes, etc!
Join TiltBook to become a part of this fun and supportive community today.