Become the Emperor of Winamax and win Massive Cash Prizes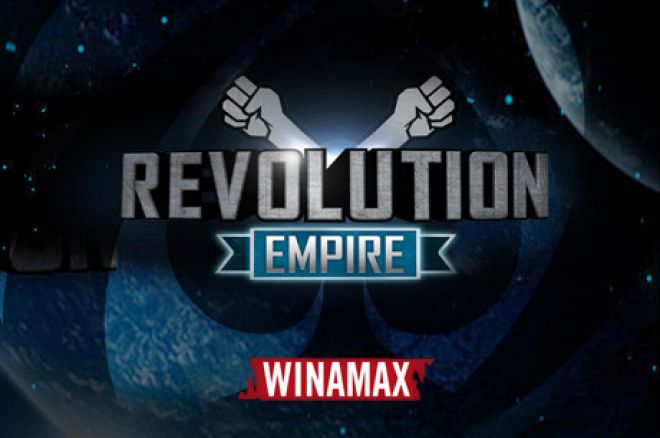 The Revolution Empire is a long-running promotion that could see you walk away with €1,000 every single day and claim cash bonuses of up to €30,000!
Many online poker sites offer "steps" tournaments to their customers but none make them as exciting and potentially profitable as those held at Winamax. The Revolution Empire has seven stages to it, ultimately feeding into a heads-up battle called Duel. The winner of Duel takes home €1,000 in prize money, but there is a twist because the winner of the Duel has to defend his or her title from a new challenger every night! If successful, the winner wins an additional €1,000 but should the player fail, he or she loses the crown and has to try to qualify all over again.
The first qualification stage (Stage 0) for this exciting promotion costs just 45 miles to enter — miles are Winamax's equivalent of frequent-player points – and sees a five-handed sit-and-go take place. The winner of Stage 0 banks a seat to Stage 1, which is another five-handed sit-and-go, where the winner progresses to Stage 2 but also gets to compete in a one-on-one battle with the current champion of that level.
For a visual representation of how the stages work, take a look at the image below, which shows stages 1 through 5.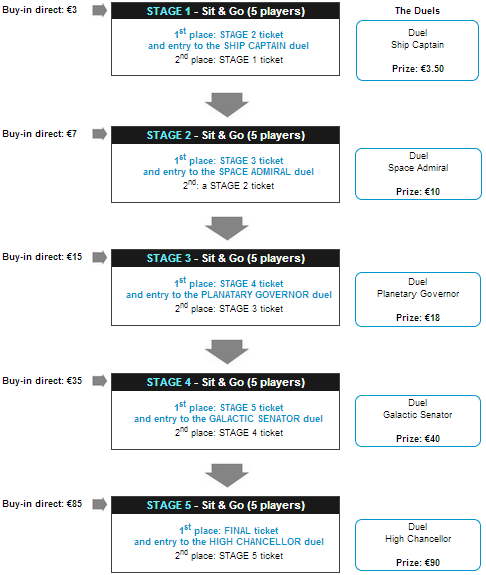 Click the image to increase its size.
The winner of Stage 5 is automatically entered into the nightly (21:15CET) final that has a prize pool of €3,000. Win this and not only will you walk away with a good share of the prize pool, but you will also have earned the right to take on the current emperor in a winner-takes-all heads-up match that has €1,000 up for grabs.
If you win the Duel, then it is a case of winner-stays-on, and you will have to defend your title every day at 22:00 CET or until you are defeated. Win five consecutive Duel's and Winamax will give you a bonus of €2,000 in addition to the €1,000 you will win for each victory! If you manage to win 10 consecutive Duels, you will receive a €10,000 bonus! Twenty consecutive victories is worth €20,000, while anyone who takes down 30 consecutive Duels will find €30,000 winging its way to them!
The most consecutive games anyone has won is nine, a record held by "piz55." For their amazing run "piz55" won €11,000 made up of nine €1,000 wins and a €2,000 bonus for winning five Duels in a row. Had "piz55" successfully defended their title for a tenth time, they would have received a €10,000 bonus in addition to the €10,000 they would have won from the matches themselves! It should be easy to see that this promotion has the potential to be extremely profitable.
The longest-running Emperor is the Winamax sponsored pro Ludovic "Mikedou" Riehl who has won 13 Duels in total. PokerNews would be delighted if one of our readers managed to knock either of these two players from their pedestal.
Download Winamax today and start your quest to become the Emperor of Winamax. New Winamax customers who create their count via PokerNews will also receive a 100% match up to €500 first deposit bonus!
Please take note of the special sign-up instructions that you can find in the Winamax review (you can also find our French review on FR Pokernews). These special steps are required under French law. Failure to complete the first stage of the sign-up process will leave you unable to compete at Winamax for real money.
Get all the latest PokerNews updates on your social media outlets. Follow us on Twitter and like us on Facebook now!