PartyPoker Weekly: WSOP Satellites End Soon at PartyPoker; Win Your Package Today!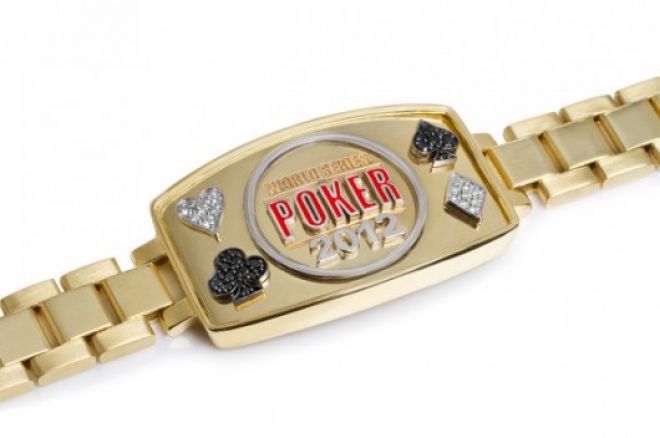 Have you won your WSOP Package yet?
Time really is running out if you want to win your way to the World Series of Poker with PartyPoker. Satellites for the Main Event and WSOP Experience packages end on June 16, giving you around three weeks to secure your WSOP package.
Head to the PartyPoker lobby and you will see plenty of satellite tournaments that eventually award one of two amazing WSOP packages. There's at least one $2,500 WSOP side event package and one WSOP Main Event package to be won every week. Have you won yours yet?
Every Sunday at 14:50 ET until June 16 there will be a $700+$50 WSOP satellite on PartyPoker that will award one in 20 players a $14,000 2013 WSOP Package! One package is guaranteed, but there will be more given away as the WSOP draws ever closer and the excitement of the series starts to get hold of everyone. The last $750 buy-in WSOP satellite, which ran May 19, saw 62 players buy in and three packages awarded, fourth, fifth and sixth place each winning $700, $420 and $280 in cash respectively. A big congratulations to "JukeboxxChris", "MexicanBeech" and "Uninc157" on winning a WSOP Main Event package worth $14,000! PokerNews will see you in Las Vegas!
Each Main Event package awards the following:
$10,000 WSOP Main Event buy-in
$2,000 in spending money
Hotel accommodation in Las Vegas for 10 nights
Also on Sundays, but at the slightly later time of 15:45 ET, a $275+$25 Las Vegas Experience satellite takes place in which one $5,500 package is guaranteed. This weekend saw 28 player buy in and one $5,500 package awarded, which was won by "Lamotta3." Players "marecek888," "carlosmuch," and "etoda" each won $1,100, $660 and $440 in cash respectively.
"Lamotta3" will now be heading to Las Vegas armed with the following.
$2,500 WSOP side event buy-in
$1,650 in spending money
Hotel accommodation in Las Vegas for seven nights
Don't be disheartened if the main satellites are out of your price range. PartyPoker is running plenty of qualifier tournaments that feed into them. These qualifiers cost between $1 and $80 to enter, although a number of daily freerolls can be found in the lobby, too.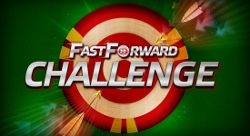 Reap The Rewards in the FastForward Challenge
Do you love to play poker but don't have much free time on your hands? Do you wish there was a poker promotion available where you did not have to sit for hours on end to win a prize? Then the PartyPoker FastForward Challenge could be just what you have been looking for.
The PartyPoker offering of "fast-fold" poker, FastForward, is already one of the most exciting and potentially profitable ways to play online poker, but the excitement and potential profitability has just been boosted, thanks to the FastForward Challenge.
The FastForward Challenge will see you awarded a poker bonus of between $5 and $100 just for sitting down and playing FastForward poker. If you earn just a single point on four separate days during the week, a $5 poker bonus will find its way to your account. Earn one point every day for seven days, and this bonus increases to $10.
The maximum bonus for this promotion $100, which is awarded to anyone who earns 100 points a day for seven consecutive days. Points are awarded at two PartyPoints per $1 paid in rake and the points really rack up thanks to the sheer number of hands that you can play per hour at FastForward Poker tables.
| Points Per Day | Four days in a week | Seven days in a week |
| --- | --- | --- |
| One point per day | $5 poker bonus | $10 poker bonus |
| Five points per day | $15 poker bonus | $20 poker bonus |
| 25 points per day | $35 poker bonus | $40 poker bonus |
| 50 points per day | $45 poker bonus | $50 poker bonus |
| 100 points per day | $75 poker bonus | $100 poker bonus |
As an added incentive to grind, PartyPoker will award you with an extra cash bonus if you qualify for a bonus for 12 consecutive weeks. If you love your poker fast and furious, then this is the promotion for you.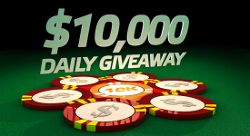 The $10,000 Daily Giveaway is in Full Swing
PartyPoker is giving its customers the chance to win a slice of $10,000 every day during May with the aptly named $10,000 Daily Giveaway promotion.
The promotion revolves around a number of daily freerolls that have a combined prize pool of $10,000. Four freerolls will run each day from Monday through Saturday. The $1,000 freeroll at 18:00CET is completely free to enter, as are the $2,000 freerolls that take place at 20:00 and 23:00 CET.
At 21:00 CET on Monday through Saturday, a $5,000 freeroll costs one PartyPoint to enter. PartyPoints are awarded at a rate of two per $1 paid in rake or tournament fees, meaning you could be playing in a $5,000 freeroll every day for just $0.50 in rake!
The biggest freeroll runs on Sunday at 20:00 and although it boasts a massive $10,000 prize pool, it only costs three PartyPoints to enter! Should you earn four PartyPoints during the week — that is just $2 in rake — then you would be able to compete in $70,000 worth of freerolls! How amazing is that?
| Tournament | Dates | Time (CET) | Entry fee |
| --- | --- | --- | --- |
| $1,000 Daily Giveaway | Mon-Sat | 18:00 | Free |
| $2,000 Daily Giveaway | Mon-Sat | 20:00 | Free |
| $5,000 Daily Giveaway | Mon-Sat | 21:00 | 1 PartyPoint |
| $2,000 Daily Giveaway | Mon-Sat | 23:00 | Free |
| $10,000 Sunday Giveaway | Sunday | 20:00 | 3 PartyPoints |
Points must be earned 24 hours in advance of the tournament starting.
Get involved in the $10,000 Daily Giveaway today and see how much money you can win.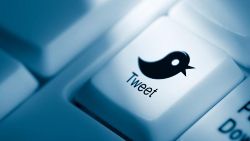 Fifty Must-Follow Twitter Accounts
PartyPoker has its finger on the pulse of social media, especially when that social media is poker orientated. Last week on its popular blog, PartyPoker released a list depicting the top 50 Twitter accounts to follow during the WSOP and beyond.
PokerNews is proud to see that no fewer than eight PokerNews-related Twitter accounts were included in the list. How many PartyPoker's list do you follow? Check out the full listing here.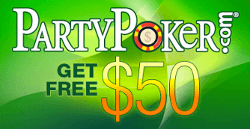 Have You Claimed Your Free $50?
What better way to build a WSOP bankroll than with a free $50 from PartyPoker. While $50 will not buy you into any WSOP events, it could lay the foundation for a long and illustrious poker career — if you use it wisely. Poker is full of stories of players depositing $50 and running it up into vast sums of money. Your name could become one of those stories, but first you need to get your hands on the free $50 that is available to you. Here is how you can claim your free $50.
Download the PartyPoker software through PokerNews
Create a new PartyPoker account and enter the bonus code "PN50FREE"
Fill out the registration form in the PartyPoker cashier
Return to PokerNews and fill out our brief registration form
Check your email inbox for a confirmation email from free50@pokernews.com
Once you have received the confirmation email, $20 will be placed in your PartyPoker account. You must earn at least 40 PartyPoints before you will be able to withdraw the free $20. If you do not earn 40 PartyPoints within 60 days, the initial $20, or whatever remains of it, will be forfeited. PartyPoints are earned at a rate of two PartyPoints per $1 in rake or tournament fees, so earning 40 within 60 days is easy.
Once you have earned 40 PartyPoints, an additional $30 will be deposited into your account, bringing the total free cash to $50. You must then generate 160 points before you can cash out any of the $30 and must do so within 120 days, otherwise the $30, or the remainder of it, will be forfeited.
If you experience any problems with this or any of our promotions, please contact our Ticketed Promo Support System.
Get all the latest PokerNews updates on your social media outlets. Follow us on Twitter and like us on Facebook now!