TURTLEMINATOR38 Sprints to the Win in the partypoker Points Race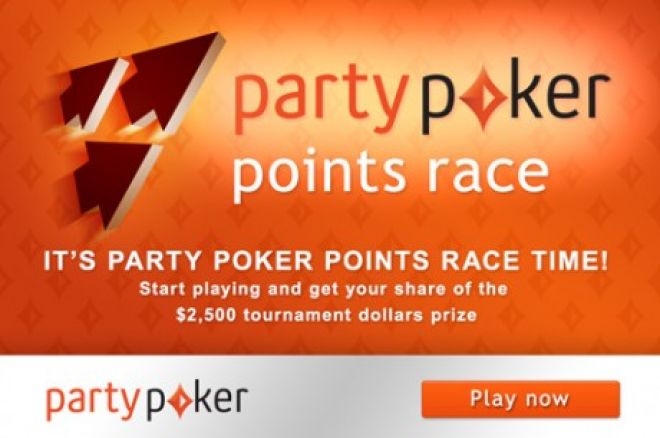 Just like we have seen in the Winter Olympics, many races have one person start out strong, lead the entire race...just to have someone sprint ahead of them at the finish line.
This is exactly how the month long PokerNews-exclusive points race on partypoker ended when "TURTLEMINATOR38" erased an over 1,000 point deficit in the last 4 days to beat "ChinoBailando" for the top prize of $450!
In total there were $2,500 in cash prizes handed out to 270 loyal PokerNews readers. "ChinoBailando" seemed to be ahead from when the race began on Jan. 15 . However, when the race ended on Feb. 14, it was "TURTLEMINATOR38" the one who passed all his opponents in the dust to find himself in the winner's circle.
"ChinoBailando" was able to hold onto second place for a nice consolation prize of $243.75. Congratulations to all of the partypoker points race winners, especially the top ten finishers listed below.
| Player | Points | Prize |
| --- | --- | --- |
| TURTLEMINATOR38 | 7,499 | $450 |
| ChinoBailando | 6,958 | $243.75 |
| poolspeedxxx | 6,520 | $145 |
| vanish2000 | 6,316 | $117.50 |
| stamenko1986 | 4,549 | $92.50 |
| ezcall_obv | 4,419 | $67.50 |
| clogbaby | 4,343 | $45 |
| Kurtsa111 | 4,218 | $32.50 |
| TrueTi0 | 4,023 | $23.75 |
| Msrmek | 3,974 | $20 |
Check out the partypoker points race results page for a complete look at all 270 spots on the leaderboard.
More exciting promotions this month at partypoker
If you missed out on the partypoint rake race, rest assured partypoker is running two other exciting promotions exclusive to anyone that has signed up to partypoker via PokerNews and has made a deposit into their account running this month.
These promotions are available to both existing and new PokerNews poker players on partypoker. If you do not already have an account, you can get your hands on one for free by downloading partypoker through PokerNews.
Downloading partypoker through PokerNews has its benefits. You not only will be eligible to participate in both the exciting promotions above, but you will also be eligible for some other exciting promotions down the road.
Partypoker will also help jumpstart your bankroll by providing a 100% bonus on your first deposit up to $500! Sign up to partypoker today!
Get all the latest PokerNews updates on your social media outlets. Follow us on Twitter and like us on Facebook now!