Become Richer Beyond Your Dreams With The "Win €1M with Skrill in Brazil" Contest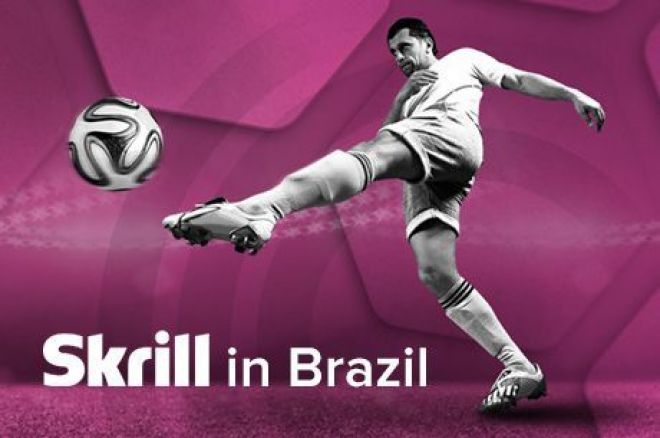 Have you been enjoying the exciting action so far in the 2014 FIFA World Cup?
We bet you have. There have been many exciting matches already, including Monday's upset 2-1 win by USA over Ghana.
Our friends at Skrill are about to make your World Cup experience even more exciting by giving you a chance to win mountains of cash in the Win €1M with Skrill in Brazil promotion.
Can I really win €1,000,000?
What would you do with €1,000,000? Would you buy a house, travel around the world, or just put it away somewhere safe?
The possibilities are endless, and winning €1,000,000 can be life changing for just about any of us.
Although we can't predict what you would do with all that money, what we know for sure is that one lucky Skrill customer will win at least €50,000 in a raffle on July 14, with a monumental chance at turning it into €1,000,000 - and here's how.
If you are the lucky grand prize raffle winner, you will be presented with 35 envelopes, each representing varying prize amounts. The object of the game is to match three envelopes with the same prize. Your dreams will come true if you select three envelopes containing a €1,000,000 slip, since doing so will make you €1,000,000 richer!
The grand prize winner will need to run good since only three of the envelopes contain €1,000,000, meaning he or she will need to select all three of these envelopes before matching another prize. The other envelopes contain slips for €50,000 and €100,000. If you walk away with one of those two prizes instead of €1,000,000, you may not find yourself richer beyond your dreams, but will have a great consolation prize to spend on just about on what you want.
In addition to the chance of becoming rich beyond your dreams, this awesome promotion also gives you a chance to win an amazing sporting event trip packages in weekly sweepstakes.
Here is a look at what you can win.
Italian Grand Prix, Monza
El Clasico, Barcelona
The Grand National, Aintree
Champions League Final, Berlin
The Masters, Augusta
Brazilian Grand Prix, Sao Paulo
I want a chance to become filthy rich - how do I get involved?
Getting involved in this promotion couldn't be any easier, and it is something you can do while watching the World Cup or reading about our 2014 World Series of Poker coverage here at PokerNews.
The first step is something you can skip if you already have a Skrill account. If you are thinking to participate in this great promotion and don't already have a Skrill account, just create a free Skrill account through our links to get started. Not only will you be able to get involved in this great promotion, but when you upload $20 to your favorite poker room via Skrill, you will receive back $20 into your Skrill account.
Once you have an account, just follow the simple steps below to get involved in this promotion.
Log into your Skrill account and click on the yellow "Enter Now" button.
Transact as much as possible via your Skrill account from now until July 13. Every €1 will give you an entry into both the weekly and grand prize sweepstakes!
While you can potentially win a chance at €1,000,000 with just one entry, the key to this promotion is to earn as many entries as possible. The more you transact via Skrill, the more entries you will receive, and the better your odds are to be the lucky winner.
Get all the latest PokerNews updates on your social media outlets. Follow us on Twitter and like us on Facebook now!