Report: Poker Player Alain "Frenchie" Barataud Involved in Sophisticated World Cup Scam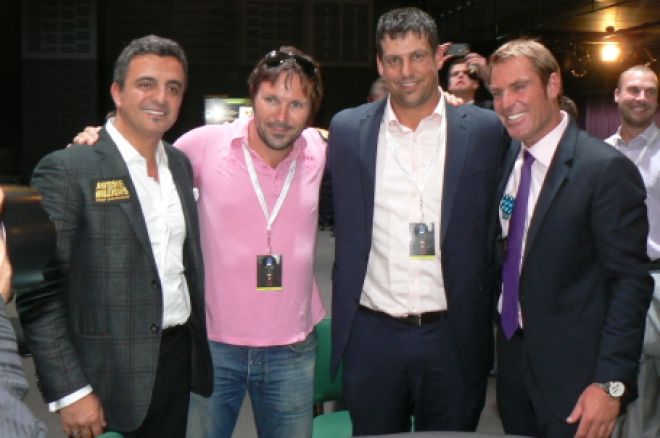 Alain "Frenchie" Barataud, a regular around the poker scene in Australia, allegedly spearheaded a sophisticated ticketing scam at the 2014 World Cup in Brazil, this according to a Sun-Herald investigation.
According to Sun-Herald senior investigative writer Eamonn Duff, Barataud (pictured second from left) has been involved in various ticket scams dating back to the 2006 World Cup in Germany, but most recently he ripped off Sergio Silva and his nine-year-old son Tiago by promising the Australian family World Cup tickets to the final at Macarana Stadium. Those tickets turned out to be a farce, and Silva and his family were left stranded in Rio and out tens of thousands of dollars.
"I turned to my son and explained our worst fears had been realized ... that Alain would not be turning up with our tickets ... he wept. My father was with us. He cried also. All our dreams – broken," Silva explained. "He told me 'Your family and my family will share VIP seats, I know of a great place in Buzio where we will all stay beforehand. We'll share this amazing experience together.''
To accomplish the scam, Barataud, a father of five, posed as a FIFA hospitality agent and utilized a counterfeit invoice. He talked Silva into purchasing the fake tickets and to travel to Brazil before no-showing at their prearranged meeting place. According to the Sun-Herald, a "FIFA spokesman confirmed Barataud was neither an official agent of FIFA nor an agent or sub-agent of any associated organizations."
The Sun-Herald also revealed that this wasn't the first time Barataud had participated in such swindles. In 2006, he faced legal action after selling $211,000 worth of World Cup tickets to Corporate Events Unlimited, though he never delivered said tickets. Likewise, at the 2010 World Cup in South Africa, Barataud sold a fake accommodation package valued at $60,000 to a Sydney family. These are just two of the more prominent examples cited in the investigative piece.
Barataud, who denies he ever claimed to be FIFA accredited, has several cashes in poker tournaments throughout Australia dating back to 2010. His largest came in May 2012 when he topped a field of 64 players to win the A$330 Weekly Wednesday No-Limit Hold'em tournament for A$6,240 at The Star Casino Recurring Tournaments in Sydney. His last cash came in July 2013 when he placed 38th in a $1,100 no-limit hold'em event in the Venetian's Deepstack Extravaganza III for $2,269.
New South Wales police have stated that they would investigate the allegation against Barataud.
Picture courtesy of pokermedia.com.au.
Get all the latest PokerNews updates on your social media outlets. Follow us on Twitter and find us on both Facebook and Google+!