5 Great Tips (And a Bonus) to Become a Better Cash Game Player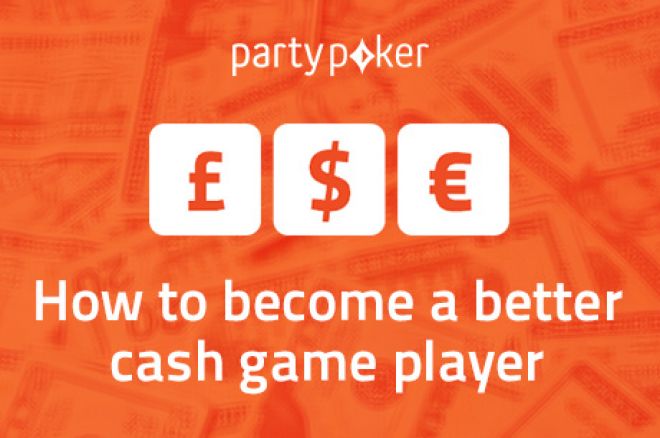 If you like FREE money - listen up! We are not only about to tell you how you can get some free loot, but also give you some extremely helpful tips in how you can grow this free money into a sizeable bankroll.
How to Get Your Hands on a Free £10
If you are living in the UK and haven't yet tried out partypoker, now is a perfect chance since you can instantly reward yourself with £10 absolutely for free. All you need to do is create a free partypoker account through PokerNews via this link, and you will instantly receive £10 that can be used at its Casual Cash Game tables.
That's not all! If you want even more money just go ahead and make a small deposit of at least £10, since partypoker will give you another £20 to play at Casual Cash Games. This means if you sign up to partypoker and deposit just £10, you will have £40 to play with or quadruple your deposit amount.
Five Cash Game Tips to Help Grow Your Bankroll
Now that you know how easy it is to get your hands on free money at partypoker, we are about to give you five tips on how you can best grow that bankroll to unlimited horizons.
1. Bankroll Management - Bankroll management is by far the most important concept to follow if you are going to have success in poker. This is why we have spent the most time talking about a basic strategy that should allow you to avoid going broke.
The best poker players in the world can easily find themselves wondering how their bankroll disappeared so quickly if they do not follow basic bankroll management guidelines. This is something that has hurt the growth of many of the best poker minds in the world.
We recommend that when you are playing no limit hold'em ring games, to never buy into a game unless you have 40 or more buy-ins for that buy-in level. The only time you should drop below the 40 buy-in guideline is if the lowest game available on the site is under 40 buy-ins.
This means if you just went after the free money, you should only play $0.01/$0.02 ring games since the buy-in on each game is $2. If you went for the option that gives you a £40 roll, you can start off a little higher, but be prepared to drop down if you go on a losing streak. If you follow this basic rule, you will find yourself in a position to more likely grow your bankroll in a healthy manner.
2. Limits - While following bankroll management guidelines are important, you shouldn't always move up if you have 40 buy-ins at a higher buy-in level. You should first decide if you are comfortable moving up, and what your plan will be if you go on a losing streak.
3. Table Selection - After you have played a bunch of hands, you should have an idea of which players you want at your table and which players you don't. You can use this information to your advantage by only sitting with players you want at your table and avoiding the more difficult tables that may eat into your profits.
4. Tilt Control - If you had a bad string luck, take a deep breath and remember it happens to everyone. If your mind isn't in the game after experiencing a few bad beats, we recommend that you take a break and wait until you are ready to focus on your A game. The next step here is to learn how to control your tilt, but until you are able to do so, don't throw in good money after bad and chase losses that were tilt inducing.
5. Study - Studying your game and the games of other players is important for any player to grow. We recommend you take a little time after each session to find hands that you want to talk about with your peers on poker forums or via private chat. This free resource can help you plug some leaks. Be careful not to just be results oriented during this review, and we recommend to never share a hand that is merely a bad beat that was unavoidable if playing optimally.
Best of luck on the felts! We look forward to some epic stories of the next person to take a free bankroll into 4, 5, or even 6 digits. Sign-up to partypoker through our links to get your free money, and start your path to big riches today!
Can you think of any other tips that we may have missed from this article? Let us know in the comments box below.
This offer is only available to players residing in the United Kingdom.
Get all the latest PokerNews updates on your social media outlets. Follow us on Twitter and find us on both Facebook and Google+!