How to Get An (Unfair) Advantage at Poker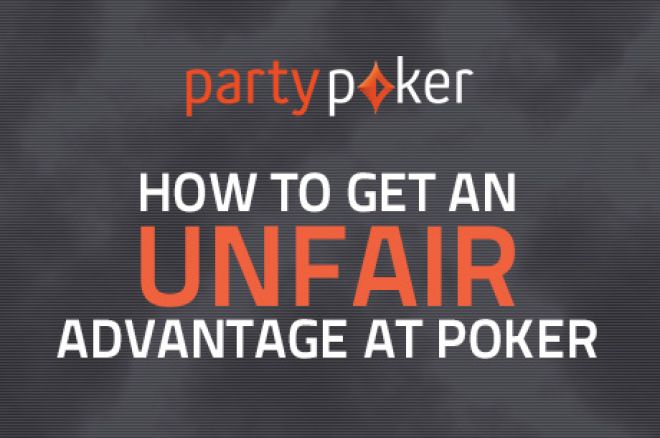 To be completely honest with you, there is a very limited number of ways for you to get an unfair advantage at poker. Especially if you are not planning to get a lifetime ban for cheating.
For how unfair it may seem, poker does not welcome cheaters - and this means that no, you can't look at your opponents' cards, you can't steal chips from their stacks and you can't even know what cards will come on the board before the dealer places them right where they are supposed to be.
So, if your idea of an 'unfair advantage' includes any of the points above - take this piece of advice: give up, and work on your strategy skills. Because the only way for you to have a real advantage over the other guys at your poker table is to become better than them. It's really as simple as this.
Yet, if you are in the United Kingdom and you don't have an account at partypoker, there is something you should know - as you are about to get the chance to sit at the room's real money cash game tables and play for real money…for free.
They use real money, you don't
That's right. This may not be the shortcut to your first million in online winnings you were looking for, but it's definitely the kind of unfair advantage that may annoy many and help you to win money at the table.
As long as you don't miss this opportunity and you understand how to use it to your advantage.
If you don't have an account at partypoker yet, go ahead and open one from this link, as by doing so you will get a free £10 no deposit bonus as soon as you confirm your identity.
What's good about this bonus, is that it doesn't come in ridiculously small chunks to be used for ridiculously low buy-in online tournaments - this is actual free money you can use to sit at partypoker's Casual Cash Game tables.
If you don't know what the Casual Cash Game tables are (and this is a possibility, seen that you get the bonus only if you are new to partypoker), you should know that these are just like any other cash game with stakes of £0.10-0.25 and under, the only difference being that they are only open to those players who are willing to play a single cash game at the time.
So, basically, by simply registering to the poker room you will get the opportunity to sit at the real money tables and play against real money players with money…that is actually not yours.
How's that for an unfair advantage?
You will sit at the tables and play against anyone else, with the only difference that they had to deposit the money they play with - you didn't. They need to be careful about the way they use their hard-earned cash, you don't. That if they lose the hand, they lose their money. If you do - well, that's a completely different story.
Remember, this brilliant PokerNews-exclusive offer will be around only until the end of the month. After Apr. 30, you will no longer have any chance to pad your bankroll with any free money - and you will be forced to deposit money from your bank account every time you will sit down to play at partypoker.
So, again, if you are in the UK and you don't have an account at this poker room yet - claim your free money today and get the unfair advantage you have been looking for. After all - you have nothing to lose!
Get all the latest PokerNews updates on your social media outlets. Follow us on Twitter and find us on both Facebook and Google+!