3 Promos to Watch: Follow Our Guide to Get Your Game Plan in Action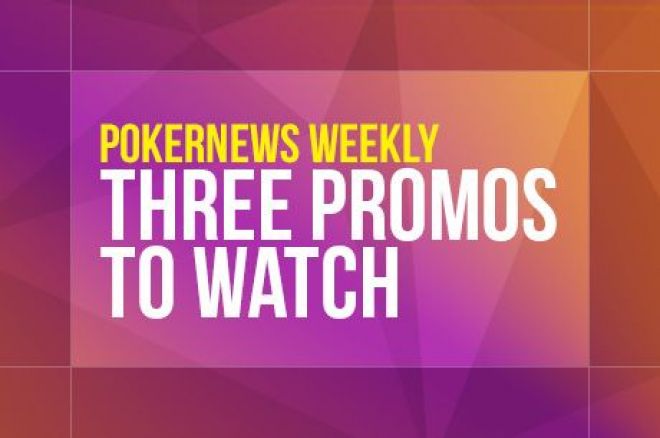 Heading out into the barren wastelands of the Internet in search of bonuses and promotions to pump some dollars into your game plan can feel like 1,000 miles of arid asteroids and dead stars are stuck in the back of your parched throat. In simple terms, it can be exhausting, and even worse than that...fruitless.
We'll do the work: you sit back, relax, and take a sip of that cool and refreshing Milky Way while we guide you right into the flight path that leads to the planet of our weekly column Three Promos to Watch.
Once you've landed, gear up to jump into the following three incredible opportunities that are guaranteed to put your game plan back in action and could see you scoring massive amounts of dollars too!
Feed the Need for Fun, Excitement, and opportunity in 888poker's "Fish 'N' Chips" series.
If you're looking for an opportunity to win B-I-G bucks that fits your time schedule and bankroll level, (hey...we know your skill level is up to par, that wasn't part of the equation), you must make the trip to 888poker. Drop into hyper drive and get there as fast as you can.
The first thing you need to do to have access to the amazing "The Fish 'N' Chips Series" is show your credentials when you land. If you don't have an 888poker account, you're not barred. Just check in through this link and register, then the door opens to The Fish 'N' Chips Series and you check out the menu to see which ones you want to play.
The Fish 'N' Chips Series' tournaments have three speed formats: Regular speed, Turbo, and Super Turbo. If you can't stay long, hop into the Super Turbo and see what you can do. If you're not in a rush, check out the other two speed formats — or play them all. With all the different buy-ins available, you're sure to find one that will fit your bankroll plan and possibly give you a boost up to a bigger buy-in tournament.
The Goldfish tournaments have a very reasonable $1 buy-in. If you're ready for bigger fish, head on up to the Blowfish tournament where $5 will get you a seat. The Catfish tournament has a spicy little $12 buy-in and the Swordfish tournament is designed for the serious player in you, requiring a $30 buy-in that takes dedication if you're going to play daily.
These money-builders start every day. Don't miss them. They are easy to get into without destroying your bankroll because they are connected directly to the step satellite structure and dedicated qualifiers which means you can get in for as little as $.01 and make your journey to 888poker very profitable.
Find more information on The Fish 'N' Chips Series here and read our in depth 888poker Review to find out how to get $88 Free and 100% up to $888 on your first deposit.
How About Some Open-Face Chinese Poker?
If you want to try something with a new twist – or if you just plain love open-face Chinese poker – set your next stop on the Three Promos to Watch Planet for TonyBet Poker!
TonyBet Poker is the one and only poker room, throughout the entire virtual universe as we know it, that is fully dedicated to open-face Chinese poker. You can get started with a 100% deposit bonus up to €500! As soon as you register and do a little exploring, you'll find you can play open-face Chinese poker on the go with apps designed for iOS and Android.
Along with the massive deposit bonus, you'll enjoy the following:
Access to OFC Classic, Pineapple, Turbo cash games, sit-and-go and tournaments
Quick and easy games selection
Access to all the "Special Events" on TonyBet Poker
In-app deposits to your account
Possibility to contact the customer support from the app
Access to the rules of all the games offered
If you're ready for open-face Chinese poker, now is the perfect time to grab a piece of the insanely fun action and excitement at TonyBet Poker. Find everything you need to know on getting started here.
Go Island Hopping with Casino Explorers
Our plan to take you on a journey of bonuses and promotions brings us to Casino Explorers and the fun-filled adventures that send you in search of top Quest Targets in a new map every week.
The promotional period runs to Wednesday, July 1st, 2015. Your goal is to earn enough points each week to be rewarded with a special bonus at the end of the week. You play to earn loyalty points to meet each week's Quest Targets and receive your bonus at the end of each week.
Finish in the 100 highest-scoring players and you have the chance to win a holiday that is worth up to $10,000. Win the prize draw and you can pack your bags after you choose from four incredible destinations. To opt in and get started on your quest to win a globe-trotting journey, visit Casino.com now!
That's the end of the Guide for the week. If you take our advice and start optimizing your game plan, you'll find you are always in action in the most profitable and exciting promotions that are offered anywhere on the Internet. Come back next week and we'll give you three more excellent promos to watch.
Get all the latest PokerNews updates on your social media outlets. Follow us on Twitter and find us on both Facebook and Google+!