A History of Gambling and Casinos, For Show and For Sale, This Week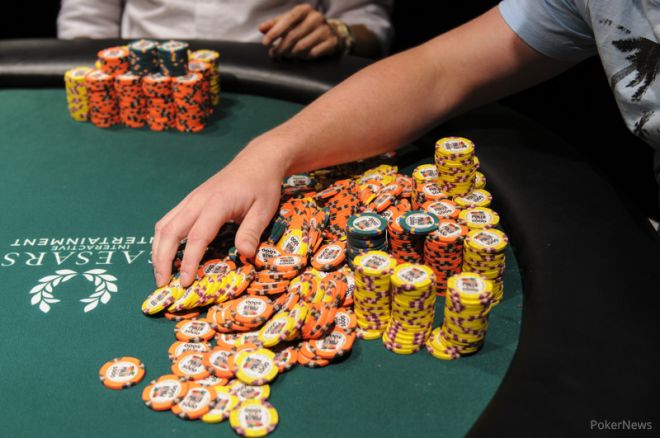 Show me a collector and I'll show you a friend. Over the years, these are just a few types of items I've collected or saved: kitchen timers, crystal ashtrays, butcher-scale weights, images of unexpected celebrities appearing together, and a complete set of 1968 Topps baseball cards.
I also have a highly personal collection of poker and casino items: casino chips of Andy Bloch winning rock-paper-scissors and Chris Ferguson winning chip-sculpture events at BARGE, the table felt from the Wynn on which Phil Ivey and Andy Beal played their amazing high-stakes games in February 2007, and World Series of Poker Main Event giveaway items from 2006 and 2007.
Consequently, I am very excited about a pair of events celebrating casino collectibles and gambling memorabilia taking place later this week. The first event, which I will be attending, is the 23rd Annual Casino Collectibles Convention held in Las Vegas at the South Point starting this Thursday, June 24 and running through Saturday, June 27. The second event, which I will be following online, is the annual Potter & Potter gambling memorabilia auction, taking place in Chicago on Saturday, June 27 and Sunday, June 28. These two events represent a diversity of collecting interests.
Casino Collectibles Convention
The Casino Chip & Gaming Token Collectors Club (CCGTCC) is presenting the "World's Largest Casino Collectibles Show" at the South Point on Thursday through Saturday.
The main activity is on the showroom floor, a daily gathering of exhibitors and hobbyists with dozens of dealer tables. For collectors, it is an opportunity to buy, sell, or trade chips, silver strikes, tokens, slot cards, room keys, dice, playing cards, ashtrays, matchbooks, swizzle sticks, TITOs, postcards, and more. With a line happily blurred between dealers, collectors, hobbyists, and the curious, it is a three-day invitation to soak up the history of Las Vegas casinos, see its artifacts, and maybe buy a few.
The Convention also offers poker and blackjack tournaments, a banquet, an auction, trade sessions, seminars, and other events. A copy of the schedule of events is available online. (One of the six seminars scheduled for Thursday and Friday is titled "Benny Binion and the Dallas Gambling Wars.")
The auction takes place on Thursday at 7 p.m. in Sonoma A. It offers 180 lots of collectable chips from Nevada casinos. There is also a silent auction on the showroom floor of 20 additional lots. The starting bids for many of the items are as low as $5. Two of the more valuable casino chips offered are from casinos bought and demolished by Steve Wynn: Lot 36 is a $1,000-denomination Desert Inn chip from 1961.

Lot 39 is potentially more valuable, a $5-chip from the Dunes from 1956.

The starting bids on each of these items are $300. The auction catalog and list of minimum bids is available online.
Poker players may be particularly interested in Lot 70, a 29-chip set of WSOP champions issued by Binion's Horseshoe.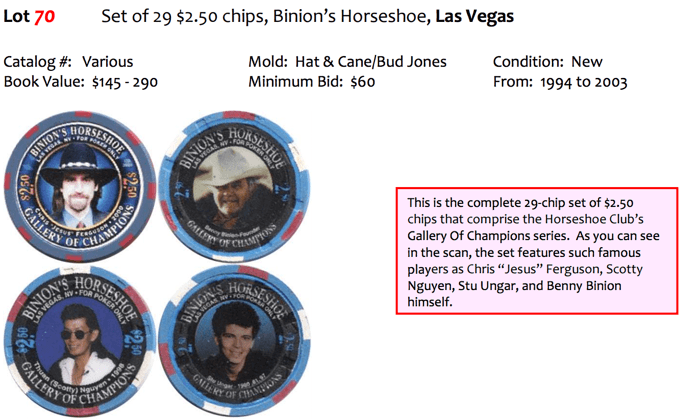 The Convention is also a three-day reunion for dealers, hobbyists, and kindred spirits. Back in the days when they held the convention at the Riviera, an unofficial meeting of "the chippers" could be found around-the-clock at the Splash Bar. It became so popular they gave (unofficial) "Splashy Awards" to people who did something memorable in the prior year. For example, CCGTCC President Douglas Smith won the first Splashy for single-handedly draining the casino's supply of Glenlivet. Over 150 people show up for the awards. Of course, now that the wrecking ball has fallen on "the Riv" and the convention has long since moved to the South Point, the meeting place is now the Island Bar (right in front of the main cage). Out of respect – this is, after all, a group that collects tokens mostly from casinos that no longer exist – the award is still called "The Splashy".
Potter & Potter Auctions' Rare Playing Cards & Gambling Memorabilia
Potter & Potter Auctions presents a different experience for a different part of the gambling memorabilia market. Since 2011, it has held annual auctions of gambling memorabilia. On Saturday, June 27 and Sunday, June 28 at its Chicago gallery, it will be auctioning rare playing cards and gambling memorabilia, 812 lots including porcelains, books, artwork, playing cards, and gambling equipment. Most of the items are from the 19th and early 20th centuries, and includes the collection of the late Dr. Ronald Wohl, a professor, research chemist, and famous collector of cheating and gambling artifacts.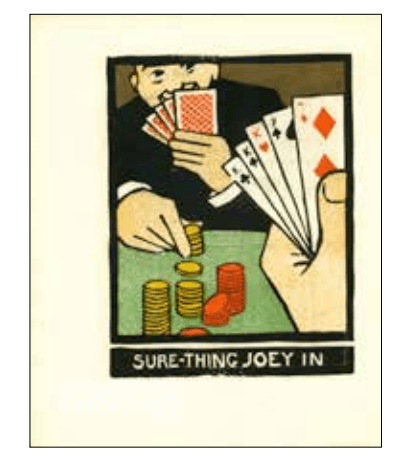 The auction's signature item is Lot 115, a copy of Kirke LaSelle's Poker Rubaiyat (hand-numbered 244 of 274 copies). This 1902 book, published out of a "printing shack" in Arizona by Bandar Log Press, features beautiful poker illustrations, originally cut with a jackknife.
Poker Rubaiyat has a pre-auction estimate of $5,000-$7,000. This is one of nearly 200 books and other printed materials offered in the auction, most of which have estimated values of $100-$300, accommodating more casual collectors.
In the 19th century, the most popular game in America was faro. Surprisingly, the game offered a better value and smaller house edge than any modern casino game. Perhaps inevitably, that meant that dishonest faro dealers drove out the honest ones, or the honest ones became dishonest. Faro was widely called "the cheating game," a factor that led to its demise.
Day 2 of the auction ends with bidding on many of these fascinating devices. Lot 726, for example, is a brass and cloth cold deck holdout machine called "The Giant."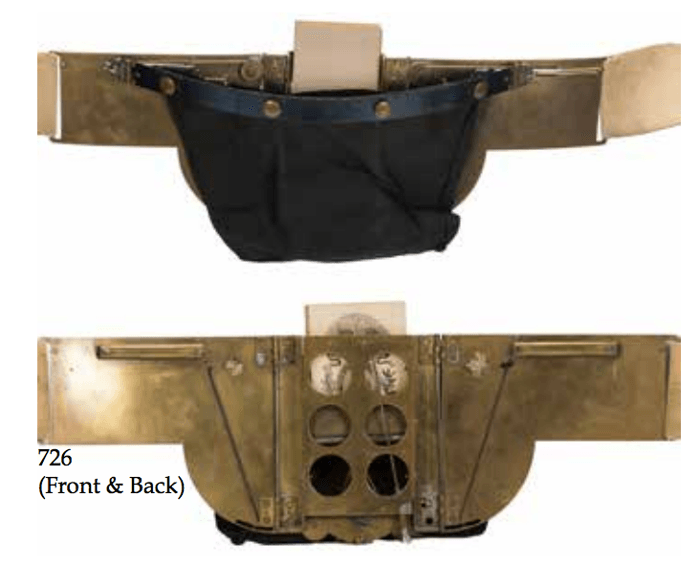 This cross between a fanny pack and a wrestling championship belt was used to switch stacked or "cold" decks into play. The catalog describes an intricate operation: "The sharp wears the device around his waist and places the stacked (cold) deck in the brass carriage. At the right moment, perhaps by spreading his knees, the pulley-driven carriage rises, position the deck near the player's waiting hand, which drops the deck in play into the black cloth back that has opened to receive it. The cold deck is then removed from the carriage and brought in to play." The Giant is one of the more expensive items in the auction, with a pre-auction estimate of $2,000-$2,500.
Lots 728 and 729 are arm holdouts. You know how, in Taxi Driver (and nearly every deranged vigilante movie since) Travis Bickle rigged a handgun to slide along the inside of his shirtsleeve into his hand? That's how the arm holdout worked.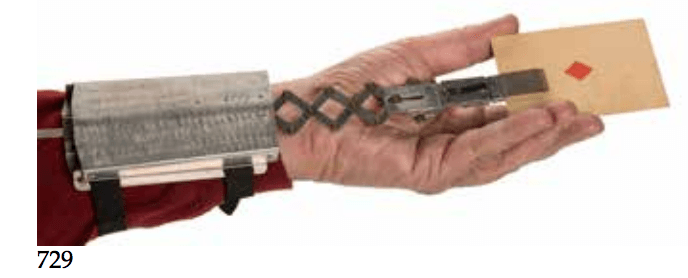 This pictured item has a pre-auction value of $800-$1,000.
Cheating devices for dice games are also represented. Lot 750 appears to be a familiar dice stick.

Look closer at the handle: it has a hidden compartment for gaffed dice, The compartment opens by pressing a button and pulling the stick forward. It closes by pushing the stick back. This 1920 tool has a pre-auction value of $1,500-$2,000.
Lot 771 is a gaffed roulette wheel from 1930. Professional size roulette wheels are gigantic; this one is 32" in diameter.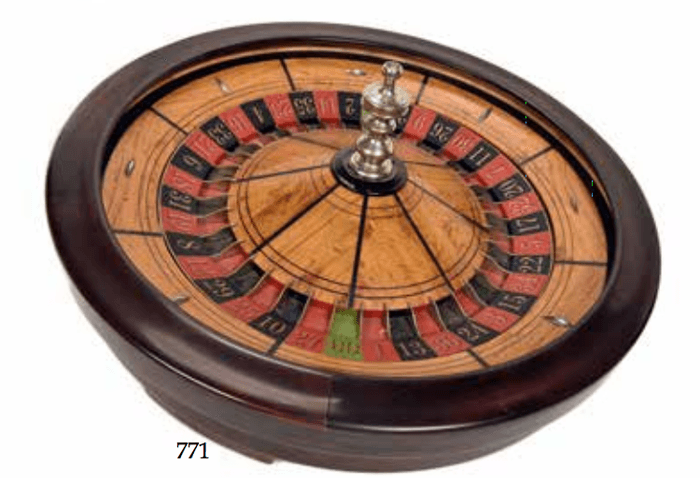 A hidden button under the outside rim pushes a piece of wood out from the ball track, diverting the ball into a certain section of numbers. Pre-auction estimate: $4,000-$5,000.
The two-day auction features a variety of historic gambling items unconnected with cheating: porcelains, books, catalogues and dealer ephemera, artwork, playing cards, and even a few poker chip lots. Lot 684 is a beautiful set of 220 ivory poker chips with a case. The case features an engraved brass star suggesting the chips belonged to Richard Canfield, owner of the Saratoga Springs Casino and one of the biggest figures in American gambling in the 19th century.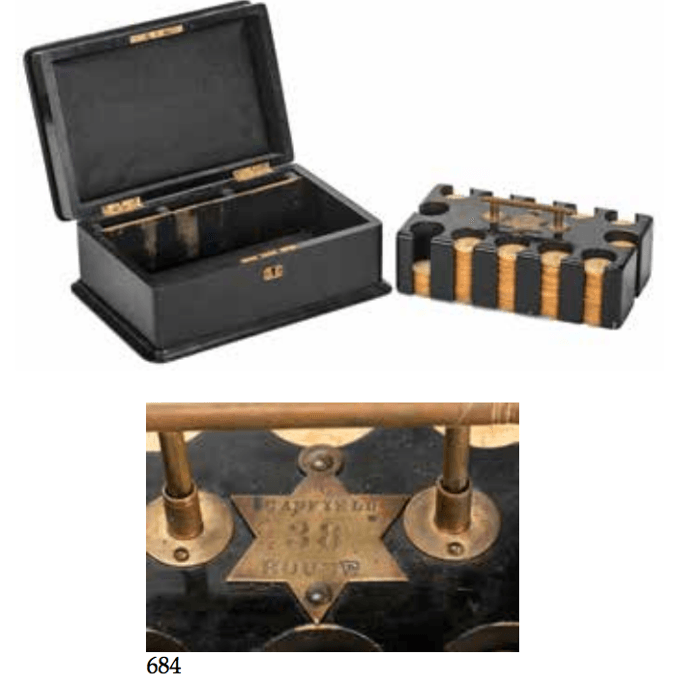 Potter & Potter is also offering over 100 prints, posters, lithographs, postcards, and other pieces of artwork related to poker and gambling. For collectors or just players looking for unique decorative items, the artwork starts with items valued $80-$120, like Lot 298, the 16x11" hand colored print titled "A Scene in a New York Faro Bank – The Critical Moment: Taking the Turn."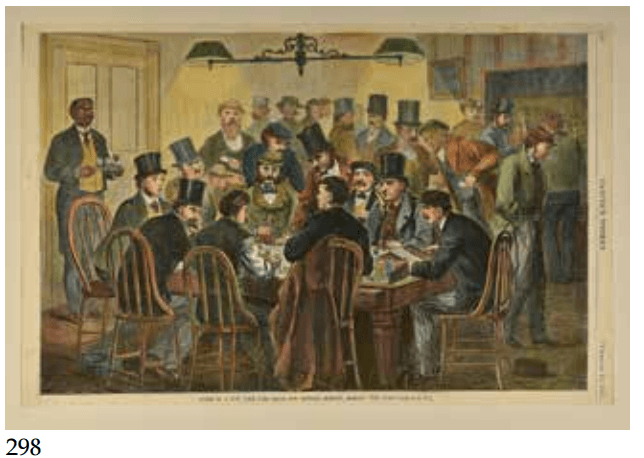 A copy of the auction catalog is available as a PDF online. The catalog explains how to place bids without being present in Chicago, or you can email Potter & Potter. You can follow the progress of the auction online (and bid) through LiveAuctioneers.com.
The auction catalog is beautiful and richly illustrated. In fact, paper copies are for sale for $35. There are people who collect auction catalogs — I have several — and Potter & Potter's catalogs are themselves attractive collectibles.
Anything worth collecting can be a portal to a new world. Although I have been collecting my entire adult life — including some poker and casino items — these collectibles have taught me new things about the history of gambling and casinos. A pair of recent articles that initially attracted my interest in the subject appeared in Robbie Strazynski's CardPlayerLifestyle.com and PokerStars Casino Buzz.
Michael Craig has written two books and hundreds of articles about poker and gambling over the last decade. This first book, The Professor, the Banker, and the Suicide King: Inside the Richest Game in Poker History, just celebrated its 10th anniversary in print. You can follow Michael's work on Twitter and Facebook.
Want to stay atop all the latest from the 2015 WSOP? If so, make sure to get PokerNews updates on your social media outlets. Follow us on Twitter and find us on both Facebook and Google+!