Skrill's 'Road to Vegas' Winner Georgios Theofanopoulos Joins The WSOP Main Event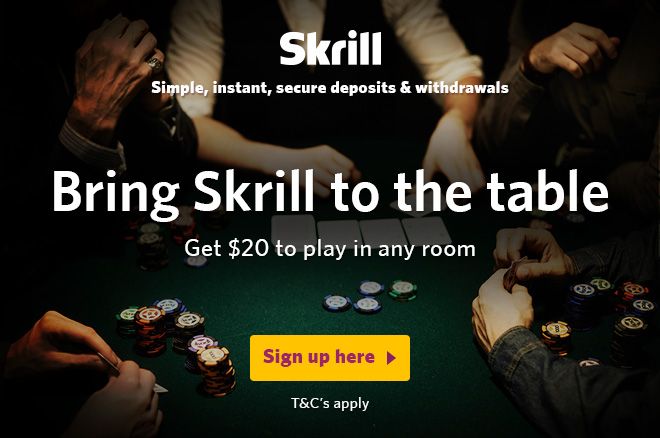 As the Main Event at the 2015 World Series of Poker (WSOP) heats up, the field gets ready to welcome Georgios Theofanopoulos, the lucky poker player from Greece who managed to ship the impressive WSOP package compliments of Skrill.
After opting in for Skrill's Road to Vegas promotion, Theofanopoulos kept his finger crossed until the moment his dream of playing in the biggest poker event of the season became real and he got his chance to fly to Las Vegas and take his seat at the Rio Casino.
"When I first got a promotional e-mail about Skrill's "Road to Vegas" from Skrill, I opted in dreaming of winning this and of making it all the way to the Final Table of the Main Event," Theofanopoulos told PokerNews.
If I live the dream and win the tournament, I will first secure my family's future and make my parents' and brother's life comfortable.
"At the same time, however, I thought that I would need to be extremely lucky to be the winner and to do also well in the Main Event. Now that the first part of the process went in the best possible way, I am hoping for just a little more luck and do well in the tournament."
Into poker since the age of 12, when his father taught him about the basics of the game, Theofanopoulos started to play with friends after he turned 18. Then, years later, he discovered the online side of the game and he got hooked.
"I started to play online in 2001, when was 27. Like most people at that time, I begun with fixed-limit Texas hold'em," Theofanopoulos went on to explain. "Having just acquired a Masters degree from university, I was supposed to seek a proper day job at that point," but his love for the game and his successes at the felt changed everything and convinced him to give poker a shot.
My favourite player is Eric Seidel. I admire his humble approach to the game.
"After a year of working in my field of studies," Theofanopoulos continued, "I decided to play poker professionally while working as a TV commentator on poker shows at the same time." During this time, Theofanopoulos' passion for poker evolved and motivated him to look into different variants: "today, my favourite games are fixed-limit Texas hold'em, no-limit Texas hold'em, 7-card stud, and 7-card-stud hi/lo."
Asked to comment on his poker adventure and his achievements in poker, Theofanopoulos stated that he considers his best accomplishments to be "my MTT ROI of approximately 25% on more than 40,000 tournaments. Along the way, I have six 5-figure cashes, including two wins on Sunday major tournaments." And that's not all, because his commitment to the game took him all the way to the coaching world, something he deeply cares about. "My next best accomplishment is the great success my first and only poker student, George K., has had."
Yet, should things keep going well and should luck be on his side also in Vegas, Theofanopoulos could finally top the list of his personal achievements with something memorable as a deep run at the WSOP Main Event.
"Playing at the WSOP Main Event is an accomplishment of its own," the player said, "The buy-in and the massive field make it really hard for any player to have the appropriate bankroll in order to play on his own without making any bankroll management mistakes. And the same massive field is the reason you cannot keep high expectations when you participate in such a huge event."
"I will just play my game, enjoy the experience to the full and if something good comes out of it, I will celebrate then."
But, what happens if also the second part of his dream becomes true and he manages to write his name on the list of this year's November Nine or, even better, to win the event?
"If I live the dream and win the most prestigious poker tournament in the world, I will first secure my family's future and make my parents' and brother's life comfortable. Then, I will also help a couple of friends and their families get over their financial difficulties." Theofanopoulos explained.
But that's not all because with the title, the bracelet, and the huge money prize awaiting the Main Event's winner also comes a responsibility that Theofanopoulos seems to be willing to take. "I will try my best to help the growth of poker in my country and worldwide. Finally, I will keep a small part of the prize for my bankroll, so I can travel and play a lot of live tournaments."
Winning the Main Event would also give him the opportunity to sit right next to his favourite poker players and share with them his authentic passion for the game. "My favourite player is Eric Seidel," Theofanopoulos explained. "I admire his consistency throughout the years at the top level, his humble approach to the game and towards his success, and his sound mathematical knowledge on the game."
"I also admire Barry Greenstein for his ethics, his humility, and his charity work," Theofanopoulos concluded. "He was probably the first poker player to be heavily involved in charity with his earnings from poker, and I think he set a great role model for others to follow."