Inside Gaming: Atlantic City Casinos Show First Yearly Increase in a Decade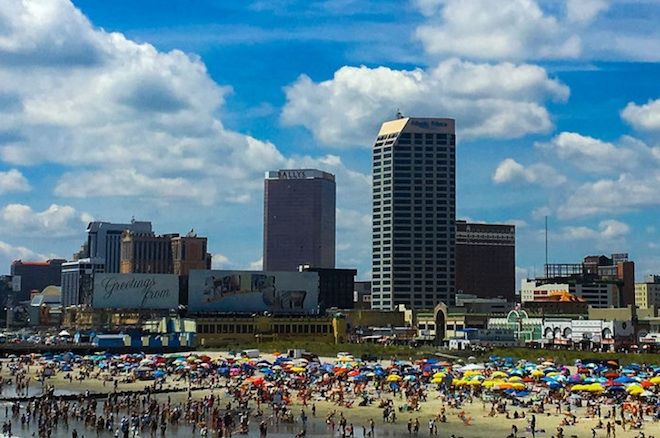 This week's installment of Inside Gaming shares news of Atlantic City realizing a yearly gaming revenue increase among its casinos for the first time in 10 years, passes along similarly positive news regarding Nevada casinos' revenue, and tells of the groundbreaking of a new Oklahoma casino by the hottest band in the world.
Yearly Report Shows Atlantic City Casinos Up for First Time Since 2006
Yesterday the New Jersey Division of Gaming Enforcement released gaming revenue results for December as well for the previous calendar year, and for the first time in a decade Atlantic City's casinos collectively experienced a revenue increase.
It was revenue from online gaming in New Jersey that helped change a small decrease to an increase for the casinos. The total gaming win for casinos added up to $2.406 billion in 2016, down slightly from the $2.414 billion of 2015. However the internet gaming win was $196.7 million — up more than 32 percent from the prior year. That helped carry the overall total gaming win to $2.603 billion for 2016, an overall increase of 1.5 percent over 2015.
The Associated Press notes how the last time Atlantic City casino revenue increased was back in 2006 when reaching a peak of about $5.2 billion. Almost exactly a year ago in this space we were sharing news of another report from the NJ Division of Gaming Enforcement indicating both the consistent run of yearly decreases and the fact that casinos were earning around half what they had in 2006.
Last year's report showed a 6.5 percent decline year-over-year, although five of the eight casinos then in operation did show gains. For 2016, only Caesars and Harrah's showed overall declines, with the Trump Taj Mahal also of course down significantly year-over-year thanks to having closed its doors in October. Meanwhile Caesars Interactive was up 18.6 percent for the year, from $32.6 million to almost $38.7 million.
Of the casinos, the Golden Nugget posted the largest percentage gain, up 9 percent for the year from $231.2 million to $251.9 million. As always, the Borgata tops the list as far as total gaming win goes, having increased 3.8 percent for the year to nearly $769.8 million.
Matt Levinson, chairman of the New Jersey Casino Control Commission, found the 2016 revenue figures greatly encouraging.
"These are some strong numbers, especially with all the bad news about Atlantic City's 'demise,'" Levinson told the AP. "There's a lot of good news here. We have some stronger casinos now, and internet gambling continues to increase. My hope is we're entering a stable environment now."
The AP further shared Golden Nugget general manager Tom Polhman's comment that with the recent casino closures the market in Atlantic City has "right-sized itself to the point where we're not over-saturated anymore."
Four casinos closed during 2014, with the Trump Taj Mahal — first opened by president-elect Donald Trump in 1990 — becoming the fifth to close last year, leaving seven.
In its latest monthly report on gaming revenue, the NJ Division of Gaming Enforcement shows casinos in December enjoyed an 8.6 percent revenue increase over December 2015.
Visit the AP for more on the upbeat news regarding NJ gaming numbers in 2016. You can also read the NJ Division of Gaming Enforcement's report on the yearly numbers here.
Nevada Casinos Turn a Profit in Fiscal 2016
In a similar vein, the Nevada Gaming Control Board on Wednesday reported that casinos in the Silver State likewise managed collectively to do something that hadn't been done since 2008 — turn a profit.
It wasn't gambling revenue, however, but rather "room rentals and fees [that] helped resorts generate income of almost $979 million from total revenues of $25.2 billion in the year ended last June 30," reports the AP.
The year before, Nevada casinos endured an overall loss of nearly $662 million on revenues of $24.6 billion.
Michael Lawton, senior research analyst for the NGCB, commented on the "trend that continues to tilt away from gambling and toward restaurant, retail, entertainment and room rental business."
"It's been a long road to get back in the black," said Lawton. "It's good not only because it's net income for the first time, but because it's net income in all areas across the board."
The report shares information about 273 casinos in the state — the ones grossing $1 million or more in gambling revenues.
David G. Schwartz, director of the Center for Gaming Research at the University of Nevada-Las Vegas, noted how "Nevada casinos have always been about more than just gambling," adding that "the revenue pattern of the industry has shifted."
Among his observations when analyzing the figures, Schwartz noted how even though Strip casinos made about 2 percent more in fiscal 2016 than in 2015, gambling revenues only increased by less than a quarter of a percent.
Read more from the AP about the Nevada report.
KISS Helps Break Ground on New Oklahoma Casino
Finally, a groundbreaking ceremony last night saw KISS frontmen Paul Stanley and Gene Simmons in tiny Braman, Oklahoma excited to shout it out loud along with representatives of the Kaw Nation regarding a new casino set to open there in the summer of 2019.
The Rock & Brews Casino Resort will be the third casino for the Oklahoma-based tribe, with plans to include a 250-room hotel, a nearly 80,000-square-foot casino, a 1,500-seat events theater, plus restaurants, outlets, and more.
It's a joining of forces between the Kaw Nation and KISS. Simmons and Stanley first launched their Rock & Brews brand in 2012 with nearly 20 restaurants now opened across the country.
According to a report on the groundbreaking in Tulsa World, Braman was listed with a population of 217 in the 2010 census.
"You don't know how big... this is going to become," said Simmons at the event. "You've got to remember. Las Vegas was desert once upon a time. Now 44 million people come to Las Vegas every year. If we get 1/100th of that coming here, it's going to be an explosion."
Will "Braman Rock City" become king of the night time world? Simmons, Stanley, and the Kaw Nation have great expectations that it will.
For more on how KISS will help Braman rock and roll all nite, visit Tulsa World.
Photo: "Atlantic City" (adapted), Eric Haake, CC BY 2.0.
Everybody needs an account at one of these online poker rooms! They're the biggest, the best, and we get you the best poker bonuses. Check out our online poker section for details on all the online poker rooms around.