Only This Week: Win Your Way to The Maldives!
Agne Zukauskaite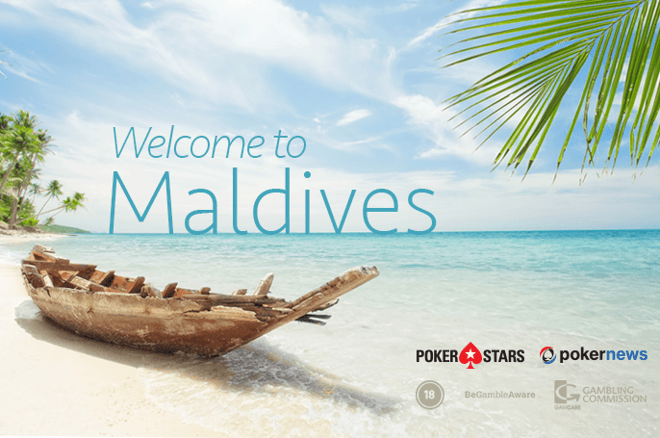 We know how all of you are aching to relax on the most mesmerizing blue beaches and white sand while on holidays, with exotic Pina Colada's and great summer vibes.
This is exactly why PokerStars Casino has created a surprise just for you!
Don't snooze and lose your chance to win an all-inclusive dream holiday to THE MALDIVES!
Enjoy pristine beaches, a magical underwater world, stunning nature, glorious weather all year round and, of course, luxury and comfort.
This tropical island will leave you breathless! Sounds too good to be true?
PokerStars Casino is giving YOU the chance to be one of 8 lucky winners who enjoy the all-inclusive holiday to The Maldives between February 1-10, 2018.
Not a holiday fan? Not a problem!
You can also cash out of the Maldives Holiday Package for $3,800 with no strings attached.
No, this is not a dream:
This is your chance to have the magnificent Maldives holiday or pocket full of money you have always dreamt of.
Rub those lucky charms of yours and enter the prize draw from October 23-29!
Put the puzzle together and sip cocktails on the beach
To win this dream holiday, simply all you have to do is put the Maldive's puzzle together from October 23-29 to enter the prize draw.
There is no time for a siesta, only for a fiesta!
Be quick and collect all 4-puzzle pieces. 'Dream Holiday Maldives' puzzle won't leave you bored as each puzzle piece you collect has a Casino Challenge that's uniquely customized just for you!
P.s.: PokerStars Casino is very generous for all of you holiday lovers, and is rewarding you with up to $5,000 random Casino Instant Bonus for each puzzle piece you collect.
Could it sound any better?
We don't think so!
Spend the random casino instant bonus on any casino games (except live roulette) and make that money fall directly into your pocket!
The eight lucky winners will be announced on the October 30, 2017.
Pokerstars Casino will contact the lucky players within 5 days.
Start planning YOUR holiday of a lifetime!
Make sure to complete the puzzle from October 23 to 29.
It is available for you in your Challenge window on your Stars account on the web, through downloadable client users or via the PokerStars Casino app!
Start putting your puzzle together now and make your dreams come true!
You could be one of 8 lucky players who will be going to Maldives to have the holiday of a lifetime. Don't wait any longer.
Start your Maldives Dream Holiday puzzle now and live your life to the fullest on the pristine beaches of Maldives!
P.s.: Don't forget to check out full list of special details and rules!
Everybody needs an account at one of these online poker rooms! They're the biggest, the best, and we get you the best poker bonuses. Check out our online poker section for details on all the online poker rooms around.