Tilly, Boatman Preview 'Short Stories of Long Nights at the Poker Table'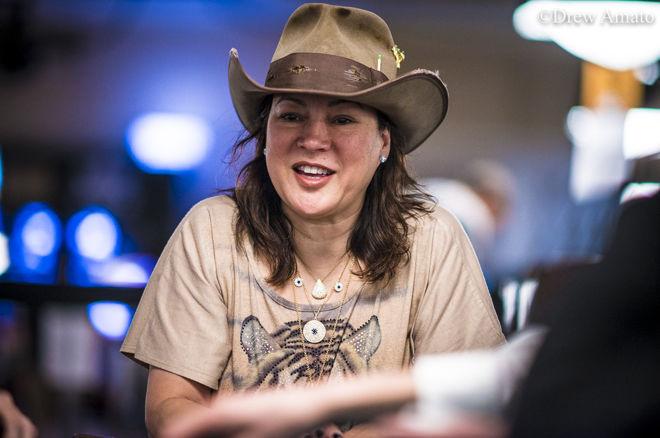 The game of poker creates all the makings of a good page turner: money, risk, and the potential for an underdog to walk away with the top prize. Well, get ready for some fresh tales from the felt next April when He Played For His Wife And Other Stories; Short Stories of Long Nights at the Poker Table is released to the world.
The lineup of contributors is impressive, including Booker Prize-winning novelist D.B.C. Pierre, award-winning playwright Patrick Marber, actor Neil Pearson and poet laureate Carol Ann Duffy. The book also happens to include short stories from some of our favorite players that keep us entertained daily through their antics on and off the felt: Jennifer Tilly and Barny Boatman.
Tilly and Boatman Get Involved
Both Tilly and Boatman joined the project through their connection with Natalie Galustian, who co-edited the book with Anthony Holden.
"The editors Natalie Galustian and Tony Holden are good friends," Boatman told PokerNews. "Their collection of poker-themed stories is such a perfect idea it's hard to believe it didn't already exist. I was one of several poker players who was invited to submit one back in 2011 when the project began. I wrote it immediately before they could change their minds! That was six years ago, and I believe mine was the first to be completed. So it's kind of a fluke that I now find myself published in the company of award-winning novelists, play and screenwriters and even a Poet Laureate. Proper writers!"
Tilly made a splash onto the poker scene back in 2005 when she won a bracelet at the WSOP ladies event. Since then, she has compiled nearly $1 million in tournament earnings, is a frequent visitor to the Poker Night in America set, was a regular contributor to Bluff magazine, has played in some of the best Hollywood home games, and still manages to grind the WSOP summer schedule in between appearances at big-name fashion shows and "Chucky" events.
It stands to reason that her fascinating life must be chock-full of captivating poker experiences, so we asked her how she chose which story to share.
"I had the privilege of playing in some of the high stakes underground games in Hollywood that most pros could not get in to."
"The poker world is a very strange subterranean place," Tilly said. "What you see on camera is only the tip of the iceberg. You usually see celebrities and successful high rollers throwing money around and laughing. The reality of poker is much darker.
"I had the privilege of playing in some of the high-stakes underground games in Hollywood that most pros could not get in to. They usually are populated by a lot of high powered testosterone-charged individuals, producers, directors, etc., people who are used to being on top. Games where hundreds of thousands of dollars exchanged hands in one night. My story uses a game such as this as a backdrop."
Boatman, on the other hand, is a classic old-school grinder. With two bracelets and nearly $4 million in tournament winnings, he doesn't have the constant spotlight on him, as Tilly does. He is either getting your attention when he stacks your chips or on his witty and sometimes snarky, but always entertaining Twitter feed.
"Twitter has helped me to be pithy," said Boatman. "It's like the old telegrams where you were charged by the word. I didn't attempt to be funny — the subject is fairly dark — but I've been told there are a couple of laughs in it. "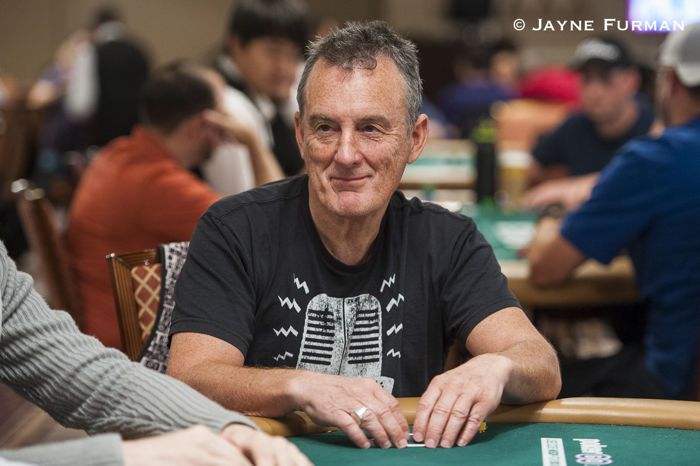 Boatman and Tilly Tell a Tale
About choosing his story, he explained, "Many of the stories appear to be autobiographical to one degree or another. Mine is not. I'm not in it, and the only thing I didn't invent is the pub where some of it takes place. That was my London local."
We asked both Tilly and Boatman if they could give us a sneak peek into the story they've submitted.
Tilly responded, "My story is about a high stakes home game that goes terribly wrong. But it's also a paean to the love of poker, one of the greatest games ever invented."
"Jennifer Tilly's story is funny, moving, cinematic, wild, but believable and very personal."
Boatman answered, "I've heard an artist define 'uncanny' as 'the familiar made strange.' My story asks what someone who acts unethically will tell themselves when they look in the mirror. I hope that it's accessible, but I think poker players, in particular, will find it both strange and familiar. As well as dramatic and surprising."
While Tilly has yet to receive an advance copy of the book, Boatman was fortunate to get a look at some of the stories a while back. Both are equally intrigued by the other's story.
"I'm looking forward to reading Barney Boatman's story," said Tilly. "He is an incredibly witty gentleman who has a unique take on life. I also am interested to see what James McManus came up with. I read his book Positively 5th Street before I became involved in the Poker World, and was absolutely riveted by it. I consider it one of the classic American books on the phenomenon of poker."
Boatman had this to say, "Although poker is the binding theme, the stories are so diverse in style and subject that it's hard to say which I prefer. I read them quite a while back so I'll tell you which first spring to mind. Jennifer Tilly's story is funny, moving, cinematic, wild, but believable and very personal. D.B.C. Pierre's is a great idea, perfectly executed. Vivid, original and intense. Lucy Porter's is jaw-droppingly honest and utterly hilarious. And Grub Smith has written something tense, gripping and perfectly paced."
More Stories to Come?
While Boatman and Tilly contributed one story to the book, you have to imagine there is a boatload more where those came from. So we asked them if this sparked an interest in bringing more of their colorful stories to light.
Tilly was a solid yes, saying, "In the future, I would like to write more. Since I became obsessed with poker, I'm not as interested in acting as I used to be. I would love to write a book or play about the world of gambling. I have my library of poker books as inspiration! Poker is an exhilarating game where you experience a gamut of emotions in a short period. Poker is like life speeded up. The only thing better than playing poker is watching it, or reading about it. In my opinion, the world could use more poker stories!"
Boatman, however, was more on the fence, responding, "It's crossed my mind, but apart from it being a lot like hard work, there are a number of obstacles. I'm quite a private person, that's why I'm not on Facebook. I do know where all the bodies are buried, but not all of them are buried yet. I think I'd put a few noses out of joint. I do have a great memory, but not necessarily for what actually happened, and I'm hopeless with names."
"I have thought of writing something autobiographical but fictional," he continued." Then I can get stuff 'wrong' and if someone recognizes themselves and thinks I got it wrong, well, how come they think I'm talking about them then? I am writing other stories though, in the style of the one in He Played for his Wife."
Book Preview
In case you aren't yet intrigued, Simon and Schuster, the book's publisher, had this to say about the upcoming collection of short stories on their website:
"A ghost at the table, a heads-up with Shakespeare, a high stakes stick-up, a hand played on Death Row, tales of pioneers and knaves, even a celestial argy-bargy – each story in this anthology reveals that when it comes to playing poker, no one can hide from their true selves. Whoever you are, you can be sure all your passions and compulsions, your desires, your foibles, and idiosyncrasies will be unsparingly crystalized and exposed on the baize."
Sold yet? We are, and we can't wait for the book's release in April 2018. It's sure to become an instant must-read.
Everybody needs an account at one of these online poker rooms! They're the biggest, the best, and we get you the best poker bonuses. Check out our online poker section for details on all the online poker rooms around.