Inside Gaming: Appeal of Sports Betting Ban Goes to Supreme Court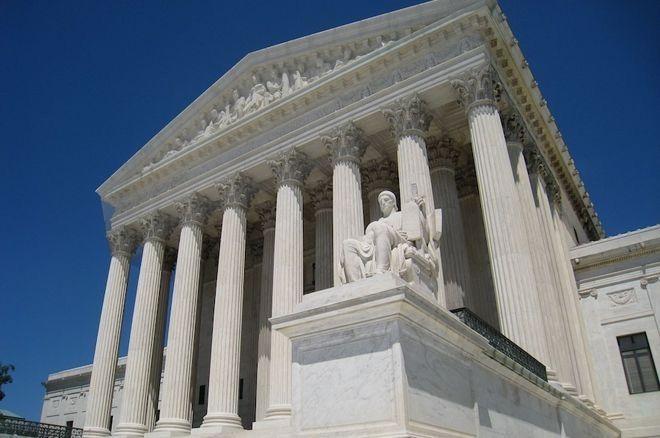 This week's Inside Gaming concentrates on a couple of stories of special interest to the gaming industry — next week's arguments before the Supreme Court in a case destined to affect the future of sports betting in the United States, and the most recent monthly revenue figures from Nevada.
Supreme Court to Hear Arguments in New Jersey Sports Betting Case
Monday marks an important day for the future of sports betting in America. The United States Supreme Court will be hearing oral arguments in the case of Christie v. National Collegiate Athletic Association in order to decide upon the constitutionality of a federal law that currently prohibits most state-sponsored sports gambling.
It was in late June that the Supreme Court agreed to hear an appeal by the state of New Jersey and its Governor Chris Christie of the federal ban on sports betting.
Specifically, the appeal is challenging the Professional and Amateur Sports Protection Act of 1992's prohibition of sports betting nationwide with a few exceptions — sports lotteries in Oregon, Delaware and Montana, and licensed sports betting in Nevada.
In 2011 voters in New Jersey voted in favor of allowing sports betting in the state. Many of the state's lawmakers were likewise in support of such legislation, and in late 2014 Christie signed a law allowing sports betting in the state.
But the NCAA and the four major professional sports leagues in the United States acted quickly with lawsuits opposing the state's attempt to allow sports betting, leading to the issuing of temporary restraining order by U.S. District Judge Michael A. Shipp.
The case worked its way through lower courts to the U.S. Court of Appeals for the Third Circuit in Philadelphia which last year issued a ruling upholding the ban. Then this summer the Supreme Court somewhat suprisingly announced it would be hearing Christie v. NCAA, setting the stage for Monday's arguments.
The Washington Post explains how New Jersey is one of 18 states currently in favor of removing the federal ban on sports betting. Meanwhile the NCAA and the four professional sports leagues "contend the federal ban is necessary to protect the integrity of their games."
Despite the prohibition of legal sports betting in the U.S., the amount of money wagered on sports illegally each year continues to grow. According to the American Gaming Association, "trillions of dollars have been bet on sports illegally" since PASPA came into effect a quarter-century ago.
"Annually, sports fans wager about $150 billion illegally," declares the AGA, who also estimate that when it comes to betting on football this season (both the NFL and NCAA), "98 percent... of all bets will be made illegally thanks to the federal government ban."
How the Supreme Court rules could have wide-ranging consequences extended well beyond the matter sports betting. That is to say, a decision favoring New Jersey would not only open the door to sports betting in both in the Garden State and elsewhere, but also potentially lead to further challenges of the federal government's authority over states' legislative decisions in a variety of areas.
Speaking to the Post, two attorneys specializing in sports law provide opposing forecasts for what the Supreme Court might do, with both employing the language of sports wagering when making their predictions.
Ohio lawyer Kevin P. Braig says he "would still make the leagues 2-to-1 favorites to win on the merits." Meanwhile Daniel Wallach of Florida says he "really believe[s] that New Jersey is the prohibitive favorite."
Both agree that a ruling in favor of NJ would potentially lead to the swift expansion of sports betting elsewhere, with Braig describing it as being like "a dam burst" and Wallach noting the decision would find the U.S. having to "face a choice of either gambling limited to New Jersey or full-on sports gambling before the end of the calendar year 2018."
In addition to either ruling to uphold PASPA or finding the federal law unconstitutional, the Supreme Court could choose a third option and make a ruling applicable to New Jersey only. Also in play as a longshot possibility is "the extremely unlikely 'nuclear option,'" as Sports Illustrated's Andrew Brandt terms it, of "banning gambling everywhere, including Nevada, in order to treat all the states equally."
A decision in the case isn't expected until next June. For further reading about what will happen Monday and other aspects of the case, see "Christie v. NCAA — Supreme Court Case Primer" from NJ Online Gambling.
Nevada October Revenue Up Slightly Statewide Despite Strip Decline
As November ended, the Nevada Gaming Control Board issued its regular report on the previous month's revenue for the Silver State's casinos. The report shows that while Nevada as a whole saw a slight year-over-year increase in gaming revenue in October, the total win for casinos on the Las Vegas Strip was down markedly.
Overall gaming revenue was up 0.27 percent in the state, with casinos reporting a total gaming win of $988.7 million compared to $986.1 million in October 2016. However Strip casinos reported a 6.05 percent decrease, slipping to $528.7 million for the month versus $562.7 million a year ago.
By contrast, casinos in downtown Las Vegas saw revenues increase by 9.96 percent, up to $63.6 million from the $57.8 million of October 2016. Also enjoying increases for the month were North Las Vegas casinos (up 11.6 percent) and Boulder Strip casinos (up 17.1 percent).
Speaking of sports betting, a record-setting September for Nevada sportsbooks was followed by another all-time high in October, with a whopping $566.4 million wagered. That eclipsed last month's record-setting total of $558.2 million, marking a third-straight month in which more than half a billion was bet on sports.
As noted by Michael Lawton, senior research analyst with the Tax and License Division of the NGCB, this year's World Series "saw $101.5 million bet, the largest number ever for October... [meaning] we can safely assume it was the most bet ever on a World Series," reports VegasINC.
Last year a total of $66.4 million was bet on baseball during the month of October, when five of that year's seven World Series games were played. This year the series again went the full seven, with six of the games playing out in October.
While some observers were quick to cite the deadly October 1 shooting as a factor affecting the decline in Strip revenue, Lawton was less ready to focus too greatly on such a connection.
"I'm not really going to speak to that," said Lawton, adding that "we were facing a tough comparison and had a few days where things were off." Indeed, one less weekend in October 2017 when compared to October 2016 was a factor. Additionally, October 2016 was itself a booming month, with revenue increasing 11.1 percent statewide that year.
Lawton did note that "it could have been worse" as far as the Strip numbers were concerned, "considering what happened the first week of October."
The Los Angeles Times adds that the Las Vegas Convention and Visitors Authority's data showed "visitation to the city was down 4.2 percent to 3.6 million visitors in October compared with the same month in 2016."
Finding a trustworthy room to play online poker can be a monumental burden. That's all the more true if you're just looking for a place to play poker for free. We've listed five of the best play-money poker sites to enjoy and help hone your skills.