Top Five Hands from WSOP Europe: PLO Edition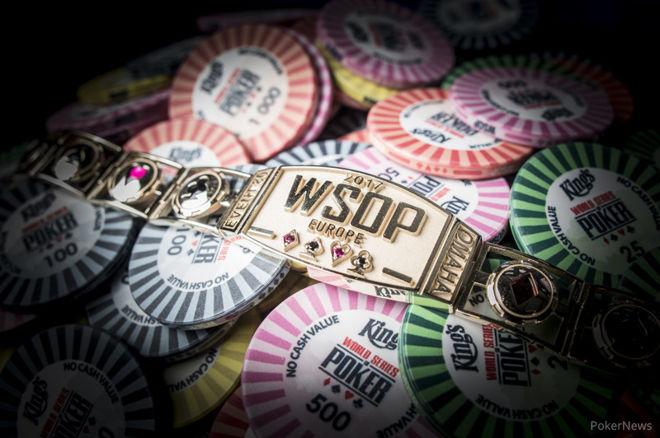 Last week, we covered some of the biggest, most exciting hands that played during World Series of Poker Europe. Those hands were all of the hold'em variety though, and there was plenty to follow for fans of four-card poker as well.
That's why we've come up with the top five PLO hands from the series, gleaned from a pair of PLO events and a PLO hi-lo event.
Andreas Klatt Uses a Blocker
Andreas Klatt has been enjoying one incredible year on the poker circuit, having cashed for over $800,000 since the calendar turned, compared to $65,000 before that. His damage has come in hold'em events but he showed he means business in PLO as well, making the final table of Event #2: €550 Pot-Limit Omaha in a field of 523.
Many presumed the favorite at that table to be the highly experienced Georgios Zisimopoulos, and he indeed held the lead at various points. He and Klatt tangled in a big hand with four players left and everyone tightly bunched in the counts.
At 30,000/60,000, Zisimopoulos started the action with a min-raise first to act holding
. Klatt made it 400,000 to go on the button with
. Zisimopoulos called with about 700,000 back and they saw a flop of
, which both players checked. Action repeated on the
, bringing a
river that gave Zisimopoulos a straight to the ten.
Zisimopoulos made a tiny bet of 85,000. Klatt, holding the nut flush blocker, potted to put Zisimopoulos all in for his last 600,000 or so. Zisimopoulos definitely sensed something might be up as he hit the tank for about a minute but ultimately couldn't bring himself to call it off.
Klatt surged into the chip lead with that win and went on to take down the bracelet to continue his dream year.
Zaskodny Gambles, Gets There
For much of Day 2 and the early parts of Day 3 in Event #6: €2,200 Pot-Limit Omaha, Liran Twito was the man to catch. He had been passed in the counts by Lukas Zaskodny when a huge hand went down that saw three stacks in the middle.
It began with Twito raising on the button at 12,000/24,000 and getting action from both blinds. On the
flop, the blinds checked to Twito and he bet 145,000. Small blind Allen Kessler shoved all in for 407,000 and Zaskodny called from the big blind. Twito had about 1.3 million on top of that and shoved it in. Zaskodny got a count, seemed to shrug, and put the chips in.
Twito:

Kessler:

Zaskodny:
About 60 percent of the total chips had found their way into the middle for the decisive pot. Twito had the nuts but was fading a ton of cards, while Zaskodny and Kessler could each chop the pot with identical straights or hit a flush and full house, respectively, to win the pot outright.
Zaskodny wasted no time getting there with the
. That left Twito dead and Kessler on the verge of elimination, but "Chainsaw" filled up when the
hit. He and Zaskodny would both advance to heads-up play thanks largely to this pivotal pot, with Zaskodny eventually prevailing to leave Kessler with a fourth runner-up finish in a bracelet event.
Allen Kessler Folds Away a Golden Opportunity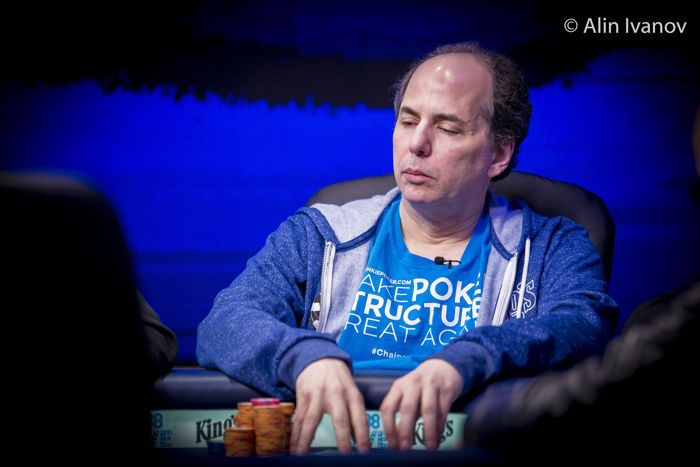 The three-handed battle between Kessler, Zaskodny and Krasimir Yankov lasted several hours and saw the chip lead change hands between each of the three. However, had Kessler hopped into the first big pot they played, things might have gone quite a bit differently.
The blinds were 15,000/30,000 when Yankov raised to 105,000 on the button with
. Zaskodny defended his big blind with
. A flop of
gave Yankov the nut straight and Zaskodny top set. Zaskodny elected to play it slow on the dangerous board, check-calling 180,000 and then 325,000 on the
turn.
When the
hit the river to complete the backdoor flush, both players shut it down and went to showdown. A big pot, but not a tournament-altering one.
However, Kessler had tank-folded
in the small blind. He'd have flopped a set and a straight draw then gone runner-runner to the nuts. Of course, there's no way to know how things would have transpired differently, and it's certainly possible Kessler would have been forced out before the river somehow. But, this pot could have potentially changed the course of the tournament if Kessler had seen the flop.
Ferguson Puts a Beat on Clinkscales
With many in the poker world staunchly rooting against him, Chris Ferguson made the final table of Event #7: €1,650 Pot-Limit Omaha Hi-Lo and found himself squarely in contention for his sixth bracelet.
However, his moment appeared likely to end with five players remaining. Rex Clinkscales had opened the pot to 45,000 at 10,000/20,000 from the cutoff with
. Ferguson put in a three-bet from the small blind to 155,000 with
. Clinkscales jammed and Ferguson called off his remaining 142,000.
While both players had identical ace-threes to make their best low combo, Ferguson was massively behind on the high end, giving Clinkscales about a 73 percent chance of winning there along with nearly a coin flip's chance of scooping. Unfortunately for Clinkscales, the board ran out
, giving Ferguson two pair along with his ace-four on the low end for a scoop.
Ferguson doubled up and it was Clinkscales instead falling in fifth shortly thereafter.
Flip Goes to Ferguson
When three players remained in the PLO hi-lo event, Ferguson and Eldert Soer each had about 45 percent of the chips in play while Stanislav Wright was short with only a little over 10 big blinds. However, those two big stacks played a pot that all but decided the bracelet.
Ferguson raised to 90,000 in the small blind with
and Soer defended his big blind with
. Ferguson bet 120,000 after the flop came
and Soer potted to 540,000. Ferguson forced it in for the last 400,000 or so that Soer had behind, and the two showed down.
Holding top pair and a non-nut low, Ferguson was in rough shape overall with only about a five percent chance to scoop. His best hope was to hold for the high half, which was a flip. Soer, meanwhile, held the nut low and had a 40 percent chance to scoop. However, a brutal
fell that counterfeited him and left him getting nearly freerolled. The
river gave Ferguson a wheel and a scoop.
With that pot, Ferguson took over a 5-1 lead into heads-up play and easily rolled over Wright for bracelet No. 6.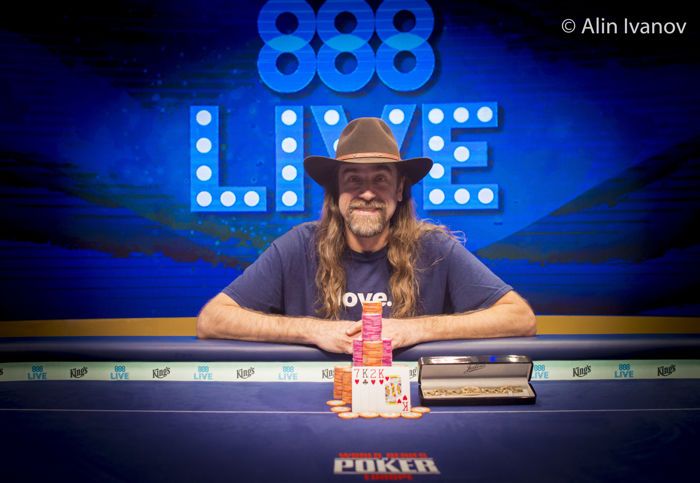 Everybody needs an account at one of these online poker rooms! They're the biggest, the best, and we get you the best poker bonuses. Check out our online poker section for details on all the online poker rooms around.