CoinPoker Stage I ICO to Launch on Jan. 19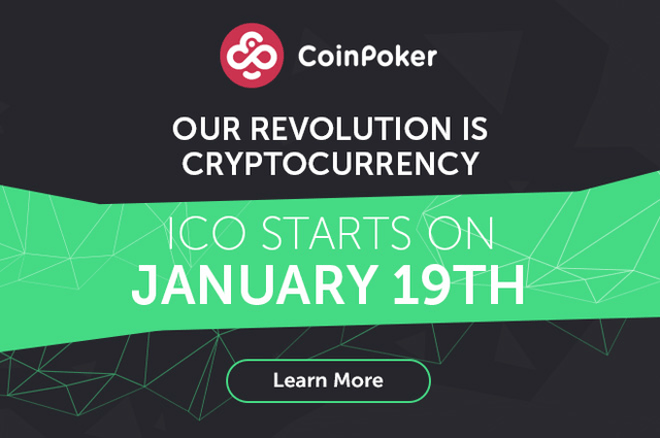 CoinPoker, the growing cryptocurrency-based online poker room launched late last year, has announced that it will be launching its Stage I Initial Coin Offering (ICO) on Jan. 19 at 10 a.m. GMT.
The ICO will offer 137.5 million CHP tokens, the cryptocurrency utilized in the online poker room, for sale at a price of 1 ETH to 4,200 CHP. This follows a successful pre-ICO launch on Nov. 16-22 where 100 million CHP tokens were sold out in just six days at a price of 1 ETH to 6,600 CHP.
Interest is high for the Stage I offering with hundreds of people submitting whitelist registrations to hop on the early buyers' list during the open period of Jan. 5-15.
The Stage I ICO will close on Jan. 26 or when the offering is fully sold out, whichever comes first. A Stage II ICO is planned for the near future where another 137.5 million CHP will be offered at a price of 1 ETH to 3,500 CHP. Once Stage II is completed, 375 million CHP tokens will have been distributed, representing 75 percent of the total supply of 500 million CHP tokens.
As an incentive, CoinPoker will return to its community 15 percent of the tokens collected during the entire ICO through real-money tournaments, which will include a tournament on Jan. 21 that will award a Tesla S valued at €71,100 as the top prize.
CoinPoker Proves its Success
Shortly after the pre-ICO in November, CoinPoker launched its real-money games and promotional campaigns which includes the ongoing freeroll series where 5 million CHP tokens will be awarded.
The games and promotions proved to be a huge success with the site already amassing 30,000 unique registrations and 20,000 MVP downloads. There are already 15,000 CHP token holders before the Stage I ICO launch and the online poker room is booming with more than 4,000 unique daily players.
The experienced staff has used this time wisely by improving its stability and fixing bugs. Just as important, CoinPoker has proven that it listens to its active community on a variety of social media including Facebook, Twitter, Telegram and Medium by adding suggested functionality to its app and keeping ICO prices the same instead of adjusting for the rise in ETH token value.
Additionally, there is a bounty program that allows the community to be involved and even gets their table skin designs on the app at the end of it.
CoinPoker has also proven that security is paramount. In addition to a series of articles published by CoinPoker Head of Security Michael Josem on Medium, the site has taken security measures with actions against multi-accounting.
Get Involved
For more detailed information on this project, you can view CoinPoker's Whitepaper and One Pager or the introductory video below.