10th Annual Butch Smith Poker Classic Benefits Local Charities
Palm Beach Kennel Club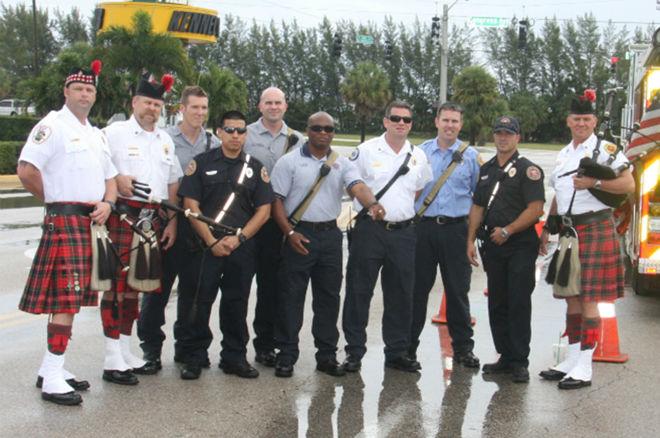 All In for Firefighters is a group of firefighters and community members dedicated to making a difference in Palm Beach County, Florida. On Sunday, January 28th, the Poker Room at Palm Beach Kennel Club hosted the 10th Annual Butch Smith Poker Classic. The Classic benefitted four local charities: Florida Firefighter Cancer Support Network - Florida Chapter, The Florida Firefighters Safety and Health Collaborative, Quantum House, and the Rooney's Golf Foundation, Inc.
"What started ten years ago as an event to benefit Captain Butch Smith, a Firefighter in his battle with cancer, has evolved into a fundraiser that has raised over $300,000 for our non-profit recipients. While Butch passed away January 1, 2017, we are just as committed to the mission," said tournament director, Sam Eaton.
Palm Beach Kennel Club is a sure bet for fast, fun excitement.
All In For Firefighters was founded in 2008 and organized the first Annual Butch Smith Poker Classic in honor of Captain Butch Smith, a Palm Beach County Fire Rescue Captain / Firefighter / Paramedic, diagnosed with Multiple Myeloma, a rare blood cancer with no cure. Butch was only given a few years to live, so his brothers and sisters joined forces to help him fight and to give back.
The event continues to fight for others by educating fellow firefighters about the cancer risk they face every single day through their profession.
In the heart of Palm Beach beats one of Florida's largest poker rooms. From high-stakes moments on the felt to the thrills of victory on that final card, the Poker Room at Palm Beach Kennel Club is a source of poker excitement. With two poker rooms and 64 tables, you can experience all of the high hands, big payouts, and non-stop action. In addition to exciting poker games, players can also enjoy cash game promotions, plus live and simulcast racing on over 500 Sports TVs. Daily High Hands pay out $200/$200/$400 every 20 minutes 11am-10pm weekdays, and Double High Hands pay out $400/$400/$800 from noon - 10 pm every Friday and Saturday.
When you're out with friends and want to play at a different pace, Three Card Poker and Ultimate Texas Hold'em table games are easy to learn, play and win. Whether you're an experienced poker player, a newcomer, or somewhere in between, Palm Beach Kennel Club is a sure bet for fast, fun excitement. Double down on the excitement 24 hours on Friday, Saturday, and Sunday and 10am-4am Monday through Thursday. Acres of free parking and free admission.
Sponsor generated content by Palm Beach Kennel Club
Finding a trustworthy room to play online poker can be a monumental burden. That's all the more true if you're just looking for a place to play poker for free. We've listed five of the best play-money poker sites to enjoy and help hone your skills.