Keven Stammen Wins WSOPC Milwaukee for $190,265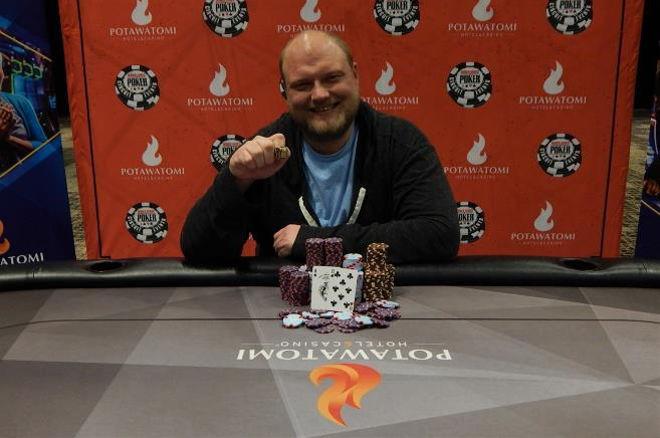 Keven Stammen has won the WSOP Circuit Milwaukee Main Event. The event in Potawatomi Casino attracted a field of 604 making for a prize pool of $906,000.
| Position | Player | Country | Prize |
| --- | --- | --- | --- |
| 1 | Keven Stammen | United States | $190,265 |
| 2 | Michael Crawford | United States | $117,680 |
| 3 | John Reading | United States | $86,052 |
| 4 | Maurice Hawkins | United States | $63,855 |
| 5 | Andy Philachack | United States | $48,045 |
| 6 | Barry Schmiess | United States | $36,648 |
| 7 | Keith Heine | United States | $28,340 |
| 8 | Jose Montes | United States | $22,215 |
After two starting days and a Day 2 of play, just eight players remained in the $1,675 Main Event. John Reading started out as chip leader with Maurice Hawkins entering the final table as the short stack. Keven Stammen started out in the middle of the pack.
Philachack eventually folded pocket queens pre-flop.

Jose Montes was the first to go, having dropped chips early on to fall back in the role of short stack. From the big blind, he pushed all in over a raise. Initial raiser Barry Schmiess said "Alright, I'll gamble. I call," according to the WSOP blog, before revealing ace-six. Montes had king-queen off and saw an ace hit the flop. By the time the deuce hit the turn, Montes was drawing dead, guaranteed to finish in eight place and get a payout of $22,215.
Not much later, Keith Heine joined him on the rail. Heine, too, was short stacked and got it in with jack-ten against the ace-king of Andy Philachack. No jack, no ten, no flushes, no straights, no nothing for Heine and he exited in seventh place for $28,340.
What followed was some heavy action. Michael Crawford was the first to apply some heavy pressure, three-barreling with nothing but ace-king high from the small blind against Keven Stammen. Stammen called the bets on the flop and turn, but folded on the river after tanking well into the break to Crawford's all in. Right after the break, another big hand had people in awe. Crawford opened and saw Philachack three-bet. Crawford pushed and Philachack eventually folded pocket queens pre-flop. Crawford showed ace-king.
"What are you doing?" Maurice Hawkins said according to the WSOP blog, followed by "I'm winning this tournament. You're not playing poker."
Hawkins wouldn't win the tournament, but he wouldn't be the first one to go either. Barry Schmiess exited in sixth place for $36,648. He was down to just a few chips, nearly forced all in from the big blind with six-four. Hawkins had ace-five and remained up top after the board blanked out.
The ten of diamonds on the river had Crawford announce all in out of turn.

Andy Philachack, who had folded queens earlier because he didn't want to flip, finished in fifth place after another interesting hand. Michael Crawford raised the cutoff and saw Andy Philachack three-bet from the small blind. Crawford called, and both checked on ace-nine-eight rainbow with one diamond. The deuce of diamonds on the turn saw Philachack bet and Crawford call. The ten of diamonds on the river had Crawford announce all in out of turn. Philachack contemplated what to do for a bit before he checked. Now it was officially on Crawford, and he followed up his premature verbal declaration with a push of all of his chips.
Philachack eventually called with ace-queen with the queen of diamonds, only to be shown ace-four of diamonds for the nuts by Crawford. That meant the end of it for Philachack, out in fifth place for $48,045.
He started out as the shortest stack on the final table but laddered up to fourth place. Maurice Hawkins eventually made a move with king-nine and got called by Crawford with ace-deuce. The ace on the flop meant it was just about done for Hawkins who was officially drawing dead after the eight on the turn. Hawkins collected $63,855 for his umpteenth deep run in a WSOPC event.
Michael Crawford was the chip leader with three players remaining, bringing 91 big blinds to John Reading's sixty big blinds and Keven Stammen's forty big blinds.
John Reading ran cold three-handed, losing several pots before running ace-seven suited into the aces of Stammen. Reading bowed out in third place and collected $86,052 at the payout desk.
Stammen still had a slight disadvantage going into the final battle, but soon turned things around. The two got it in on the turn of a board that guaranteed Stammen the double up as his flush with ace-nine of hearts was unbeatable by Michael Crawford's top-pair with king-jack.
Stammen still had a slight disadvantage going into the final battle, but soon turned things around.
This left Crawford with just eleven big blinds, and it was over soon after. In the final hand, Crawford pushed with seven-six off, and Stammen called with ace-eight off. The board paired up nobody and Keven Stammen took down the Main Event with nothing but the pair of nines on the board and ace--king-eight high.
Online poker legend Jason "strassa2" Strasser won the Choctaw Main Event just a month ago, now another online legend in possession of a ring as Keven "Stamdogg" Stammen was victorious in Milwaukee.
Photo courtesy of WSOP.
Everybody needs an account at one of these online poker rooms! They're the biggest, the best, and we get you the best poker bonuses. Check out our online poker section for details on all the online poker rooms around.