Save 20 Percent on the LearnWPT Live at Aria Workshop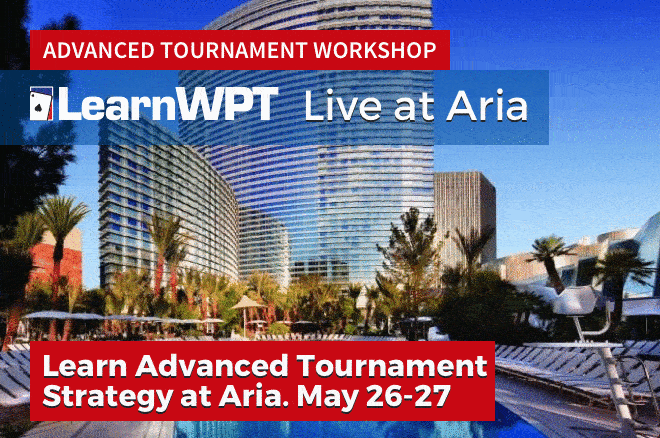 The popular LearnWPT Live heads to Las Vegas in May where it will call the Aria Las Vegas home for its latest two-day workshop. As a PokerNews reader, you can grab a 20 percent discount on the course's price.
Players who attend the two-day workshop between May 25-27 will receive world-class poker instruction and discover advanced tactics the game's top professionals use to thrive in the highly competitive poker games today.
At the Aria workshop, LearnWPT promises students will:
Learn never-before-taught strategies that will help you go from a player who min-cashes to one who dominates final tables.
Understand the concepts needed to close out tournaments, such as short-handed play, heads-up nuances and even deal-making.
Be able to ask any poker tournament strategy questions you have and get real answers from the LearnWPT Pros.
Take home a special tournament strategy workbook filled with training tools.
LearnWPT Live Aria Schedule
Day 1 is broken down into five sessions with the first starting at 10:00 a.m. This initial session sees the LearnWPT team do a quick review of everyone's skill levels so they know everyone is on the same page when it comes to the fundamentals of the game.
In later Day 1 sessions, you will gain expertise in hand ranges, learn how to expand your preflop moves such as cold four-betting and squeezing, learn to navigate your way through all-in bets, and then put your questions to the team.
Day 2 moves to the post-flop scenarios and you'll learn the processes the LearnWPT instructors use to think through a hand after the flop is dealt. You'll then be able to apply what you have learned via a series of tournament simulation hands that have been designed to put your knowledge to the test.
The last couple of sessions on Day 2 give you the tools to thrive at a final table before the LearnWPT team shows you how you can train like an expert and how you can prepare yourself mentally on and off the felt so you can maximize your strategic growth.
Grab Your 20 Percent Discount Now
PokerNews readers will receive a 20 percent discount on the two-day Aria workshop if they follow our links to the LearnWPT website. As a PokerNews reader, you will only pay $1,597 if you book your place in the course before 11:59 p.m. PT on Mar. 5, so don't delay, book yourself on the LearnWPT Live Aria course today.
Finding a trustworthy room to play online poker can be a monumental burden. That's all the more true if you're just looking for a place to play poker for free. We've listed five of the best play-money poker sites to enjoy and help hone your skills.