HPT and Westgate Under Fire After Overlay Fiasco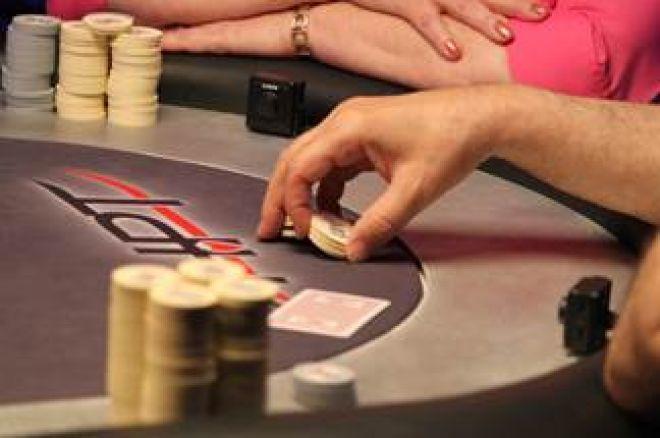 Heartland Poker Tour and Westgate Las Vegas Resort & Casino are in hot water with players after a low turnout at HPT Westgate resulted in venue officials reportedly putting people into the event at half price.
The tournament wound up drawing a field of 329 and has advanced to a final table scheduled to be played out Monday featuring super high roller Cary Katz. However, all anyone is talking about is the fiasco that developed regarding the prize pool, with scores of players skewering the event organizers on social media.
What should have been a triumphant return to Sin City for the popular poker tour, which had been absent from the area since 2014, instead turned into a nightmare.
An Ugly Number for Westgate
Things began on a rocky note as a number of players complained of the "fake guarantee" posted for HPT Westgate. A glance at the structure sheet would indicate a $500K guarantee on the event, something enticing to many players in Vegas as it promised a likely six-figure payout up top.
When players looked a little further down the sheet, though, the fine print plainly spelled out that the guarantee was more of an empty marketing gimmick than anything: "Guarantees will not be offered for Event #7 with less than 300 entries."
Three-hundred entries would force event organizers to kick in $5,000 in added cash, as well as move about $60,000 over from the collected rake and staff fees. The buy-in breakdown indicated $1,440 from each entry would go to the prize pool, meaning the event needed 347 entries to meet the prize pool guarantee and still collect the full amount of rake and fees. Any number between 303 and 347 would essentially mean reduced rake for the players who fired in the event.
Day 1a drew 64 players, Day 1b drew 101, and Day 1c — the last of the three starting days — had 144 entries as the event went to dinner break, according to the live updates. With 309 entries recorded and registration about to close, tournament organizers found themselves in an undesirable spot, on the verge of supplementing the prize pool with tens of thousands of dollars in fees.
Westgate Tries to Bolster the Pool?
With only about an hour left, tournament organizers scrambled for a quick fix. According to a number of those present, an announcement came through in Westgate's famed sportsbook that players could register for the tournament at half price.
Ben Yu was among those looking to register late and was told of the announcement by another player. He posted an account of what he witnessed, wherein he said he inquired about the half-price buy-in and was told it was "a special promotion" that didn't apply to him.
Yu said he persisted and asked HPT Tournament Director Jeremy Smith about the discount just before registration closed and was told first that nobody had gotten in for half price and then that if they did, Yu wasn't eligible for the discount. Yu declined to enter and left.
However, the discount appears to have been very real. For one thing, Westgate's Twitter account posted the venue "chose to pay a portion of the entry fee for select VIP." Furthermore, poker player Darren Attebery recorded an eight-minute video wherein he appears to be ushered to a cashier who asks him for $825, his ID and his player's card.
Fallout Commences
PokerNews reached out to HPT on Monday asking for confirmation on the half-price buy-ins.
"Without approval or consent from HPT, Westgate did allow select players to enter the Main Event at a rate lower than the $1,650 buy-in near the end of the registration period," a company rep said. "At the conclusion of the tournament, all funds were accounted for and the $500,000 guaranteed prize pool was honored."
That was consistent with Smith's line on Twitter, where he placed the responsibility for the situation squarely on the venue.
"I had no say so in this," he wrote. "It was a Westgate decision."
While some didn't see much harm in what occurred, numerous unsatisfied players swore they'd never return to an HPT event or a tournament at Westgate.
Some wondered about the legality of the Westgate's move to usher some players in at a discount in order to lessen the company's obligation. PokerNews reached Mac VerStandig of The VerStandig Law Firm for comment. He specializes in gaming law.
"The allegations, if true, are certainly alarming," he said. "It would be my sincere hope that the Nevada Gaming Control Board would appropriately exercise its supervisory powers."
The history of player disputes with casinos, however, is not one filled with successes, particularly in Nevada. A seeming open-and-shut case in the Red Rock bad beat jackpot dispute dragged on for months before the NGCB finally awarded the players their money. Many others have fared much worse than that.
At Poker Fraud Alert, Todd Witteles opined that while Westgate engaged in shady practice, players likely had little legal ground from which to launch a complaint.
"Casinos do have a right to pay the buy-ins for players in tournaments," he wrote. "Provided the buy-ins really go into the prize pool, then the casino can foot all or some of the bill for selected players in the tournament.
"Unfortunately, I don't think there are many laws in Nevada's gaming statutes governing tournament guarantees."